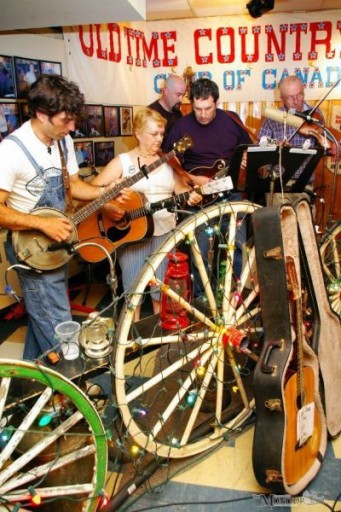 This city has a boot-stompin', bango-twangin' bluegrass scene, and at its core are some extremely talented musicians. "Bluegrass?" you may question, with a blank look or slight disdain. Your wavering knowledge of this sprightly music is understandable, but no longer acceptable. Not when you can hear bluegrass filtering out of a different venue almost any night of the week!  
I first discovered bluegrass as a kid, when my dad would blast the Osborne Brother's version of Rocky Top on Saturday mornings while making breakfast, but it wasn't until I moved to Montreal that I really fell in love with it. So if you've never been exposed to bluegrass or aren't really sure what it is, then read on. You've been missing out on some boot-scootin' fun and it's time to remedy that!
I can understand where your confusion might come from. I mean, it's called bluegrass—what the hell does that sound like? Well, it sounds like this. Bluegrass is a subgenre of country music made up of acoustic string instruments like the fiddle, guitar, mandolin, upright bass and, the twangiest of all twangers, the banjo.
There's something about bluegrass that's reckless and carefree, even though its lyrics are often soaked with sorrow. It's the kind of music fit for summer evening potlucks, where everyone congregates in the backyard drinking  whiskey  and jamming, until someone points out the empty bottles and the rising sun.
It's social music. It requires a variety of string instruments and can't be played solo. Once you discover bluegrass, you'll have discovered a genre that will see you through a spectrum of emotions. You'll also have discovered a community.

Bobby Dove is part of Montreal's folk and bluegrass community, a 25 year old upcoming musician who plays country and bluegrass covers, as well as writing and performing her original material. Commenting on the bluegrass community in Montreal, she says "as far as I'm aware, what really distinguishes this community from other music scenes in this city is the fact that there are elders… that's what makes it so powerful. The traditions are maintained but they're also challenged by the diversity of the younger performers." She goes on to explain that there are musicians who play non-traditional songs in bluegrass arrangements and those who play bluegrass tunes with stylistic twists. "The traditions and the music played and recorded by this community are propelled by these intergenerational friendships. There's a lot of mentoring. The older musicians nurture the younger musicians and it is a great way to keep young cowboys (and girls) out of trouble."


To aid your immersion into the bluegrass community, here's your weekly bluegrass schedule.
MONDAY: Hillbilly Night at The Wheel Club, 3373 Cavendish (directly below Sherbrooke)
The Wheel Club is a diamond in the NDG rough. An old-timer's club that opens its doors to all ages on Monday nights, it's a blast and a half and well worth the journey if you're not from the area (hop on the 105, it'll take you directly there). If you're originally from a small rural town, then walking into the Wheel Club will probably remind you of your town's legion, fire hall, or church basement. It's a welcoming community  who gather every week for old-time country music. Free admission, starts at 9pm.
WEDNESDAY: Bluegrass at Shäika Café, 5526 Sherbrooke W
One of the best things about living in  NDG, is laying claim to Shäika. On Wednesday nights, Bob Fuller, a prominent and influential member of Montreal's bluegrass community, hosts an open mic with The Woodshredders. Show up early to get a seat, 'cause the place fills up! Enjoy the cheapest and tastiest sangria in the city ($18 for a pitcher, and there were even mangos in it) and get your bluegrass on. Free admission, starts at 9pm.
THURSDAY: Moonshine on Bluegrass and Old-Time Jam at Grumpy's Bar, 1242 Bishop
On Thursday nights, Grumpy's becomes an underground jam space, welcoming everyone down for a little old-time bluegrass! Free admission, starts at 10pm.

FRIDAY: Virginia Foley at Finegan's Irish Pub, 5202 Queen Mary
It's Friday, Friday, Friday, and by now you've chomped into that bluegrass bait and are hooked! Although this bluegrass night is on hiatus for July and August, come September you'll be naturally inclined to head west to Finegan's Pub to see Virginia Foley. Finegan's is about 30 seconds from Snowdon metro, and is a delicious little dive that will provide your Friday night bluegrass fix. Free admission, starts at 8:30.
SUNDAY:  Bluegrass at Barfly, 4062 Blvd Saint-Laurent
What better way to wrap up your week then to soak up some sweaty bluegrass at Barfly? The joint gets packed and it's always damn good time. Not only does the nicest bartender in Montreal work Sunday nights, but Matt Large & Co and the Bastard Mountain Boys rock the stage well into the balmy summer morning. Sunday night bluegrass is a longstanding tradition at Barfly, so you know it's gotta be good. Free admission, starts at 10:30pm.
Photos: themonitor.ca and allthingsbranson.wordpress.com