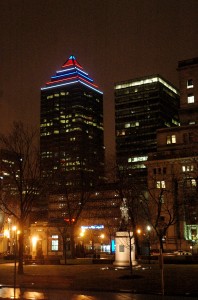 I predicted earlier that this series was going to go seven games because Boston looked like the favorite. Someone forgot to tell that to the Montreal Canadiens. Boston, down a game, was hoping to take their tough, hardhitting ways and attack the net for game 2. However, without defensemen Zdeno Chara, who was out of the lineup with dehydration, Boston looked ordinary.
Game 2 found me at Cafe Romolo in the heart of the Mile End (fewer red sweaters, but as loud as downtown) downing 2 for 1 beer and nachos in time to cheer loud about the Chara scratch. "So this is how we knock down a giant defenseman. Note to self: hide the Gatorade".
Montreal repeated the same play from last game, only this time Mike Cammalleri scored on the second shot. Minutes later it was Mathieu Darche. Both these guys have twitter accounts and I joked that the rest of the Habs who tweet should score.
Tim Thomas looked shaky after those goals, but Boston did manage to score without Chara and top scorer Marc Savard (out with a concussion). Boston lacks creativity without these guys and seems generic.
Cafe Romolo was packed to capacity as I was knee deep in beer bottles and homemade eats. It's a great time to go out and cheer for the team, however I have a friend who's abroad and missing out on the experience. A quick tip for anyone who can't make it to the bar: CBC live streams the playoff games. Have a beer in front of your laptop, whatever country you're in.
Our defense did an amazing job helping Carey Price play a brilliant game. Brent Sopel and his defensive crew have been taking shots in aide of Price. PK Subban may not have been scoring, but was playing great defense and taking hits for the team. Boston hates Subban with a passion, but PK plays with passion.
As much as Boston outscores, outhits, wins in faceoffs, etc., Montreal keeps shutting them down. Even the fourth line with Lars Eller had scoring opportunities. Eller, along with a lot of the young guys, are tasting their first playoff run. As for first playoff beard, not so much. I'd be impress if it takes two rounds to grow something moustache-related.
I predict a heap of emotion at the Bell Centre for game 3 as this will be the first meeting in Montreal since the Pacioretty hit. My gut says that for game 3 Montreal should keep their emotions in check and keep playing the same as the previous two games. Boston will try to come back hitting and playing harder, but realize they're vulnerable. They have never come back from 2-0 the last 26 times.
Defense will continue blocking shots, Price will remain "chill" and hopefully Plekanec will score in his backyard (he's been close). Continue playing Yannick Weber (in place of an injured Kostitsyn) as he has scoring opportunities and takes shots.
On the way home from the victory, it became official that Montreal is in hockey hype mode. One of the downtown buildings changed their lights to bleu, blanc et rouge in celebration. Let's see what the hometown momentum will do for the Canadiens now that they're up 2-0.
Shout out for game 2: Send your twitter cheers to the Hab players Mike Cammalleri, Mathieu Darche, Brent Sopel and Max Pacioretty. All have twitter accounts. Follow them during the series or send them a shout out!