There was a feeling in the overcast air at the Bell Centre last night. It was elimination time for the Montreal Canadiens, and if they lose then the season is done. A win, meanwhile, would mean the final showdown the next day (today). This series has seen stats being thrown at these teams, and then thrown away when the opposite happens. The odds were against Montreal. Could they beat them one more time?
Though this doubt was looming, it didn't stop the fans from having a good time. I trekked to the Bell Centre to check out the Fan Zone. There was a smell of confidence over at Centennial Plaza, along with the scent of french fries. Everyone in their red shirts with beers in hand, having a good time meeting fellow fans. Kids taking a shot at the Bruins dunk tank, trying to get the Boston fan all soaking wet.
The best I saw were a group of girls with water guns, toting a stuffed bear with a sign that read "hunting season," and carrying an inflatable Stanley Cup. It was bear season over at the Bell Centre. We hoped Montreal could bag us a bear (and a win).
I ventured over to Brutopia for game 6, since the rest of the bars were already packed. The basement floor alone had room, while the other two were full. A guy got off work early and dropped a $20 tip for the waitress: a preview of many beer purchases to come.
The key to this game was to shut down the top line of Ryder-Peverley-Kelly and catch Boston on the power play. Boston had been notorious for bad penalties, and last night, it happened again. Mike Cammalleri tic tac scored on the five on three and the Bell Centre instantly came to life.
Boston tied it, however, and it was Brian Gionta to light one up. Man, I love it when he scores. His smile right after can light up any room.
Meanwhile, Boston's Milan Lucic nearly knocked the lights out on Spacek. Not to worry though, he's alright. The refs got it right at least, and gave Lucic a game misconduct.
Carey Price was in another goalie duel with Tim Thomas, but it was another busy night for his "triple low five" partner PK Subban with 27 minutes of being all over Chara and company. There was a last minute scramble, where at least five guys were vying to stop the puck. Nevertheless, it was going Montreal's way tonight. There was a light coming out of the overcast sky. Things were looking up for Montreal.
The guys did have someone looking over them tonight, and it surely wasn't any hockey ghosts in the rafters. This would be the first time we got to see Max Pacioretty, playoff beard and all. We hope he can play again soon. I figure he got a kick out of the win.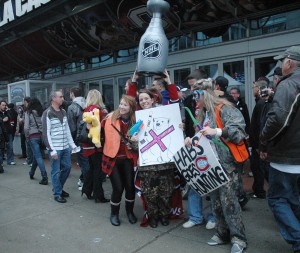 So here we are, game 7. We're ready to take this the next level. Montreal will have the riot cops on the streets again tonight, just in case. We'll always riot for something.
The key to game 7 is to take advantage of Boston penalties. Their penalty killing has been a disaster, as well as their power play. Special teams are key.   We need to shut the top line and try to get the first goal. Everything else will build up. In the meantime, we all have a short time before the inevitable build up to one hell of a game 7.
Shout out of game 6: the girls who went hunting for Bruins at the Bell Centre.