Despite eight years in power with not much to show for it except a trail of corruption, Gerald Tremblay will remain the mayor of Montreal. This means that projects he has given the green light to will most likely continue, including former petty thief and fraudster, now thug developer Christian Yaccarini's Quadrilatere St-Laurent.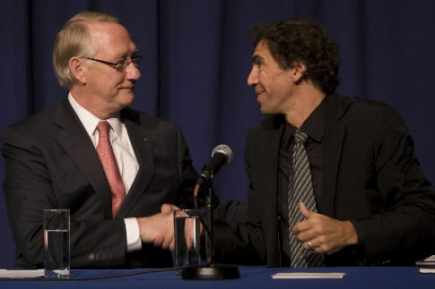 Re-elected mayor Gerald Tremblay with developper Christian Yaccarini
The mayor seemed pretty adamant during his last administration that he had no problem evicting the artists who performed at Café Cleopatre and demolishing historic buildings despite the recommendations of the OCPM. He also didn't seem to get the irony of building a huge office tower in the middle of the Quartier des Spectacles.
This is also a huge victory for those unscrupulous characters who control things at City Hall from behind the scenes. Even though the mayor now promises to clean things up, remember that he's the one who dirtied them in the first place.
It would be nice if the mayor listened to the advice of Richard Bergeron and actually tried to get it right this time. Of course then, those he owed campaign debts to wouldn't be all that happy. Maybe he could rely on police protection, although he did just, as his first post-election act, fire 120 temporary police officers in a reversal of his campaign promise not to do just that.
So why would Montrealers give Tremblay another chance? Well, according to Vision candidate and former Bolc MP Réal Ménard, it's because the progressive vote was split. He's right, but he shouldn't point fingers at Richard Bergeron but rather at his own leader.
Louise Harel is a very divisive figure in Montreal, the type of divisive figure that isn't likely to get a single candidate elected west of Atwater. Forget the fact that she's a hardcore péquiste who doesn't really speak English, two traits that generally don't sit well with Anglo voters, but she's also the one who helped bring in the forced mergers on a provincial level earlier this decade.
That helped get Tremblay elected the first time and the spectre of it probably helped get him elected this time, too. Fear and dislike of Harel most likely prompted some people to hold their nose and vote Tremblay no matter what. Wild criticisms in the Gazette of Bergeron probably helped, too.
Harel admitted that Vision's platform wasn't that much different from Union, so despite getting some progressive votes, she really wasn't the progressive choice at all. If Harel had stayed out of the race, Tremblay might have been given his walking papers Sunday night.
That's all water under the bridge now and we'll have to wait to see who gets the contract to install the meter. We're stuck with four more years of the same, at least in terms of who's on top.
There is, however, quite a bit of progress that happened this election. To see the glass as half-full, please click here