The scene at Le National was electric. There was hope in the air and people were celebrating. It wasn't the victory everyone had hoped for, but it was progress and quite a bit of it, at that.
The screen at the Projet Montreal post-election party at Le National
A few weeks ago Forget The Box endorsed Projet Montreal and Richard Bergeron as the party capable of bringing new, progressive ideas to City Hall, cleaning up all the corruption that the present administration left and getting Montreal on track to becoming once again the booming metropolis that it once was. Voters listened, at least in certain parts of the city and in particular the Plateau.
Projet's Luc Ferrandez is now the mayor of the borough and all three city councilors as well as all three borough councilors are Projet candidates as well. This gives Projet Montreal a real chance to govern a key part of the city and show what they can do.
Peter McQueen, city councillor-elect in Notre-Dame-de-Grace
Projet also made huge inroads in other parts of town. Peter McQueen, former Green Party candidate and longtime highly active member of the NDG community handily won the Notre-Dame-de-Grace district, making him the lone Projet voice on an otherwise Union Montreal-controlled borough council. Francois Limoges and Marc-André Gadoury won their council seats in the Rosemont-La-Petit-Patrie borough, though the other two seats and the borough mayor job went to Vision Montreal.
Projet's Pierre Gagner is now the borough mayor of Ahuntsic-Cartierville and the Ahuntsic district is represented by Projet's Émilie Thuillier, with the other seats split between Union and Vision. Meanwhile Projet's Pierre Mainville and Sophie Thiébault picked up seats in Ville Marie's St-Marie district and Sud Ouest's Saint-Henri-Petite-Bourgogne-Pointe-Saint-Charles district respectively.
In all, Projet Montreal got 10 council seats, completely controls one borough, got the mayorality of another and got people elected in parts of the city no one expected them to. Not bad for a party that is just five years old, holding only three council seat going into the election and not thought to get anyone elected outside of the Plateau.
Richard Bergeron overcame some rather trivial things which were blown out of proportion by the corporate media but wasn't elected mayor. However, the Projet candidate in the Jeanne-Mance district, Nimâ Valérie Machouf, won her seat. She's Bergeron's fellow-candidate, which means he takes her seat and has a voice on the council.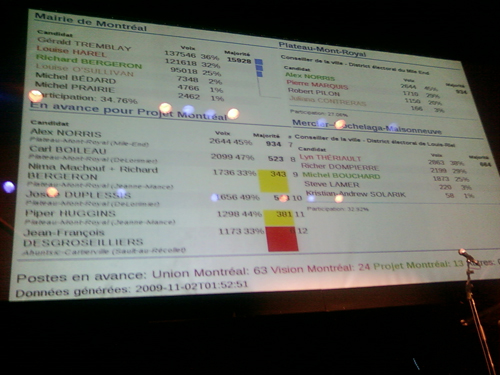 Results trickling in on the big board at Le National
Projet's election success crosses economic, linguistic and ethnic lines, as does the party itself. Projet Montreal now has a platform to show Montrealers what they can do and hopefully set the stage for winning the next election.
As the party at the National continued well into the night and results continued to trickle in, one thing became apparent.   Montreal is a progressive city and there is now a progressive party that has a real chance to shake things up on a municipal level.
Not all came up roses this election, though. For the downside, click here