Montreal Fashion Week, also known as Semaine de la Mode Montreal, began its 24th season at its new venue, L'Arsenal, with the aim of rivaling other fashion weeks and becoming known as an international fashion city. Follow along as I go through the high and low lights of the four-day display of Autumn/Winter 2013-2014 collections: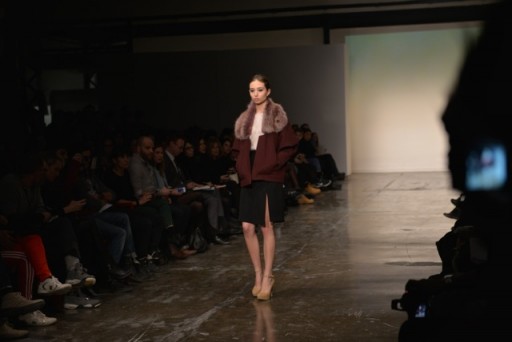 Fully prepped, gathering up my first look of the week. I'm all leg in a sheer, shaped grey camo sleeveless robe by diesel under a black Tavon & Mitto kimono vest, no tights, and huge platform boots; a foreshadowing of the evening ahead. Camera charged, beer chugged, a new teal 'do and we are bound for the first show, By Thomas, in the smaller Studio des Createurs par Target. Natasha Thomas, one of five participants in the Target Exchange prize which awards a $25,000 scholarship, a spread in ELLE Quebec, and their winning looks sold in the new Target Canadian stores, came in as colour-faded out in shades of the black rainbow, a huge departure from the preppy-bold hues and safari patterns of last season. Trending shades of pewter pink, red wine spills, pleathers, and revised turtlenecks. Metallic champagne pants alongside other neutrals and creams soothed me instead of rocking me to sleep. A step-up in design for this masculine inspired collections has me ready for what is next in this evolution.
Finally out of the side room and onto the main stage, Pedram Karimi stole the week right out from under everyone's stilettos with an earth-shattering show of intergalactic portions. Androgynous earthlings paraded forward in layers of black, white and grey, including silver with splashes of burnt cantaloupe, dark teal, and even a black-out algae crushed velvet coat and fetish inspired caps. Billowing shapes and capes bring this futuristic aesthetic to new heights, and I'm not just talking about the buffalo platform boots. I talked with Pedram about the show in his studio where we discussed his inspiration, textures and how his show captured just enough avant-garde, and just enough consumerism. To read my full praise on his third collection visit Montreal Street Fashion.
A crowd favourite season after season is Melissa Nepton. Her "Equestrius" collection, which was quite graphic, added more white and black, innovative necklines, houndstooth, full body stripes and sheer, voluminous silhouettes. Nepton also unveiled a new line of accessories which was all a very urban take on the usual equestrian influences.
The evening took a down spill with the last fashion show of the night. Nadya Toto's florals and drapery patters needed an injection of youth as her collection was out of place with the styling of the show. Dowdy crimped hair and over sized jewels painted a portrait of the rich older woman who finally stepped out of the house and away from her collection of porcelain cats. However, I loved the black frilly jackets similar to that of Martin Lim. The appeal would have escalated had their been a more noire approach to the styling. If there had been added witchery, perhaps a romantic goth poem could have emerged.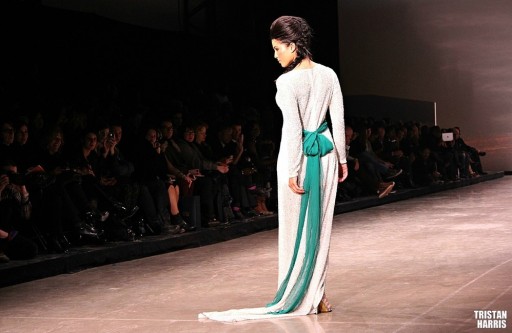 Day Two of Semaine de la mode Montreal was a mix of unfortunate design and intense spectacles. Annie 50 and Symbiose by Hinda a took a more artistic approach, preventing themselves from expanding outside their Mile-end woman's aesthetic. Nisse took on work wear with tailored jackets and a stand-out plum piece with bow. A collection for any age with leather mini skirts, teal tuxedo jackets, military style coats, and lace frocks that take you from your desk to the nice table at the bar.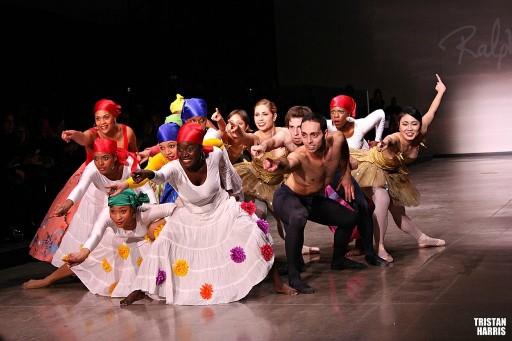 Ralph Leroy clocked in the snooze button with basic suits of bland hues, floor length sequin gowns tacked with a back floor length bow. What saved the show, but not the fashion show, was the integration of a traditional Haitian dance with contemporary ballet. It also helped that the "Fresh Prince of Bel Air" himself, Will Smith, was front row as well as Canadian icon Jeanne Beker, who spent the show looking at her phone.
Fringe, fluidity, and texture: finally some innovative designs. Martin Lim went retro with his big 70's looks. A little bit of everything with a Sister Mary/Wednesday Adams vibe, full fringe new goth frocks, mixed gold and silver petals, ballooning sheer fabrics in white, black, blue, grey and rose.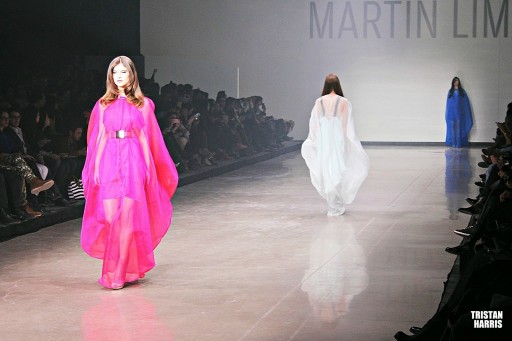 Photos by Tristan Harris for Montreal Street Fashion and Raphaelle Bob Garcia of Bobby Leon.