Danik Yopp is a Montreal Fashion and Street Blogger who recently covered Montreal Fashion Week. He can usually be found out and about in bars with good lighting, and fashionable patrons. He also runs a really cool blog called Montreal Street Fashion. We begged him to give us a write up from Montreal Fashion Week and he graciously complied! For more fashion-y content check out his site or follow him on twitter, @MTLSTfashion.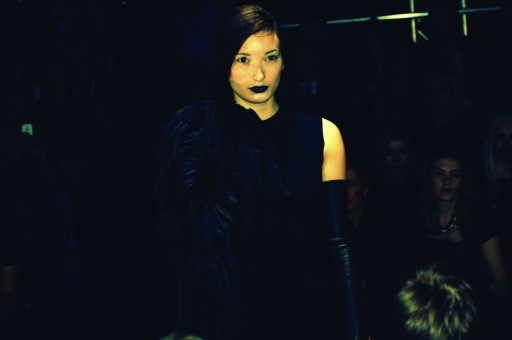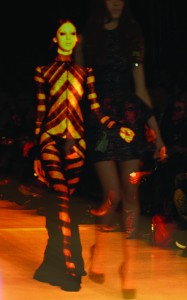 The closet door stares back, taunting and harassing your train of thought like a yard school bully. A glass of wine is poured, glue gun gets turned on, note book out, and computer screen glares back, illuminating the creative, busy week ahead for this street style blogger. The night before fashion week is always a mix of stressing out for nothing, periods of silent brain magic, and the scenes of kinesthetic joy when an ensemble is a success. Charge up the camera battery, clear memory space, gather your list of shows and be finally ready to go.
The highlights begin with newcomers Tavan & Mitto who you may have seen me quote in the Montreal Metro. A startling kick off performance with intriguing silhouettes that could have caught my eye more if not for the styling with the fur pieces. This was followed by DUY who mixed noir 50s with 2012 naughtiness in collaboration with Elle Quebec who may be on the forefront introducing gender bending models to their catwalk. One of the only model surprises this year.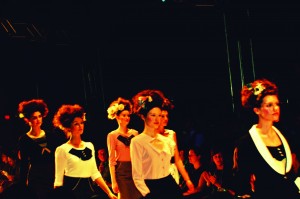 Ending a strong first night, that would be hard to match, internationally praised Marie Saint Pierre came fourth with poetic theatrics, the campaign far more emotional than the expected pieces of work that floated down the runway. Another stand out was ABOL, a haute couture line visiting a more primitive post apocalyptic vibe with natural eco friendly fibers. Organic textiles from Vancouver created wearable art based on the whole idea of Surrealism and a dreamlike state that one could fairy as accoutred wedding dresses and corsets scattered down the catwalk.
But what really topped the stiletto was the very last show of the very last night, the finale. The show you can't wait to end so that you can step out in your party gear in solace over the exhausting yet exhilarating week you just had. Collectif de Fermeture, a breed of young, hot, trioesque designers comprising: Anastasia Lomonova, LYN, and UNTTLD. Anastasia kicked off her Semaine de Mode last season as one of my favorite shows and people to meet. This season she went noir not just with her hair, but around a remodeled runway; dark, steamy, under shadowed by smoke paired with her creative chiffon gowns paired with long tasseled bracelets. LYN by Jocelyn Picard, who is now on his own after collaborations with Denis Gagnon and UNTTLD, gave us knitted exaggerated stitching, forcing the human form inside a cocoon into a state of metamorphosis. Jose Manuel St. Jacques and Simon Belanger brought us into another world where female warriors are the new chic and my aesthetic was brought to new life. Body forms in pieces made from hair, intricate chain works, corseted skirts and pants, moved up to become my favorite collection of Semaine De Mode 22.
The crackpot of the week fell flat with the banana republic secretarial gear of Ca Va De Soi, a recent edition showcasing that Semaine De Mode really wants to adhere to buyers in all sense of the word. Kollontai scapegoated into the cocktail lounge beginning behind schedule with their theatrical dancers overshadowing the "fashion" portion. Which overlaid the Plateau expecting mother mixed with the witchery of The Craft, not in a good way. One could almost be offended by the capture, unworthy of the "coveted" spot. The worst thing for me however, was the severe lack of testosterone. There were plenty of baby faced fresh models, but if you were hoping to take in any men's collections this season you were sadly misinformed. You would need a microscope to see the bits and pieces emerging within the fine cross generational tailoring of CIN Tailleurs, the unexpected polka dots and familiar bold prints of Dinh Ba, and straight jacketed knits of LYN during the Colectif De Fermeture.
It may have been mostly work and no play for me, unless you count the number of drinks I consumed, but unless the lack of sleep and food caused a state of delirium, this Montreal Fashion Week was seriously lacking the balls needed to become an international starlet. The lack of support to designers who may have wanted to create local or national buzz weren't able to due to the increase in monetary fees for each designer. This lead to many coveted designers opting to create their own shows off site, unaffiliated with Montreal's biggest fashion event. This season it was all about buyers, mainly international, and thus lacked ambiance, charisma, charm, or even serious innovative design.
It makes one wonder where all the money the government subsidizes go to? Where did all the free samples, free drinks, generous swag, and haute couture hide? My only hope awaiting the fall shows is that Sensation Mode takes a good look at the schedule, and focus less on soirees with the models and more on leaving a lasting impression for all of us who trek down to Marche Bonsecour. Maybe leave us wanting to support Montreal's local talent, which is plentiful in a city filled with artists and dreams.
Danik is a Montreal Fashion and Street Blogger who recently covered Montreal Fashion Week for ForgetTheBox, for more fashion coverage check out his blog Montreal Street Fashion, and hopefully we'll get more content from him on FTB in the future 🙂