I love folk music, but honestly I was kind of nervous about covering the Montreal Folk Festival. Love me some Bobby Dylan, Woody Guthrie, or some Weavers. Folk music can be the most honest, and heartfelt of any of the genres. I just didn't know what to expect at a modern day folk festival. Nu folk? Is that what you call it? Turns out, it was just like any other festival. I had pleasant surprises and found myself cheering for talent I had never heard before, but sometimes I was just bored.
Opening the festival was Francophone duo Osmosaic. I felt for these folks because when they started the crowd was less than sparse, but musically this group left a boring taste in my mouth. Osmosaic's songs were obviously very carefully crafted and both vocalists were great guitarists, and spot on in the harmonies department, but something about the music was just a little bit "Sharon, Lois and Bram" without the "Sharon".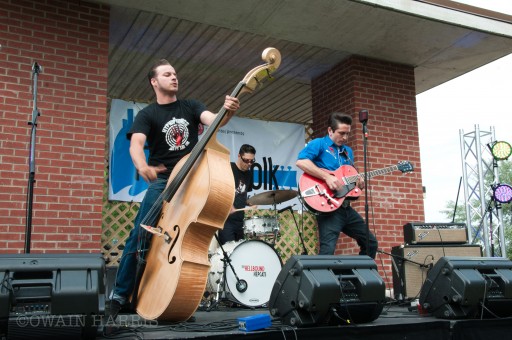 Next act up was rockabilly dudes The Hellbound Hepcats. I had never seen these guys but heard really great things about them, and definitely wasn't disappointed. These skilled musicians did what any good band should do: they played a few great covers, had some awesome originals, did some rockin' solo's, and got the crowd (who increased in numbers during their set) to get up and cut a rug. The Hepcat's charming singer even jumped off stage to dance with a few ladies and the Parks Canada mascot, a giant beaver, named Parka.
The Hepcats were a hard act to follow, but The Jimmyriggers tried. These guys made their first mistake by playing way too loud for a folk fest. Not to sound like a cranky old lady, but turn it down Jimmyriggers! I really tried to like these guys and the Blue Rodeo-ish vibe they were going for, but the hooks weren't catchy enough and the atmosphere was kind of dead. If all of The Jimmyriggers songs had the same vibe as their last song, a powerful country/folk ballad titled, I stand In The Weeds I would have clapped more, smiled more and maybe even waved a lighter in the air.
And now to the pleasant surprise: a two part folk jam session. The first part was led by blues guitarist Rob Lutes, then gradually built up to five musicians. Lutes' raspy voice and engagement with the crowd reminded me that I was at a folk festival. These musicians' bluegrass and jazz guitar performances had more heart and soul than any of the acts so far at the festival. A cover of Bob Dylan's, Don't Think Twice, It's Alright was the perfect ending to this set.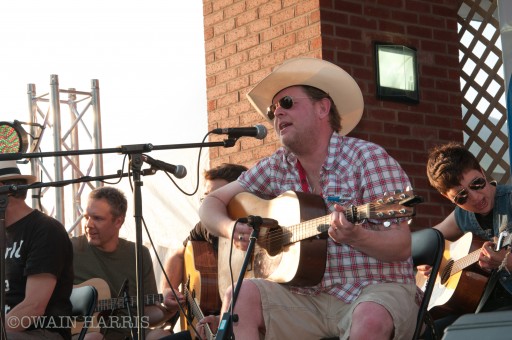 The second part of the folk jam, led by cowboy hat wearin' guitarist Matt Large was just as good if not better. Consisting of six guitarists, a lapsteel, and a harmonica, these guys embodied the spirit of folk. With a twangy old-school country and southern gospel vibe, this group could have easily been on the "O Brother, Where Art Thou?" soundtrack. The highlight of this performance was Bobby Dove, an adorable spunky chick with a killer voice (and an awesome jean vest). Bobby Dove held her own with the best of them when she belted out a heart-wrenching rendition of Hank Williams', Long Gone Lonesome Blues. Ending with Wagon Wheel, another song penned by one of the fathers of folk, Bob Dylan, these folk jams were the most authentic performances of the entire day.
The next act, The Montreal Sacred Harp Pleasure Society (ha!), might be the hardest to describe. This group, having never used microphones before faced a pretty daunting challenge. Performing in a little known style called "Harp" music, a traditional choral music hailing from the Southern region of the U.S., these guys were unexpected and different. The choir leader amused the crowd by introducing each song and explaining what it was about. Unfortunately the group performed in a circle, causing half of the members to have their back to the audience making it a hard performance to watch. I think one of the girls was out of tune the entire time but this music had me intrigued so I didn't really care.
The Edinburgh Choir followed next. These kids (literally, kids) have sung a national anthem at a Montreal Juniors game and toured Quebec City, so they were totally pro! The choir sang a bunch of cute songs with all kinds of actions to go along with them and had everyone in the crowd saying "Awwww!"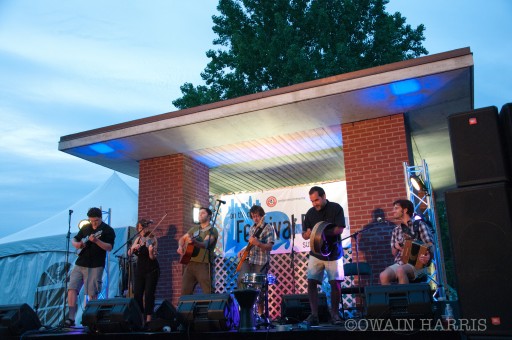 Closing the day was Belzebuth, a traditional Quebecois folk band complete with mandolin, bodhan (Irish hand drum), a violin and an accordion. Belzebuth had the entire crowd including the Edinburgh Choir on the dance floor. These guys knew how to play a crowd, created an awesome atmosphere and were the perfect ending for the day.
All in all, Friday's performances were a pretty good time, listening to some old-school folk and watching some new musicians that I would otherwise never have heard. By the end of the day, the Montreal Folk Festival crowd consisted of people from all walks of life, and everyone seemed as pleased as punch. I know that sounds pretty cheesy but it's the truth, I swear!
See more photos by Owain Harris from the Montreal Folk Festival via our facebook page.