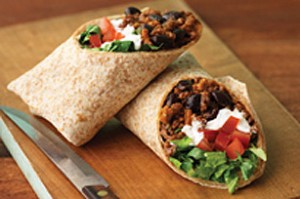 If I'm going to talk about the food scene in this city and the blogs that surround it, I gotta be straight up with you guys. I'm totally unaware of the food scene in this city. Case in point – I woke up with an unrelenting burrito craving this morning. No big deal, I wake up most mornings jonesing for specific dishes, and I've got a pretty solid list of go-to places to accommodate my greasy lustful food desires (poutine, dim sum, Portuguese chicken, pizza, etc.). But burritos are another thing. There are way too many shitty burrito places out there, and they open and close shop before any health inspector even gets the notice. Plus, most of the good ones seem to be mom-and-pop restos near Jean-Talon or Iberville.
Now, if I were home in Toronto, I would have hauled my pyjama-covered ass over to the deservedly-hyped Burro Burrito. I would have been groggily sinking my teeth into soft tortilla and chicken tinga before the first jolts of a morning java. Instead, my morning was spent crowdsourcing info on burrito joints on Facebook and aimlessly googling "Montreal Burritos", receiving hits for Burritoville (Vegeterian? Fuck. No.) and The Burrito Project (nice effort, guys, but not exactly attentive to my needs here). By the time I got the bright idea to just look up any number of this city's local food blogs, my appetite was already reluctantly settled – dry toast and an egg, whatever. My point is, don't let this happen to you. It's a hard road, full of missed opportunities and cholesterol-raising payback. Instead, read this, and your hungover taste cravings will be satisfied.

Lebanon-born Montrealer Mayssam Samaha crosses continents armed with a fork, a knife and an insatiable appetite. We're just happy she spends most of her time in la belle ville (not talking about Paris here, folks). She hits higher end restaurants and food events in the city, delivering tantalizing photos of dishes most people couldn't regularly afford. Food porn aside, she also does cookbook reviews, themed lists of dining suggestions with a handy-dandy Google maps embedded on the page. Ever wanted to know where to find the best coffee in any neighbourhood? She's got you sorted. Need a restaurant open Sunday and Monday nights? Just click the links. If she posts a list of the city's best burrito places, I'll be her biggest fan.
Ever looked into a burger joint and questioned its quality? Mr. Lew's eaten there. Maybe on multiple occasions. To date, he's eaten 158 burgers in his search for the perfect burger in Montreal. I don't really want to count the number of cows that have entered through his digestive system, but I'm glad there's a guy wandering the casse croutes, risking heart disease so you don't have to waste time on a shitty burger. He's got a system – one burger a week, 50 burgers a year. And he doesn't just stick to burgers – his "Annex" page features non-burger reviews. Whether it's bacon froyo, dim sum fish cakes, mashed potato and red wine poutine, or the famed McRib sandwich… he's made it clear there's pretty much nothing he won't try.
It's as if a great, booming voice rang up from the heavens, its deep tones resonating through the clouds, shaking the earth bidding us to go forth and drink the nectar of the gods. There is no excess, and though the headache may come, know that one shall never have to worry about where to get their morning bacon fix. At least, that's what I equate this blog to. The Montreal Breakfast Review organizes their side bar to fit your needs. Categories outline ratings, price points, neighbourhoods, whether or not it has a terrace, vegan options, 24 hours, chain restaurants, and many of the pages are available in both languages.
We all know how this goes. It's a weeknight, and you've spent the evening in a library or a long lecture, and your gang of Archie characters have one thing on their mind: poutine (or, technically, the three ingredients it consists of). The suggestions of La Banquise and Patati Patata surface, but then again those places are so far and get so busy and all you want to do is eat and fuck off anyway. Then maybe a timid voices will pipe up unconvincingly, "Umm, Moe's has poutine, right"? Now you're into dodgy shredded mozza territory. The snide Drummondville-born pur laine might deem this a futile search, noting that you'll never find the ole' fries, cheese and gravy gambit that matches some hole in the wall back home (he is the first to trot off alone to the nearest dollar pizza place). It's getting tense, your stomaches are rumbling and oh my GOD, GUYS. THE POUTINE PUNDIT REVIEWS POUTINES AND RANKS THEM FROM BEST TO WORST. USE YOUR BRAIN (you know, your smartphone).
Moral of the story: Fuck that dude from Drummondville.