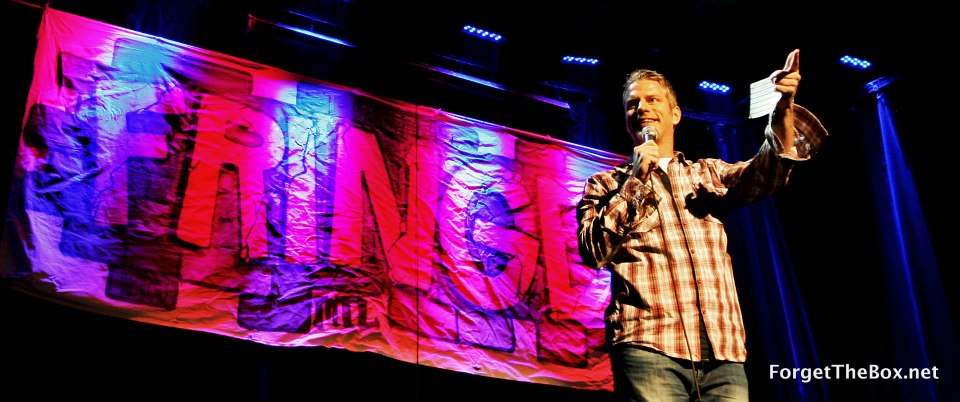 The 22nd Annual St Ambroise Fringe Fest kicked off last Monday night in the opening fun-filled event: Fringe for All!
In a light-hearted evening of persuasion, the players of Fringe had the chance to impress the audience in a succession of preview performances. Vying for the audience members' attendance at their upcoming shows, each performance group was granted two-minutes of stage-time to entice, persuade and promote.
These condensed, preview versions give fest-goers the opportunity to praise and appraise and to start shortlisting their must-sees. As a new friend of the Fringe, overwhelmed by the sheer scope of the festival, I was very pleased at the chance to sample what is to come. Personally, the night functioned as a sort of test. In preparing for the upcoming weeks, I shortlisted a few shows, based mostly on hearsay and the flyer-filled press package.
But "Fringe for All" acted as a preliminary control for my previous purely "cover-judging" opinion. Perhaps not surprisingly, what brilliance cannot be contained a leaflet, can definitely be relayed in two minutes on stage – even if sandwiched between hours of other snippet long performances. In some respects, I was impressed with my gut but there was plenty of room for short-list revision.
Here are a few memorable moments that have warranted my attendance in their upcoming shows:
Silencing and holding the audience under a darkened stage, a figure dressed in radiation suit and nuclear mask slowly enters the scene. A grimly composed voice-over captivates with a tale of a post-apocalyptic world in which "time", liquid and commodified, has cured illness, ended famine, and now, promises eternal life. But through this promise, liquid time has fallen into grave shortages. This is the story of those who hold the power of harvesting time. I later found out that this show is written and directed by the notable Paul van Dyck. But what is truly notable is that the preview was convincing independent of name-dropping.
Venue: Mission Santa Cruz – Performance dates: June 16, 17, 18, 21, 22, 23rd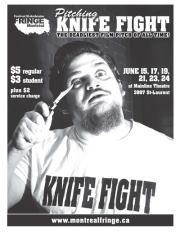 (Win free tickets through ForgetTheBox by guessing the film's body count!)

Opening on the 15th, Walter J. Lyng puts on what will undoubtedly be a riotous good time. Centered around the movie franchise "Knife Fight", the show will feature a series of promotional materials, as presented to potential investors. Well-known for his comedic ability, Walter is sure to deliver an energetic and contagious performance.
Venue: Théâtre MainLine Theatre – Performance dates: June 15, 17, 19, 21, 23, 24th
*** To win tickets to this show simply leave a comment below or on FB @forgetthebox or send us a tweet @forgetthebox guessing what the body count for the film #KNIFEFIGHT will be.
Put on by the Montreal Improv duo Zoe Daniels and Carmen Rose, this "two-person, one PowerPoint play" centres around Dr. and Mrs. Doverman-Brack's entry for the illustrious GASSBAM prize. Hard-hitting and hilarious, this preview earned a room full of laughs.
The Little Prince as told by Machiavelli
A short-list revision: "The Little Prince as told by Machiavelli" takes a heartwarming favourite and turns hilariously grim. Giving a colourful and animated preview, the Capricornucopia group retakes a classic inspiring story and adds totalitarian ruling advice. In a convincing and keenly entertaining performance, The Little Prince is sure to delight.