"It's close to midnight" Yup, was busy with the first real night of Halloween celebrations last night and preparing for a show I'm participating in on the last night. Took me a while to get this post up, but not a minute too soon, because…
"Something evil's lurking in the dark" Not so much evil as creative, inventive, fun and a little bit weird, just like Montreal at Halloween time. And Halloween is upon us once again.
Since it's already started, I'm just going to jump right in, stop cleverly quoting pop tunes, and let you know where you can find some of the the things that go bump in the night this year…
Halloweeird Costume Ball: What better way to kick off your Halloween (unless you went out last night) then by kicking off a new bar. Pom Pom War, P/do P/dro & Cast of Fictional Characters will be joined by Atomic Entertainment and perennially raunchy Glam Gam Productions at the opening party for Jackie & Judy. It's also a costume ball, the Hallowweeird Costume Ball to be precise and there will be prizes for the best costume.
Saturday, October 29th, 9pm-3am, Jackie & Judy | Rococo Bar Spectacle, 6512 ave du Parc, corner Beaubien, $5
Gaybash: Did you know that Zombie Voguers were infecting Montreal. The folks at GayBash do and that's the theme of their latest party, which is bound to be huge and wild, as with pretty much all of their previous events. Tonight's event features special guest The House of Bogue, deranged clowns Sally & Tyler and live performances by the Eklectiks & Tony Vice and much more.
Saturday, September 29th, 10pm to 3:30am, Cherry, 417 St-Pierre, $20 at the door
Blood Ballet: What would Halloween be without a little blood or a lot of blood for that matter. Blood can also be sexy, too. Don't believe me? Then check out The Blood Ballet Cabaret on Devil's Sunday. The show's Facebook event page promises that this "night full of blood, boobs and booze" will be the troupe's bloodiest outing yet. Judging by previous BBC shows, you should probably believe them.

Sunday, October 30th, 8pm, Le Belmont, 4483 boul St-Laurent, $10
Rocky Horror: If there's anything that says Halloween in Montreal, it's Rocky. The Rocky Horror Picture Show is back and this time the Montreal cast, host Plastic Patrik and all the sweet Transylvanian Transvestites will be at the Imperial. The opulence of this classic theatre provides the perfect backdrop for throwing stuff and yelling things at the screen, so if you're a pro at this or a Rocky virgin, head on down.

October 28th (woops, missed that one), 29th and 31st, 8pm and 11pm, Cinema Imperial, 1430 Bleury. $17.95 in advance, $19.95 at the door (+tax & service)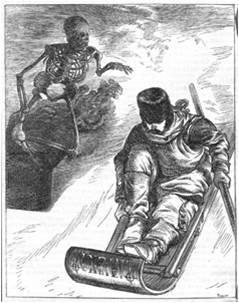 Haunted Mountain: There's no doubt that Montreal is a city with many ghost stories and haunted places. One such place is our very own mountain. Turns out Mount Royal has quite a few ghosts inhabiting it's slopes, paths, nooks and crannies and horror expert Donovan King knows where they are. If you'd like to know too, King's offering a haunted guided walk up the mountain, at night of course, visiting, among others, the ghost of Esplanade, Jack McLean and the Haunted Fenicular and the child victims of the Alan Memorial Institute.
Monday, October 31st, 8pm, meet at Barfly, 4067A St-Laurent, reservations 514-842-1467, $15

* Pumpkin image by Roni Mizrahi