The Festival Hip Hop de Montreal celebrated it's second birthday last weekend and it was… well, it was just ok. There were some great shows, some not so great shows and quite a few cancellations. Not a total shit show, but not a screaming success either.
To be fair, the Montreal Hip Hop festival is only in it's second year which, by festival standards, means it's still an awkward, gangly, pre-teen that's starting to get the hang of things but hasn't quite figured out how to deal with the hair growing on it's balls.
This year festival organizers decided to take the festival from a one-day event to a five-day, multi-lingual rap extravaganza. "There were rough patches, but also many good moments," said organizer Sebastien Laberge. "For us it's a learning experience, to manage so many events in such a short time. I think it's been a steep learning curve for everyone involved." Laberge is part of the seven-person team that organizes the festival.
Over the course of the weekend the originally impressive line-up was hit with several major cancellations, mainly due to problems with border control. French rapper Booba was turned away, as was Talib Kweli's band and Wu-Tang's Masta Killa.
"It is rap and a lot of these guys tend to have rough histories, so it's always complicated. Canada's a very difficult country to come into," explained Laberge. "It was a bit of bad luck too," agreed co-organizer Carlos Munoz. "Booba has been here like eight times with no problems, so I think that no one really saw this coming. I think everyone just kind of took it for granted that there wouldn't be any problems, but that wasn't the case."
Despite the cancellations, the festival had some shining moments too. Friday night's Talib Kweli show at Club Soda was packed with hip hop lovers who were so stoked to see the underground superstar that it you could practically see the energy zinging around the room. My favorite moment was when Talib got the whole crowd to sing along to his song Lonely People, the opening strains of which are the opening lyrics of the Beatles song Eleanor Rigby, a commentary on the increasing alienation of individuals in money and image obsessed western society.
Local rapper Manu Militari played a sold-out performance to over 1000 ecstatic fans Saturday at the same venue and California rappers Pac Div closed the festival Monday night with a sweet, if somewhat late-starting and under-attended, show at Underworld. "We were aiming to bring people together who had specific tastes in music," said Munoz.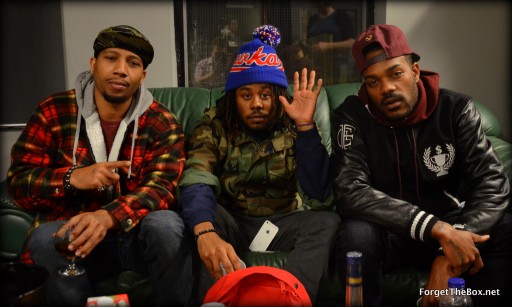 "Eventually we want to incorporate all aspects of hip hop culture, have events in the daytime as well," He said. "It's also a question of budget," added Laberge. "We want to incorporate one element at a time, so last year we really focused on the rap shows. This year we incorporated DJ nights and multi-lingual shows. We're thinking that next year we'll include the dance world," said Munoz. "It's easy to come up with lots of good ideas, but at the end of the day whatever you do, it has to be done properly," he explained.
Well, I guess we'll see if that holds true as this festival matures. Even though it may be going through some growing pains, I'm sure I'm not the only Montrealer who is just happy that, in the city of a thousand festivals, hip hop has finally staked its claim.
Photos by Chris Zacchia