This year, our plan to cover the Montreal Infringement Festival was to get a fresh set of eyes and ears looking at and listening to the events. While that will be exactly what you get when my colleague Grace Mitchell returns to cover the majority of the fest, for the Infringement's first weekend, that won't be the case.
Far from it. The eyes and ears you've got have seen, heard, organized and participated in their fare share of infringing since the first Montreal edition of the event in 2004. In the interest of full disclosure, I'm a co-founder of the festival, a former main organizer and have participated as an artist many times.
This year, though, while I am performing (more on that later), my behind the scenes duties have been limited. Therefore, I have the opportunity to experience the fest as a typical audience member might, so that's how I'll look at it.
Indoor Revolution
With thoughts of the recent abundance of activism in Montreal swimming through my mind, I headed to Barfly for the Infringement kickoff on Thursday. I was greeted with the same sort of spirit of revolt found in the streets over the past few months, now on stage.
Chorale du Peuple, a choir spun from the Occupy movement and part of the Quebec Student Protests well before Bill 78 made it everyone's struggle, was in full vocal swing. Their songs, some original, some politically-charged parodies of popular songs, rang true to the assembled infringers. Their themes ranged from solidarity with the student strikers and opposition to Bill 78 to Harper's Bill C-11 (yes, a Guns n' Roses parody) and our Prime Minister's love of the oil sands. Here's a sample of the last theme that's supposed to be sung to O' Canada with parody lyrics by Dan Parker:
O Oil sands, our gold on native land!
True patriot love
Petroleum commands
With fossil fuels
We see the rise of our
Strong economy
From far and wide
O Oil Sands
We fuel the U.S.A army
This bilingual group also added quite a bit of theatricality into the mix, playing out scenes during their songs and involving the audience in more than a few chants and singalongs.
The Chorale du Peuple is clearly a tough act to follow, but follow them Mille Rosado did. This Newfoundland-born, Vancouver-raised solo singer, guitarist and songwriter arrived in Montreal a few years ago and seems to have adapted this city's attitude quite a bit.
She played the way that you could easily imagine a whole band backing her up. But her performance was compelling to the point that other musicians were clearly not needed.
Another solo performer, Jeremiah Wall, rounded out the night with a mix of poetry and song. His work focused largely on animals rights and ecology in perfect keeping with the political overtones of the night and the entire festival.
So with a night chock full of raucous self expression and just the right amount of activism, the Infringement was now in full swing.
Time to get [sic]?
Here's where things get interesting, at least for me in terms of journalistic bias. You see, I performed in this year's festival Saturday night as the lead singer of [sic], a loud though catchy band that reformed "after a decade of not really waiting."
Now, I can't really review my own band. So instead, I'll throw out a quote that I can later use in a press kit, hmm… "If you catch one band with songs about getting sick at Burger King and Surrey, British Columbia, make it [sic]"… done. Now, I'll just say that we had a great, though sweaty, time playing the infringement and show  you this picture (that's me on the right):
 It was a real thrill, also, to get to play between two bands from Brooklyn, especially since the first band up was Sunshine. I've had the pleasure of catching their set a few times over the past few years and this constantly evolving group keeps doing so for the better.
The duo of Brooklyn Infringement founder Steve Ferrara and Amy Priya Santos were joined for this occasion on the drums by Wolfcastle drummer, [sic] rhythm guitarist and Montreal Infringement music coordinator (full disclosure again, also my brother) Joe McLean.
Their predominantly bluesy style melded elements from the muddy depths of the art form with catchier almost-pop melodies to create a very pleasing though edgy sound. This time around, they even did a blues tribute to the late MCA by covering the Beasties' No Sleep Till Brooklyn in their own special way.
Brooklyn was also represented in the form of metal band Manawi Thorn. This very intense and highly theatrical (the singer's costume was theatre enough for the whole band) three-piece played a very tight and pounding set. Unfortunately their metal compatriots from Montreal, Bridges to Dreams, went on a bit late and weren't able to finish up but showed a very promising start. I'm sure they'll get to complete their set at an Infringement in the future.
Ghosts of Mount Royal
On Sunday, I left the world of loud guitars and political choirs to experience the non-musical side of Infringement. This event started, after all, as a theatre festival and there were plenty of theatrics to go around so far this year.
I strolled through the Dumpster Dive Art Drive in the alleyway behind the Bifteck. Having missed the wine-bottle-in-a-paper-bag-vernissage, I still had a chance to check the found objects, mostly what we'd call trash, arranged into works of art, with descriptions and prices, too.
Then I headed up to Barfly, the starting point for the Haunted Mountain Tour. Presented, in character, by Infringement conceptualizer and professional ghost tour guide Donovan King and Karen Spilak, the tour took us to the foot of the mountain, pointing out where some historical ghosts may reside along the way. As we headed up into the woods of Mount Royal and the sun started setting, the mood and stories (while still historically accurate) got creepier.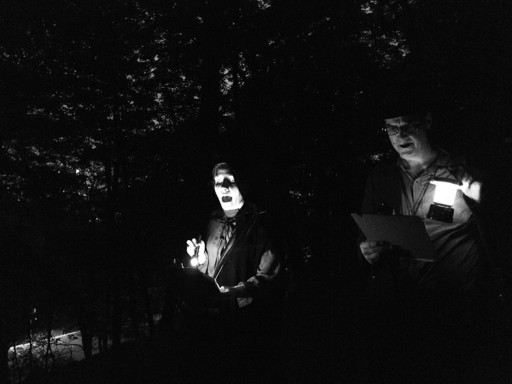 No matter how spooky and entertaining it got, thanks in large part to King's classic deadpan delivery and the way the lanterns reflected off the potentially eerie set that is the mountain at night, the show always stayed informative. We learned about stories from Montreal's past that many of us had not known about, even those who had lived in the city their whole lives. We also discovered parts of the mountain that we had never been to.
And that, in a nutshell, I realized, is what the Infringement is great at offering: discovery. Discovering a new way to look at art and the world. Discovering new opportunities to express yourself. This year, I've had a chance to discover the Infringement in a whole new way and from a whole new perspective. I hope to continue to do so as Grace takes over our coverage.
* The 9th annual Montreal Infringement Festival runs until Sunday. The full schedule is available at: infringementfestival.com/montreal