Montreal is where my grandparents went on their honeymoon 60 years ago. I always remember my grandmother talking about it with stars in her eyes. Now that I've been here, I can see why. Just a six and a half hour drive from Buffalo was worth it, I fell in love with this city instantly.
It is a place full of quirky wonderfulness, freedom, beauty, oozing with art and randomness. There are so many festivals going on at once it's almost overwhelming! Last year was my first time. I came up for the Montreal Infringement festival, started by Donovan King as a protest against censorship and corporate sponsorship, especially the Fringe Festival. Infringement festivals are about true art and causing a stir, not about money, more about politics and revolution. The Car Stories interactive street performance is always my favorite part of the Buffalo Infringement Festival, it is the reason for everything.
I loved the red light district tour I went on last year, it really moved me. Knowing that people fought/are still fighting to save an important piece of their history. I performed at the historic Cafe Cleopatra with the Candyass Cabaret. The lovely Velma Candyass welcomed us with open arms and gifts. We met our current host, Nat King Pole, at this same event. It's incredible to think that a whole year has passed and, now, Fifi Laflea and I are back and treated as if we were family. Make sure to check out their world class monthly burlesque show!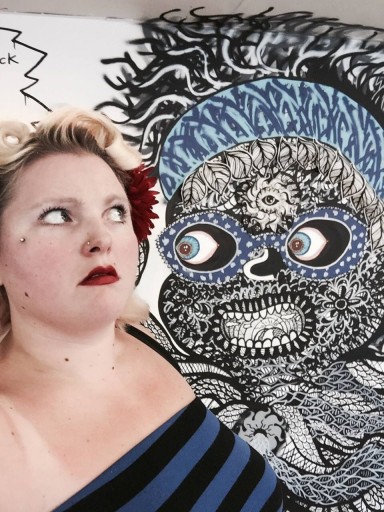 My kitty porn art (collages of cat heads on hardcore porn bodies) was ripped off the wall of the venue by a staff member for being too lewd, people painted on me, I performed burlesque during the day, and took a walk in my underwear for a Forget the Box interview in old Montreal. That is actually how I landed the sweet gig of writing this very blog. All in all I felt bad ass and privileged to be part of this incredible festival.
Montreal is an artist's dream. I was astonished by the incredible street art and the Fresh Paint Gallery. The busking musicians were plentiful and fantastic. All the food was cheap and delicious. Every person I met was good looking and so incredibly nice. I felt like Montreal loved me.
A year later I am back in Montreal, this time not performing because well I dropped the ball. Unfortunately we arrived late and missed the night of radical anti-establishment poetry at Cafe Jarry but I look forward to checking out the night of folk music tonight. The Soirée Folk is happening at Kafein at 8:30pm and I wouldn't miss it for the world! Check out the June 18th programming.
Even though the Infringement happenings were missed, we caught dinner at an Irish pub called McCarolds, where we had the cutest tattooed waitress and some great burgers and beers. After the feast we headed over to Cafe Cleopatra. The strippers were so much fun! Nothing better than some beautiful and confident women strutting their stuff. I was happy to see a variety of women dancing, not just the plastic stereotypes. I even felt like a couple of strippers' buttholes winked at me. It was glorious.
After we left the club I witnessed several cop cars stop in front of another adult establishment, the officers left their cars, hugged each other, and went inside. One lady cop was even wearing pink camouflage pants! It was amazing. I found out that the police have been donning camouflage pants and jeans for almost a year to protest changes in their pension plan. This city is just so cool, even the police are protesting injustice and hanging out at strip clubs.
I am so inspired by every breath of Montreal. I already wish I was staying longer. For those of you that will be around all weekend I urge you to check out the remainder of the Infringement Festival, it will change your life or at least inspire the hell out of you. Check out the schedule at infringemontreal.org
Featured photo by Chris Nautics from last year's Candyass Cabaret.