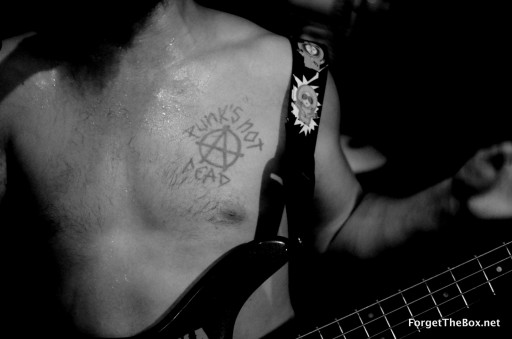 For the first time since the Montreal Infringement festival started in 2004, I got the chance to experience the event without that many behind-the-scenes duties. After having a great time the first weekend as a spectator and performer, I was ready for more.
I participated in a spoken-word show Tuesday night at the Co-Op Concordia bookstore and enjoyed the performances and the space when the Infringement played the Fresh Paint Gallery Wednesday.
Thursday I headed back to Barfly. After checking out some inspired art in a very inspired location (my colleague Taymaz Valley will have more on this next week), the bands started rolling in.
Last weekend, most infringing at Barfly was of the louder variety. Never a festival to be pigeonholed into one style, this weekend's Infringement music kicked off with Cortezia, an acoustic duo featuring veteran Montreal chansonnier Louis Royer and the angelic-voiced Jessica Charland. Folk singer and Infringement veteran Richard Lahmy followed, really bringing out the politically charged roots of the genre.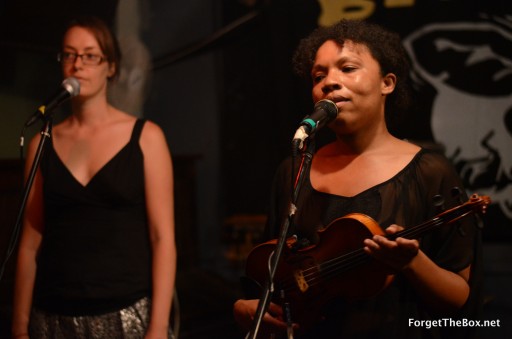 The stage was set for Ari Swan. Now according to the Infringement website, this was violinist Swan's first show vocally fronting a band, though you couldn't tell it by watching and listening to her. She owned the stage and sang with all the confidence you'd expect from a stage veteran.
Swan's powerful voice and energetic accompanying musicians and singers revved up the room. That revving would continue with the next act.
Now what, may I ask, is the best way to top off an evening of acoustic music? Why, punk rock. And that's just what RWR brought.
Usually I'm a fan of originals and this band had some good ones, but it was their cover of Teenage Mutant Ninja Turtles that really stood out for me…both times they played it. I also liked how they continued playing even after their friends reminded them, onstage, that they had to work the next day…very punk and very Infringement.
Friday, I unfortunately missed the Candyass Cabaret, but a number of infringers and our photographer Chris Zacchia who did make it out had very good things to say. You can experience the event, the last one for the summer, through photos (once they're uploaded to our Facebook page). I also missed Buffalo performer Jacob Verghese who kicked off the night at Barfly.
I arrived just in time to catch Twisted Willow. This multiple-member acoustic act had already played the Infringement pre-festival kickoff a couple of weeks ago, but they change things up quite a bit so you never know just what to expect or who to expect on stage.
Tonight it was mainstay brothers John and Dave Handleman (their mom was in attendance) with Sophie Doyle on vocals for most songs along with Sunshine fill-in, [sic] member and Infringement music coordinator (full disclosure again, my brother) Joe McLean on percussion. They played their mix of originals and covers getting their excited crowd involved with each song.
Next up was E. Lloyd Mac Hardy. This Nova Scotia native was playing the Montreal Infringement for the first time but was already a Buffalo Infringement veteran.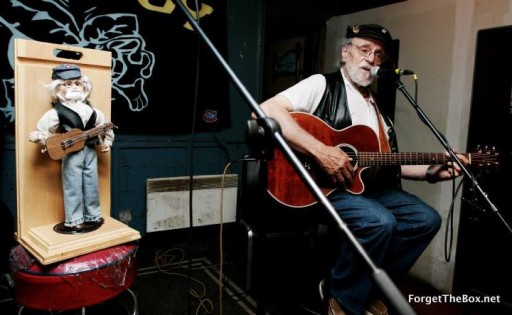 A few years ago, I won an Iffy Award in Buffalo. These makeshift trophies written on paper plates were given out in categories dreamed up on the spot. Mine was for Most Hardcore Infringer, an honour I shared with late night park drinking buddy Amanda Giczkowski. If Montreal had the same awards, I would surely nominate Mac Hardy with the same award I had received.
At 76 years young, the man drove all the way from Nova Scotia and then played a show, captivating the crowd with his accoustic guitar, storytelling lyrics (about Dr. Phil, Viagra and other topics of interest) and wooden doll likeness. Then he continued the celebration with some off us until 6 am, a full 24 hours after he left home. If that wasn't enough, he gave an impromptu backyard concert the next night before driving back home.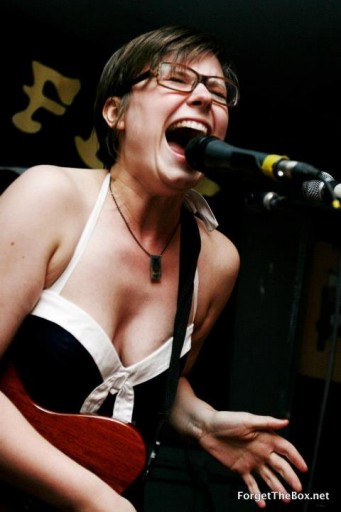 Back in Barfly, Elgin Skye was about to take the stage. Throughout the festival I heard people asking when Elgin was playing. She had already backed up Ari Swan the night before and now she was performing solo.
The healthy crowd knew most of her songs and called out requests. I wasn't that familiar with her repertoire like they were but I soon was (and realized I had heard some of them through FTB's creative director and photographer Chris Zacchia's car stereo throughout the year). Her song about loving zombies because they only want women for their brains really caught my attention, despite Elgin's (tongue-in-cheek) fears that recent news stories indicating an actual zombie apocalypse may take some of the fun out of it.
No fun was missing from the song or from anywhere in her set. She rocked out like there was no tomorrow with her accoustic guitar and really interesting sound effects and a great voice. The crowd and this audience member rocked with her.
There was going to be a tomorrow, though. After the evening's closer and (as Elgin put it) very handsome man Trevor Davies played a solid set, I knew it was time to prepare for another night of Infringing followed by a closing day. I'll bring you the rest of the fest soon.
For now, though, I'd like to note that the shows on Thursday and Friday all rocked out and (with one exception) they did so without heavy amplification and distortion like the musical infringers of the fest's first weekend had used. The punk ethos remained as did the passion. This was just a different kind of rockin'.
* For more photos, please check out our Facebook page