Now a sentence you may have never thought you would read: tonight the Montreal Infringement Festival begins its tenth annual edition. Just as some thought the world wouldn't continue past 2012, others believed the Infringement was just a drunken bar joke that would maybe make it to a second year only if organizers were really lucky. And like those Mayan-inspired doomsday prognosticators, the people subscribing to the common logic of how festivals run these days were wrong, too.
Turns out you don't need huge budgets, major corporate sponsorship, a trademark, political apathy or hefty registration fees to survive, thrive and expand as a festival. Over the past decade, the Infringement, which follows an incorruptible anti-oppressive and anti-arts commodification mandate has not only continued in Montreal but spawned lasting offshoots in Buffalo, Brooklyn and Hamilton (and a handful of onetime events in places as far away as Bordeaux, France).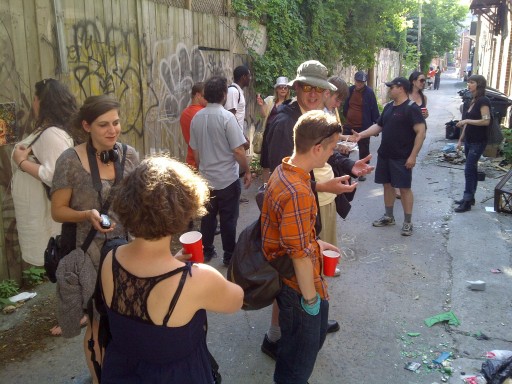 I'm happy it has, not only because (full disclosure) I'm a co-founder and participant this year, but because it really is a fun and unique event. You never truly know what to expect at the Infringement.
This year's event in Montreal runs eleven days and takes place in both new and more established venues as well as the streets, alleys and parks of Montreal, mostly focused in the Plateau and Mile End neighbourhoods. Since the weather is nice, let's start outdoors.
One of my favourite Infringement events, the Dumpster Dive Art Drive, is back. We're talking about art made from materials found in the trash and displayed, at a vernissage no less, in an alleyway. Get there early or you may miss out on the wine and cheese.
This year, there are not one but three walking tours: of the historic red light district, of the most haunted spots on the mountain and one that takes you through the history of the Infringement itself. Add to that the interactive show Infringement Therapy, countless guerilla theatre culture jams and maybe even a picnic and you have a wide scope of outdoor activities to choose from.
The options don't end when you head inside, either. Still operating in venues like Barfly, the Infringement has added a slew of new spots this year, places like Cafe Sierra, Dragonfly Studios and TRH-Bar (formerly Saphire).
Music has been a prominent part of the Infringement in recent years and this year is no exception. As usual, there will be plenty of local and out of town acts playing rock, punk , pop, folk, electronic, political and funny choir singing from Chorale du Peuple and even a bit of the blues in the form of returning Brooklyn band Sunshine (playing with Trevor Davies and Crazy Knows Crazy).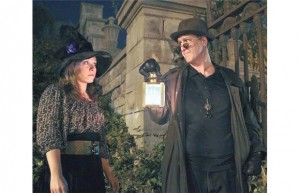 The Montreal Infringement has featured hip hop before, but this year, for the first time, there is a political hip hop evening called Smashing Through Walls. It features Jay Manafest , Lucky Lex, Nikolai KUSH and Infringement veterans PSYNLANGWAGE.
The fest, which began as a theatre event, is offering plenty of stage performances this year. There are plays like 420: The Musical (the name pretty much says it all), coming all the way from Buffalo, plays in French by La section québecoise des Esprits solubles, burlesque in the form of the Candyass Cabaret, a spoken-word show (I'm performing in this one) and the return of the multimedia show Smoke n' Mirrors.
The fest kicks off tonight at Barfly with Grr en famille and runs, well, hopefully another ten years…stranger things have happened. That's still no reason not to catch as much of the fest as you can over the next eleven days.
* The 10th edition of the Montreal Infringement Festival runs June 13 -23, for schedule and artist bios, please visit infringemontreal.org