When the 2013 Montreal Infringement Festival closing weekend arrived, I was ready. This was, after all, the 10th edition and I had been to all the previous incarnations, but I soon remembered that when it comes to the Infringement, it's best to expect the unexpected.
Thursday
Thursday night, the Montreal Infringement was supposed to be a night of theatre featuring Buffalo's 420 The Musical. Unfortunately, the show wasn't able to make it (insert whatever stoner joke you want here).
That didn't stop some of the members of the troupe behind it from coming down and Infringing anyways. We were treated to musical sets from Lola and the Creen Machine and Dozo My Lady, who both brought the house down.
The house, of course, had changed to Cafe Sierra. I'm glad I had the chance to check this venue out, it's a cool new artistic cafe on Prince Arthur and it's worth a visit.
I'm also glad I got to see a set by Atlantic City native Lucas Simmons. This mentalist had been in town since the beginning of the fest, drawing portraits of whoever wanted one at various Infringement events and now the stage was all his.
I have to say his performance was both entertaining and impressive. It felt like someone you're having a beer with all of a sudden starts doing magic tricks, except these tricks are damn good.
I couldn't for the life of me figure out how he did most of them, including when I was pulled up from the audience, not once but twice. I thought I had figured out one trick, but then was reminded of one crucial detail which I could not explain. Mind…blown.
Thursday was also the night the fest went into overtime, unofficially that is. I got to hang out with the performers and out of town guests like Hannah and George Hampton who came all the way from Buffalo just to check out the fest. True Infringement spirit if I've ever seen it, and believe me, I have.
Friday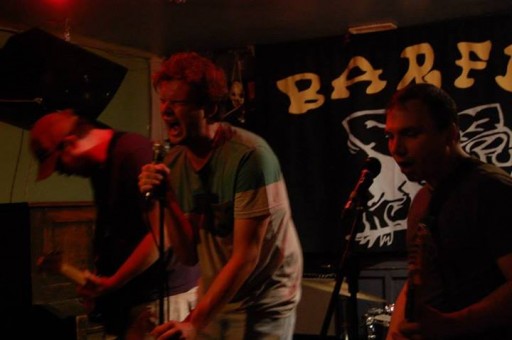 We partied into the wee hours, so making it down to the fest on Friday was a bit of a challenge and one I'm glad I met.  I'm also glad that Bianca David was covering Sunshine (check out her review and interview), but I will mention that Montreal band Crazy Knows Crazy's first show was, um, loud to say the least and heavy, very heavy.
I couldn't make out all of the lyrics, but I think that was the point. It didn't stop the tunes from being really catchy.

Saturday
I headed out to Smoke n' Mirrors on Saturday not expecting to perform, but alas, in the Infringement, it's a good idea to expect the unexpected. There were a couple of last-minute cancellations and Infringement music coordinator Nikolai Kush and I filled the gaps.
Nikolai impressed not only me but the whole audience with his beat boxing, vocal and harmonica skills. I love the one man band aesthetic and Nikolai pulled it off.
I did a bit as a politician who chose to celebrate Montreal's corruption. It was fun and got a rise out of the crowd, which I was happy with considering I followed the very definition of a tough act to follow.
What started as a spoken set by Math Boylan (who runs the — gallery where the show was taking place) quickly turned into a burlesque performance when Sandrine Charbonneau walked out topless. She danced as Boylan spoke and painted her body. Again, in the Infringement, you have to expect the unexpected.
Jay Manafest, who normally hosts this now unhosted show, performed a few of his socially conscious hip hop tracks throughout the evening. This time, though, he gave some back-story, which made his catchy tunes more relevant.
That was the planned part of the evening. After the break, though, it turned into a jam session.
We all took part in this jam. I performed a few songs and even took part in a positive rap battle (a great idea: compliment each other instead of dissing).
For me, this was the end of my infringing in Montreal for the year. The next day, there were two events: Infringement Therapy and everyone hanging out on the mountain.
That's right, no show, no plans, just infringers enjoying each other's company and planning for the future. While I missed the closing, I plan to be a part of that future.
You see, next year is the 10th anniversary of the Montreal Infringement Festival. But wait, you might be thinking, wasn't this year ten? Well, it was the 10th edition, but the anniversary is next year.
A trick? Nope, just some fun with numbers and yet another reminder that in the Infringement, you've got to expect the unexpected.
Can't wait till next year for more infringing? The Buffalo Infringement Festival runs July 25 to August 4. Check infringebuffalo.org for details.
* Photos by Hannah Hampton. For more of her photos, please visit urbex-buffalo.com. Top image of Lucas Simmons (2nd from left) and audience volunteers.