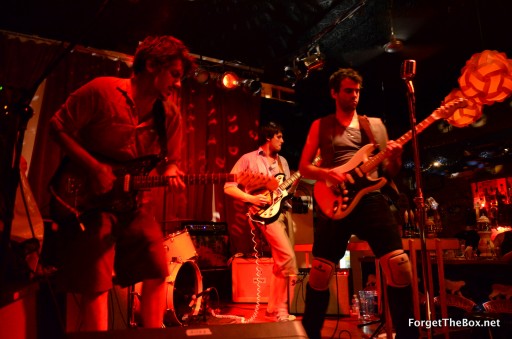 It's been one of those mornings where, upon waking and peeling open bloodshot eyes, the first logical step is finding some sunglasses and liquid. Ah yes, Infringement Festival is underway and the first few moments of my days are beginning to form a pattern.
I headed out to Bifteck on opening evening, fresh faced and determined to arrive on time. This was both my first mistake and first lesson in how things work at this event. I was quickly told to get a drink and grab a seat. Timelines and schedules were only rough guides to where and when things are taking place.
Both organizers and performers sat, markers in hand, paper on…pavement, designing a sign to lure passers-by to the opening picnic. After a few pitchers and pints later we felt well enough oiled to start things off. We began setting up our spread, chatting, enjoying the evening with food and wine flowing generously. Good vibes.
At this time, I imagined it would be a simple, nice affair, and it was until the bad noise showed. From the sea of interested people passing by came somebody: security for the St-Laurent street fair. Loud voices and confusion.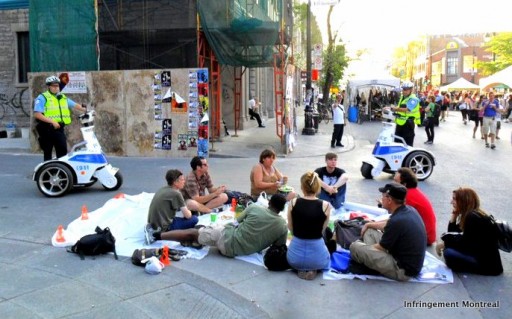 It appeared our humble picnic was horribly offensive. Suddenly, presumably having multiplied when I looked elsewhere, more goons from the mist arrived. Attempts to smooth things over resulted in accusations of "shouting" at security.
Things were heating up. Another discreet glass of wine was of course fit in until the police showed up. Police, mounted on extremely threatening Segways none the less, surrounding our small group of about 10 people.
Of course they were only parking beside us! They were quick to ease our concern reassuring us they were not there to bully or intimidate. Lord knows authoritarian figures wouldn't do something like that to a small artistic endeavour against commercial festivals. They certainly wouldn't say "I hope you're calling your lawyer" to someone who was calling the mayor for clarification on the legality of the grand opening.
Not letting these bully tactics herd us onwards, security realized their presence was actually exacerbating the imagined problem they had created and so left us to finish our picnic as we had intended.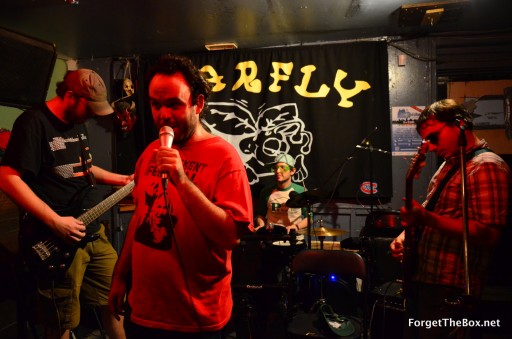 Feeling pretty good about the whole scene, I was ready to hit Barfly to check local bands Michael Michael and Talk/Sing Skeleton perform. The music was great and everybody was in good spirits. Of course being Infringement, there were a few surprises involving some special guests including former [sik] member and Infringement co-founder (full disclosure, also FTB editor-in-chief) Jason C. McLean.
A brief run in with more nasties shutting down everything resembling fun on the streets did little to de-rail our buzz and the night drew slowly to a close.
The next day I headed to les 3 Minots to enjoy a long day of music. Opening act  Annie Becker played a generous and intriguing set to the beer-fueled terrace. The Vancouver artist switched from soulful originals to quirky covers and the tone of her music was set beautifully against the amber evening. After Ms. Becker finished her set, to smiles and applause, it was time to move the party inside.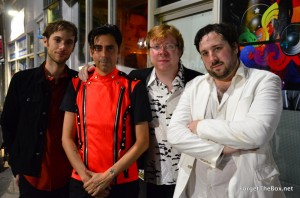 Opening Brooklyn-based band Maybe The Welders played a set that was wired to the moon. High energy pop punk performed by passionate people filled the bar with good energy. It was about this time I stopped buying beer due to the retarded "pints" being served. Bad prices for a glass half-filled with beer, half with foam.
Following on from these we were treated to two balls to the wall performances by Da Madafakaz and French-Canadian group Ralf Wiggum. By this stage, people were half shot and an air of madness permeated the room. Inflatable sex toys sailed overhead and people danced chaotically.
Ok, I thought, surely that's the end of the night. Unfortunately Montreal isn't very keen on allowing me much sleep, so provided me with some chance encounters leading to a long night of drinking and playing some blues with a fascinating person. No rest for the wicked, and Infringement is panning out a pretty wicked festival.
*picnic photo by Donovan King, courtesy of Infringement Montreal, performance photos by Chris Zacchia
For more photos check out ForgetTheBox on Facebook