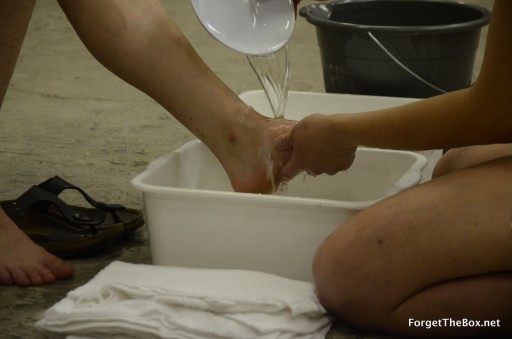 The Montreal Infringement Festival is coming up on ten years of providing Montreal and International artists with a judgment-free venue for displaying their art to the throngs of public admirers and would-be admirers, and if the event and reception of last night's program at the Fresh Paint Gallery (180 St. Catherine East) was any indication, the festival will be around for many years to come.
The festival, which is labeled as "a non-hierarchical artistic democracy" on their website, aims to emphasize both critical practice in the arts, and artistic practice in activism. It also aims to provide positive environment that encourages and nurtures critical art.
Art followers might be more familiar with the Fringe Art Festivals, which started in Scotland in 1947. However, the popularity and growth of the Infringement Festival has risen out of the corporate-sponsors of the Fringe Festivals dictating acceptable content and subject matter for their event – culminating in a dispute between sponsors and artists in Montreal in 2001 which effectively led to the permanent establishment of the Infringement Festival, which is still going strong.
With a mandate that no artist should be denied a space to display their art or art form and that no artist should be forced to pay entrance fees (up to $600 per appearance in some of the corporate-sponsored Fringe events) as a prerequisite to sharing their art with the public, last night's program of Infringement events was a genuine example of what the Montreal Infringement Festival has to offer. Some would even argue that it represented what were the original intentions of the Fringe Festival itself.
The Fresh Paint Gallery itself is a successful work in progress, and it is only one of the many venues that have volunteered space and manpower for the Infringement Festival to continue.  A Montreal historical landmark building on the corner of St. Catherine and Hotel de Ville, reclaimed by a group of committed artists led by project instigator Sterling Downey, last night provided the atmosphere for a display of contemporary theatre, music and musings that showed what the Infringement Festival is all about.
A full evening of events began at 5pm yesterday with musical offerings that crossed boundaries and genres from DJ Skoal – which provided a mélange of different styles mixed together into one, for a truly all-inclusive brand of music that everyone could identify with. The two-hour music set accompanied the man-machine living sculpture presentation and display of Docteur Prout, a living artist who spoke to the meaninglessness of technology and machine through his tongue-in-cheek descriptions of his "perpetual motion device."
At 8pm the show continued with Calm-Position, a tight theatrical dance and audio presentation from DMB, consisting of a display of modern contemporary dance choreography from Pascale Yensen set to the atmospheric sounds provided by Tristian Henry and his sound crew.
The main event of the evening program was the presentation of the Smoke n' Mirrors show, which was a culmination of many artists speaking, singing and acting out against the many moral and institutional hypocrisies of today's marketing and commercial driven societies, including our own.
Comedian and Festival organizer Jay Lemieux was the MC for the evening program, and took the opportunity to share some of his comedic insights and perspectives with the audience, in addition to introducing the acts as they came to the front.
Stefen Petersen came from Toronto to do a comedic set and pushed the boundaries of acceptable discourse with his presentation that left the crowd thinking, if not all members laughing, by the end of the evening.
Jacqueline Van de Greer, a local artist and Sonya, the Truther Girl from YouTube, also had interactive presentations that brought audience members directly into the performance and provided a unique mix between set pieces and improv, a surprisingly good metaphor for life.
Tatiana Koroleva had a very interesting piece in which she, while speaking to the audience members entirely in Russian, got interactive with the crowd through a foot-washing ceremony, which was so moving that it brought some present to tears before the end of the performance.
The most direct set of the evening was a performance from Evaly who sang a beautiful acoustic song on guitar and made clear references to the hypocrisy in a society that demands women shave their body hair, but accept body hair from men. The performance climaxed in a shocking display of the artist removing her pants to display her furry legs and then smashing a mirror with a hammer, to underscore the importance of breaking free from all false societal images that we are supposed to represent and are supposed to represent us.
The Infringement Festival of Montreal continues until Sunday, June 24 at a variety of venues across the city and if you are looking for a way to beat the summer heat and stay cool – there is nothing cooler then what the Infringement Festival artists have in store for you!
* photos by Chris Zacchia, see our Facebook page for all the pics