Usually when writing these election breakdowns, I always have to search for the silver lining. Not this time.  I'm very proud of Montreal.
First, we have elected a woman as Mayor for the first time in 375 years. And an extremely progressive woman, too.  Valérie Plante, a one-term City Counselor who rose to become the leader of Projet Montréal and in just a few months has unseated career politician, former federal cabinet minister and incumbent Mayor Denis Coderre who has now quit municipal politics after just four years in it.
This is a tectonic shift in Montreal politics which will have repercussions in both the provincial and federal political arenas. No surpise that Plante pretty much put Quebec City and Ottawa on notice, in the most polite way possible, during her victory speech.
As a whole, it was one of the most spontaneous, upbeat, fun and positive bits of political discourse I have ever witnessed. It was also a serious promise to focus on Montreal and bring everyone together to do it.
Definitely worth watching:
While Mayor of Montreal is a very powerful position in and of itself, a majority on City Council makes it that much easier for the winner to hit the ground running. Otherwise, they would need to form coalitions with independent councilors and those from other parties.
Plante would have been able to pull off the latter rather easily, given that pretty much everyone not running on Coderre's team endorsed her for Mayor. However, that won't be necessary, as Projet Montréal won 34 of the 65 seats available, giving her a majority.
Thanks to that, she has already started putting together her Executive Committee with Sud Ouest Borough Mayor Benoit Dorais as its President and has already started talking to Quebec officials and is planning to talk to Ottawa about getting more buses on the road and potential funding for the Pink line. It looks like things will move fast, which is great news for transit users, pet owners, cyclists, people who dislike wasteful spending but are fond of transparency and, arguably, all Montrealers.
Huge Borough Gains for Projet Montréal
Projet is also now quite strong in borough governments. Ten borough mayors belong to the party, eleven if you count Ville Marie (Downtown and Old Montreal), as the Mayor of Montreal also leads that central Borough Council.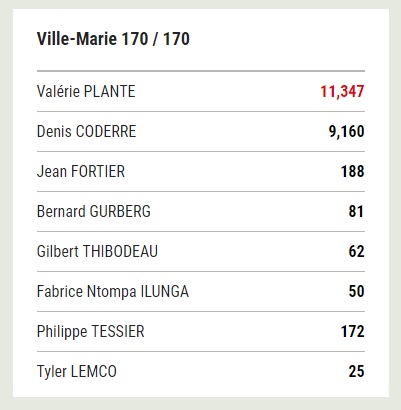 As a Ville Marie resident, I found that particular setup annoying when Coderre, who was not our voters' choice for Mayor (he finished third among Ville Marie voters in 2013), wielded power over the council made up entirely of the opposition. This time, Ville Marie voters chose Plante first, just like the city, so who we voted for is who's in charge at both the city and borough level, a very welcome change.
Projet also holds the majority on the Ville Marie Borough Council with Plante's co-candidate Sophie Mauzerolle retaining Sainte-Marie by a healthy margin and Robert Beaudry winning in St-Jacques over the three time Projet mayoral candidate who left the party he co-founded to run with Coderre. Definitely one for the Bad Career Moves Hall of Fame.
Voters in Peter McGill, my district, elected Cathy Wong, the lone Équipe Denis Coderre (probably gonna have to change the party name now) councilor in Ville Marie. While I was hoping for a clean sweep of the borough with Projet's Jabiz Sharifan, I'm glad that at least Steve Shanahan, who abused his municipal office to run federally for Harper, lost.
Projet maintained complete control of the Plateau, Rosemont-La-Petite-Patrie and Sud Ouest. It wasn't even close in most of those races. The party also swept places like Lachine and L'Île-Bizard–Sainte-Geneviève where they had no representation previously and made significant gains in boroughs like Outremont.
Perhaps the most significant local increase happened in the city's most populous borough, Côte-des-Neiges–Notre-Dame-de-Grâce. It's also the part of town hardest hit by Montreal's traffic woes.
Former Gazette journalist Sue Montgomery unseated former provincial MNA and incumbent Borough Mayor Russell Copeman, who would have been President of the Executive Committee had both he and Coderre won. Peter McQueen won a third consecutive mandate in NDG by one of the largest margins of victory in the city and Magda Popeanu was re-elected to a second term in Côte-des-Neiges.

Voters in Loyola elected Projet's Christian Arseneault, giving the party three of the borough's five council seats. He beat out Coderre candidate Gabriel Retta with incumbent independent councilor Jeremy Searle finishing third. I guess calling constituents at 4am to argue with them and showing up at council meetings (allegedly) drunk will cause you to drop in votes.
Former Interim Mayor of the borough Lionel Perez was re-elected in Darlington, making him the only member of Coderre's team on the Borough Council. Marvin Rotrand, the leader and only elected candidate for Coalition Montreal held on in Snowdon. With 35 years in office, it would take quite a bit to unseat him, though he only beat Projet's Irina Maria Grecu by 576 votes. He also came out in support of Plante for Mayor during the campaign and just announced that this term will be his last.
It's clear which party will be running the show in this major borough for the next four years.
The Changing Face of Montreal Politics
With political establishment heavyweights like Copeman and now-former Villeray–Saint-Michel–Parc-Extension Borough Mayor Anie Samson losing to political newcomers (though ones who have been very involved in their communities), the face of politics in Montreal is changing. Business-as-usual is now in the minority at City Hall.
The Old Boys Club mentality has been show the door both figuratively and literally. There are now more women in positions of power in the city than men. Another first for Montreal.
The new look also fortunately comes with a new, progressive attitude. Plante and Projet won because Montrealers from all over the city and from all walks of life rejected the bread and circuses to hide inaction approach that has guided our development for decades.
We're on a path of ambitious, though realistic infrastructure development. One of sustainable and fair mobility and a locally-focused attitude. It's a great time to be a Montrealer.