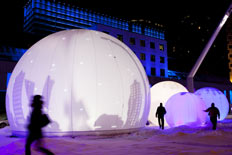 So much going on, so much to do, what's a boy to do? Well here are some suggestions.
There's a lot going on in Montreal this evening, a lot of big things. It's Nuit Blanche, as well as the MONTREAL EN LUMIERE festival, Smoke N' Mirrors, The 13TH FLOOR with Daniel Bell, the WAWA show and the list goes on. Every year I try to go out and check out some of the most exciting & interesting events presented throughout the course of Nuit Blanche. I would like to share with you my philosophy in the hopes that you will have as much fun as I will tonight. I usually select a few events that I don't want to miss and then chart out a circuit that will allow me to reasonably make it from one venue to the next. I then walk from one spot the the next catching as many interesting things in between as possible. (note: I like shiny things so my tendency to get distracted and horribly off track is quite likely)
For those of you who get easily distracted, Nuit Blanche also has an iphone app that will give you the down-low on where & when specific things will be going on. I imagine it will also be quite useful when you're lost to find the closest warm arts shelter.   The sheer volume of great shows can be overwhelming for even the most seasoned Montreal veteran, and I'm sure I won't be able to cover even a fraction of the events you should check out tonight but here are a few suggestions.
1. ART SOUTERRAIN is a variety of art exhibits & shows all taking place in "Montreal's Underground City" (Which is really just a network of tunnels & Malls connecting the majority of the Downtown Core). I toss this on the list even though most of you will surely stumble into some part of this extravaganza, mainly because it's a great way to travel from one venue to the next and catch several other shows in between. If there is only one thing you check out in the Underground city this Nuit Blanche, I would highly recommend 2fik. 2fik is a interdisciplinary artist who mixes dance, hip-hop, religion & culture in a creative & up-beat way. Check it! 6-3 am
2. Every year I hit the Belgo building, which houses 5 floors of artists. The Belgo building plays home/studio to many Montreal artists who use its lofts to create, experiment & share. Stopping at the Belgo building allows you to take in at least a dozen art spectacles in one spot. Very important if you'll be running from one spot to the next trying to take it all in. One of the artists you should make a point of visiting is PapirMasse produced by Kirsten McCrea & JP King. They will be releasing a zine an hour for a dollar! check it out! Belgo Building: 372 Ste. Catherine Ouest, #408
3. If you make it to the old port I would definitely suggest checking out The AXA Sphere (or as I like to call it, the giant Bubble). Inside DJs and VJs await you with an out-of-this-word musical and visual experience. This evening DJ Prince Club will be spinning along with VJ Simply Complicated. 9pm to midnight at the giant bubble in the old port.
other stuff to check out:
For those of you into Ted.com or TedX events Uqam will be holding an all night Ted event too!
The Montreal Architecture Museum
The SAT (Société des arts technologiques): Touch the night at the SAT with Création Ex Nihilo and their 15th anniversary architectural mapping video projection onto the city's walls.
The Flexigloo at the entrance of the Mount Royal Metro station
Have fun and stay out of trouble (just kidding about the last part) 🙂
And a special thanks to my friend Tim Webber for pointing some of these events out to me!