Montreal is a great city. The diversity of our population is unmatched in most of Canada, we are unilingual by provincial law, bilingual by federal law, but if you walk down our streets you'll hear everything from Tagalog to Hebrew spoken.
We have an impressive nightlife and artists from around the world come to perform at our annual festivals. Despite all its diversity, and action, there are many areas where Montreal could use some improvement, especially if you drive a car.
Parking in Montreal is a nightmare.
Part of the city's parking problem is due to all the construction. When snow and ice aren't interfering with road work, parking is compromised by construction that takes huge chunks out of the streets.
There's very little indoor parking despite high demand, and the existing indoor and outdoor lots in the downtown core are heavily taxed by the City. What's left are areas taken up by signs reserving parking spaces for residents, and everything else seems to have a parking meter on it.
There's a saying that in life there's no such thing as a free ride, but in the City of Montreal there's no such thing as free parking.
Montreal Parking Law
To prevent a few headaches, I've decided to give you all a crash course on Montreal's parking laws. These rules apply only to the City of Montreal, which includes such boroughs as NDG/Cote des Neiges, the downtown core, and the Plateau. Areas on the Island that operate independently of the City of Montreal, such as the City of Cote-Saint-Luc and Westmount have their own rules.
The City of Montreal's parking rules should be easily accessible online, but they aren't. Most of the city's online resources for parking are devoted to helping people pay parking meters and tickets.
The law itself is the By-Law Concerning Traffic and Parking and is almost impossible to find online unless you know exactly what you're looking for. The most updated version is only available in French so if you don't know the language, you're screwed.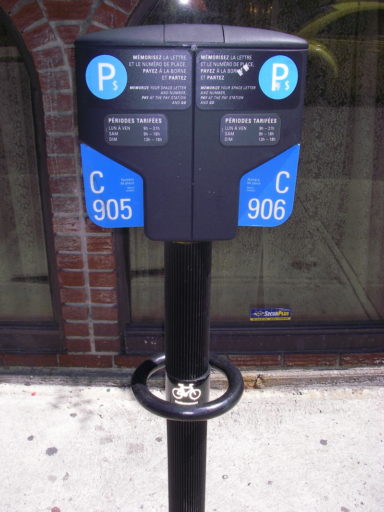 If you get a parking ticket, the ticket WILL indicate what rule you are deemed to have violated, but it will usually list the number of the offense, not the whole rule, probably due to the size constraints of the ticket itself.
Here's what the law says:
On public land belonging to the City of Montreal, you are not allowed to park anywhere prohibited by a sign. If a sign states that there's no parking in an area outside of certain hours, you are not allowed to park there outside of those hours. If the sign says the spot is reserved for other vehicles like taxis, for example, you can't park there if you're not driving a taxi. Unless there's a sign posted expressly allowing you to park in an alleyway, it is illegal. Same goes for parking on median strips or traffic islands.
If a parking space is blocked or barred by an official barrier, a system of orange lights, a removable no parking sign, or there's a cover on the parking meter, you're not allowed to park there. If stopping is forbidden in a designated area by law, bylaw, or regulation, that area is not a viable parking space either.
Parking is forbidden in public parks except in areas officially designated for parking by signs. Offroad parking is also forbidden.
If a spot has a parking meter, you can't park there without paying it. The exception is if you parked in that spot outside of the hours in which you are obliged to pay, and those are always indicated on the meter.
The City parking meters only accept Canadian currency, but thanks to modern technology you can pay by credit card and even by app. It is against the law to do anything that will keep the parking meter from working, and no two vehicles can take up one spot covered by a single meter.
Getting a Parking Ticket
If you break the rules, you will get a parking ticket either handed to you, left on your windshield, or sent to you by mail. The ticket, officially called a "statement of offense" will require you to pay a fine. Fines for parking violations range between thirty and two hundred bucks.
You have two options for responding to the ticket: you can plead guilty and pay it, or plead not guilty and contest it. Both options have a deadline of about thirty days. If you do nothing, a judge may rule against you by default and order you to pay the fine and any additional costs.
Contesting the ticket is entirely up to you, but there a few things to consider. You need to think about the cost of biting the bullet and paying the fine versus the time, cost, and stress related to contesting the ticket in court. You also need to brutally honest with yourself as to whether or not you deserved it.
If you opt to contest the ticket, you can do so by giving notice within the thirty days you have to respond. Just follow the instructions on the back of your ticket. The court will eventually send you a hearing date. On court day, bring any documents you have to prove your version of events such as photos taken the day you got the ticket, and bring a copy of the police report.
If you live and work in an area facilitated by Montreal's public transit system, you can avoid the problems and cost of a car by investing in tickets or a pass. The bus and metro have their own set of problems, but in many ways they are a lot faster than taking a car.
If you have a driver's license you can always follow many Montrealers in occasionally renting a car or joining a carshare service like Communauto so you have access to a vehicle when you occasionally need it.
Parking in Montreal is a pain, and with everything going on, we could all use less of it. Don't suffer.
* Featured image: Goethe.de, Creative Commons