Rocky Horror is my religion.
Every Halloween and during the occasional summer show for the past seventeen years, I'd paint my face and those of my friends, fasten my garter belt and wait in the freezing rain and snow to see the interactive Rocky Horror Picture show.
The interactive show is something every Montrealer should experience at least once. The production doesn't just show the 1975 movie, but actors also act it out on stage while the audience is invited to yell comments – there are scripts and videos of call lines available online – and throw toilet paper, toast, and playing cards at specific times during the film. There is a costume contest, and prizes are awarded on both the costumes and on what you are willing to do to rile up the crowd. That could mean anything from flashing to doing backflips on stage.
The venues and casts have changed from the Imperial to The Medley to the Rialto and back to the Imperial, but the formula and spirit of the event stays constant. This is a show where you must put any prejudices you have about sexual orientations and gender identities aside. It's where you have to stuff your prudery and your judgment to celebrate the safe, consensual and fun.
Whether it's the annual musical play at the Mainline Theatre or the interactive Picture Show at the Imperial, The Rocky Horror shows are not for those who want their intolerances tolerated. It's for those who believe everyone deserves to feel welcome.
For me the interactive picture show is now sadly a no-go. My health problems make it dangerous for me and anyone with a physical disability as people are regularly bumping and grinding and dancing with each other, and many are drunk.
As a consolation prize to myself, I opted to go to the Mainline Theatre's production of Richard O'Brien's The Rocky Horror Show – Live Montreal Musical. If you can get up the treacherously steep staircase of the theatre, the live musical show is no consolation prize but a gem in and of itself.
With no background movie to compete with, the actors, musicians and dancers truly shine. The voices you hear are not those of Susan Sarandon, Barry Bostwick, and Tim Curry, but of the Montreal cast.
Sarah Kulaga-Yoskovitz, who played Magenta, opened the show with her rendition of Science Fiction Double Feature, a version a lot sweeter than Richard O'Brien's scratchy one from the film. The "Phantoms" clad in fishnets and garter belts danced around her and throughout various scenes, keeping the show's burlesque feel true to form. The dancing, while choreographed by Director/Choreographer Amy Blackmore, never felt overly predictable or plastic.
This is one of the few shows where heckling (within reason) is encouraged. If you know the show's call lines, you are welcome to yell them and even invent some you feel fit the show. The actors never miss a beat and give as good as they get. When Stephanie McKenna's Frank delivered the line "even smiling makes my face ache", one audience member yelled that it was from all the blowjobs. McKenna, never breaking character, replied with:
"No, I don't give blowjobs like you do."
Rocky was played by Dane Stewart, who portrayed the character's infantile naivete and sexual curiosity perfectly. Unfortunately, he seemed unable to do the physical moves the part calls for, but whether this was a mutual decision between him and the director is unclear. Rocky is described in film and play as being all muscle and no brains. When Frank starts singing about press ups and chin ups, I expect the person in the role to at least do a push up, but if Stewart can do them, the audience never got to see it.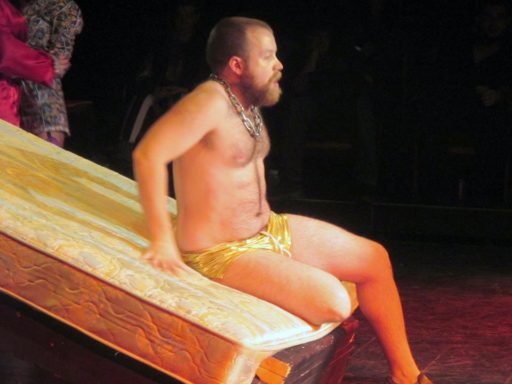 Franco De Crescentis as Riff Raff was a sight to behold, stealing nearly every scene he was in. His portrayal made a character who is supposed to just be creepy sexy and intense. His performance was rivaled only by that of Maxine Segalowitz as Columbia.
Segalowitz's Columbia was the perfect mix of sass, cuteness, and hysteria. She was also physically remarkable, performing the dance moves in a way that looked at once polished and clumsy, and like all great comedic actors, she clearly knows how to take a fall.
McKenna's portrayal of Frank was prissier than I expected, but she played the role with all the snark it needed. Her physical strength was especially impressive as she could do lifts and simulate sexual positions many men can't do.
Kenny Stein portrayed both Dr. Scott and Eddie. While Meatloaf raised the bar incredibly high with his portrayal of Eddie in 1975, Stein can sing and got the job done. His portrayal of Dr. Scott as (by his own admission) an old Jewish guy made the jokes about Dr. Scott being a Nazi especially funny.
Elyann Quessy's Janet and Anthony Schuller's Brad were what one would expect: nervous nerdy naivete, but nothing outstanding. As they are a foil for the play's more interesting characters, that's all you need.
Perhaps the true stars of the show were the band members, who kept the music on point. Led by Musical Director and former Producer of the show, Shayne Gryn, the timing of the music never faltered, even though the actors struggled with only two microphones and one headset worn by Frank, probably the result of a low budget and feedback issues.
If you love snark, sass, and sex, The Rocky Horror Shows are for you. If want to feel part of the experience and don't mind being hit in the head with a roll of toilet paper, go to the interactive Rocky Horror Picture Show. If you prefer to sit and watch and see local talent at their best while enjoying great music, go to the Mainline Theatre's Musical Show. Hell, go to both if you can! They're amazing!
The Rocky Horror Show Halloween Ball is going on October 28, 29, and 31 with shows at 8 pm and 11 pm. Tickets are $17.95 ( + tx and serv) in advance and $19.95 (+tx and serv.) at the door. For more info and tickets go to www.rockyhorrormontreal.com
The Mainline Theatre's production of Richard O'Brien's The Rocky Horror Show – Live Montreal Musical is happening from October 20 to 31. Tickets are $20 in advance and $25 at the door. Seniors, students, and members of the Quebec Drama Federation pay less. For more info and tickets go to mainlinetheatre.ca