APigeon
Canadian electronic music producer, singer/songwriter Annie Sama, better known as APigeon launches her new music video for the song Polyday tonight at O Patro Vys. Come hear a unique blend of electronica, pop and folk from a performer who has been compared to Björk, Feist, and Lykke Li among others.
APigeon Video Launch, Thursday, April 14 at O Patro Vys, 356 Mont-Royal Est, Music Video Premier 8:30pm, show 9pm, Tickets $12
Hommage à Amy Winehouse
This Friday night head over to the Rialto where Jazzy R&B singer Andréa Blaze will be performing a tribute to 27 club member Amy Winehouse. Having left us almost five years ago, it seems that Winehouse's fans are eager to hear her music performed live again.
Anticipation (and ticket sales) for this show have been steadily growing to the point that a larger venue (The Rialto) was required. With a full band and horn section backing up Blaze's powerful voice and stage presence this show is not to be missed.
Hommage à Amy Winehouse is @ Rialto Hall, 5711 avenue du Parc, Friday, April 15th, Doors @8pm, $20. Tickets available through the Rialto website
In Her Majesty's Secret Panties – Candyass Cabaret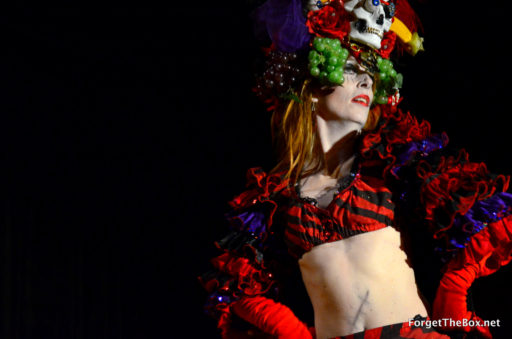 This Friday you can also head over to Café Cléopatra where Montréal burlesque legends The Candyass Cabaret will be exposing their newest show. Though not actually a music show, per say, it promises to be quite rockin' so we decided to include it.
This self proclaimed "Ode to the Brits" promises "performers ready to show you their bits 'n bobs."
This show also promises the best celebrity cameo of the week as the Queen (a.k.a that lady who's on our money) is supposed to be dropping by. Which begs the question: are show-goers going to be treated to a royal striptease? All hints seem to lead that way.
Candyass Cabaret is at Café Cléopatra, 1230 boul. Saint-Laurent, Friday, April 15th. Doors @9pm Show @10pm. $10.
Street Rhythm
With sexy spring weather being forecast for this weekend it's time to stop making excuses and start heading out again! Why stay home this Saturday when you can head over to Barfly where you can check out Street Rhythm, a night showcasing some of the best local indie music.
So come check out The Strange Perception, Attics&Alleys and Keystorm all for the very reasonable price of $5.
Street Rythm, Barfly, 4062A St Laurent, Saturday, April 16th, 8pm, $5, 18+. Tickets at the door.
The Subways
British Indie Pop/Rockers The Subways will be bringing their mix of catchy riffs and power chords to the Fairmount this Monday in support of their new album's North American release on April 16th.
After four albums and more than a decade this power trio shows no signs of slowing down.
Check out their newest video for the track Dirty Muddy Paws:
The Subways play Théâtre Fairmount, 5240 av du Parc, Monday, April 18th, 9pm (doors 8pm), $20, 18+. Tickets available through the Théâtre Fairmount website
Featured image: The Subways via Instagram
Know a band or an artist that should be featured in Shows This Week? Maybe a show FTB should cover, too? Let us know at music@forgetthebox.net. We can't be everywhere and can't write about everything, but we do our best!