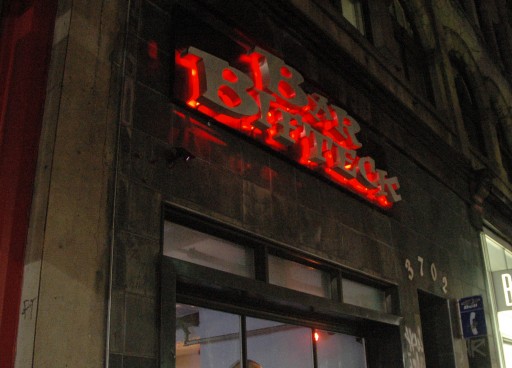 We finally made it to the last game of the season. The Montreal Canadiens looked playoff-ready and were playing the Leafs for the sake of where we finish in the standings. It's strange that we played this team as our first game of the season not realizing what was going to take shape during the next 81 games. I chose to go to a familiar haunt where I used to watch my hockey last season: Bar Bifteck (3702 St Laurent).
What can I say about this bar, dirt cheap beer and sleazy good vibes. It's a mixed crowd tonight of old men drinking tall beers and university kids buying one cheap pitcher after another. They have specials from 2 till 8:30 pm with beer on tap ranging from $3.75 big glasses to $9.50 pitchers. Not to worry, after 9 pm it only goes up a buck, still a good deal. Great for hockey watching.
And the tradition of me walking into a bar as a Hab scores continues! This time it was Ryan White. Soon after, he got into a fight, guess someone wants another Gordie Howe Hat trick.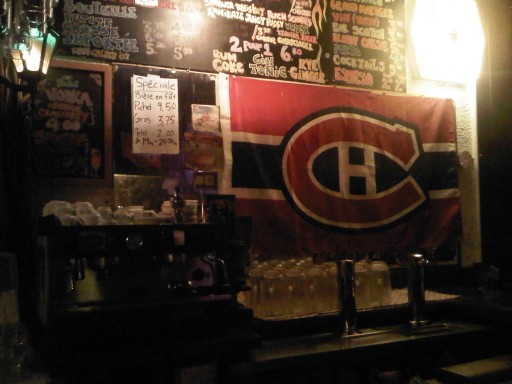 You have got to feel sorry for the Leafs. They made a real attempt at a playoff spot, this time it wasn't all talk. They were winning in the second half, thanks in part to hot-handed rookie goalie James Reimer. Oh, so close but not close enough. Phil Kessel got the lone Leaf go. He really gets on my nerves, but not as much not as the guy next to me astonished that I'm sitting at a bar by myself watching the game.
Carey Price made a save that looked like a goal. He thought it looked like a goal, but the referee said it wasn't. That summed up the Leafs' season in a nutshell, so close but not quite.   Meanwhile Brian Gionta scored twice, Price played in his 72nd game and for the 38th time this season: a triple low five.
To sum things up for the Habs: they have a chance even when the chips are down. When they lose key players, young players take their role. Gionta has been a great choice as Captain and will keep notching goals in. Carey Price has lived up to his potential, so if anyone thinks eight shutouts and 38 wins aren't enough, then they're not a real fan.The Canadiens did finish better than what I had predicted: 6th (I said 7th, but it was a desperate "we suck but we need a playoff spot" 7th).
So, it's Boston for the first round of the playoffs. The rivalry reaches a plateau after what happened this season. Montreal leads the series 4-2, however, there have been a series of fights, a humiliating loss and of course the Pacioretty hit to consider. How heated will this series be?   History is on the Habs' side (Montreal has met Boston 32 times in the playoffs, winning 24), however, Boston has been building a team ready for the playoffs (and they won in the last match back in 2009).
The Hockey Blog will shift to playoff mode, starting with a playoff guide on what to look for in the hockey playoffs and what bars to check out, either with crazy fans or good TVs to yell at. I will be writing game by game of what the playoffs bring to Montreal and the excitement around the Montreal Canadiens in their bid for the Stanley Cup. The regular season was a practice, here comes the real season.
Shout out of the week: Those Quebec Nordiques fans invaded New York and New Jersey in their bid to convince the NHL that Quebec City is a suitable hockey market. There were more Quebec fans than Devils fans in New Jersey. Nordiques fans have been popping into games all season. Shout out to their bid for a team. I hope one day we can restore the Quebec/Montreal rivalry in the playoffs.