If asked which waterway marked Montreal's early history the most, I would bet that a majority if not all would answer either the Saint-Lawrence River or the Lachine Rapids. A little known fact is that this city was founded at the confluence of two rivers: the Saint-Lawrence of course but also the Petite Rivière Saint-Pierre.
This much smaller river (now D'Youville Street) served as a natural northern barrier of the first fortified settlement as well as providing an inland route that helped navigators bypass the treacherous rapids. Fast forward to when the Marché Saint-Anne was built and the same river was used to cool meat and produce. Eventually the river was buried completely and incorporated in the city's sewer system.
In fact, there were little waterways all over the island: along Landsdowne/de Courcelle in Westmount ran the Glen creek, Saint-Antoine used to be the Rivière Saint-Martin, a small burn (the Scottish word for stream as James McGill would have called it) ran near the Milton gates and was a favorite make-out spot for students. Westmount Park, Lafontaine Park and Beaver Lake's cement ponds are all built upon previously natural waterways.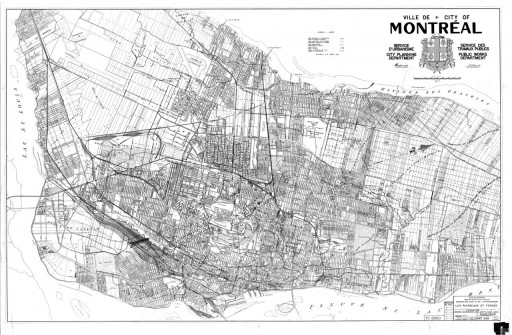 Though rarely used as a means of obtaining clean incoming water in pre-industrial Montreal, houses and businesses could channel their dirty outgoing water into these natural sewers. Yet as Montreal's population increased the creeks became a convenient (though unlawful) outlet for unwanted rubbish and human and animal waste. The rivers' reputation was sullied even more during the nineteenth century cholera epidemics when ideas of contagious miasmas originating in the now dirty and stagnant waters were blamed by some for the spread of the deadly disease.
During the seventeenth and eighteenth centuries, entire neighborhoods were established because of their proximity to these smaller waterways. Côte-de-Neiges and Saint-Henri (formerly Saint-Henri-des-Tanneries) were settled by those who used water for commercial purposes; tanning animal skins was a water-intensive process. The physical layout of these places still bare witness to their original purpose and design.
Today, we can still see a few above-ground remnants of these rivers: the image at the top of this post shows a brook that runs through the Mount-Royal Cemetery and which flows down into Outremont's Springgrove Park; the other is in the Meadowbrook golf course. Plans for a residential development on that site is pitting a relatively "green" project that incorporates the Saint-Pierre into its landscape design against Les Amis de Meadowbrook who would rather see the site become a publicly accessible park.
There are in fact many local movements around the world now pushing to "daylight" the rivers that used to flow through their metropolitan centers. First prize might go to Seoul's Cheonggyecheon as the most successful restoration project, though it seems the the original stream remains hidden from view. And while this and other projects are focused on the greeening benefits accrued by urban waterways, other cities such as Cincinnati look at daylighting as the solution to more technical sewer problems.
Here in Montreal, archeologists working at Pointe-à-Callière have uncovered Native tools and pottery near where the Petite-Saint-Pierre used to flow while in England, Roman-period skulls have been unearthed by those working near the "lost" Walbrook. And while there are no projects yet to daylight any of Montreal's streams, Concordia's Mobile Media Lab has paired up with a local production company to produce an interactive smartphone application that allows users to voyage back in time and learn more about our city's "lost" waterways.