Usine 106U is not like other art galleries. It's not immaculately clean or impeccably organized, and its outer mural is as colourful and eccentric as the art you'll find within.
Located in the Plateau next to the iconic Else's Pub, the gallery attracts everyone from painters to sculptors to dollmakers and photographers. The gallery's openings on the first Thursday of every month feature works that range from the classic to the extreme and the atmosphere is one of an eccentric family reunion rather than a formal affair.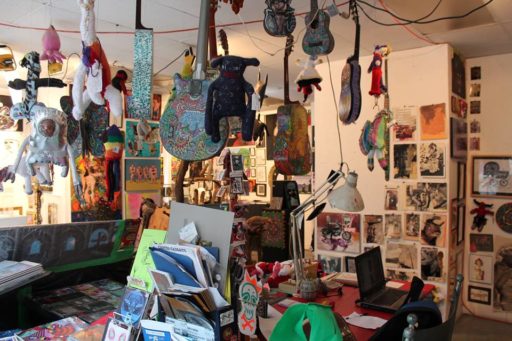 While most galleries in Montreal charge huge commissions and exhibiting fees, Usine 106U takes fifty dollars a month and ten percent commission on any sales. In exchange, every artist gets four by five feet of space to show their work to passersby and regular visitors. Artists who volunteer their time running the place get all fees and commissions waved.
A Concept that Grew Over a Decade
The official caretaker of the gallery is Eric Braün, a multidisciplinary artist known for his acrylic paintings of creatures. His style for me is reminiscent of Bosch and Dali, with a hit of Nightmare Before Christmas thrown in.
Usine 106U has been around for 12 years. In the beginning, it was just a show of the same name.
A guy from Paul's Boutique record store lent Eric and other artists a paddock with the goal of creating art on the spot, filling the walls as they went. The show lasted one week and was hugely successful, with the media and others coming in to wait, ready to buy the works in progress once they were finished. Almost everything was sold.
The show's success led to an offer to continue it through to the end of the month, followed by an offer to rent the space on a monthly basis. From there came the idea of artists sharing the cost and management of the place and the rest is history.
When I asked Eric about the name, he explained that it was a French play on words.
"If you pronounce in French the number 'cent six' – one zero six – and the letter u it makes 'sans issu' and 'sans issu' sounds like 'sans issue' which means 'no way out' and that was the title of my anthology cause I used to do comics so it was always a collective. But back then it was international and silent so it could be distributed in many different countries without having to translate."
In addition to Eric's paintings, he also has copies of his comic books and sculptures for sale at the gallery. When I asked what kind of artists he feels the gallery attracts, Braün spoke of people who do very intense personal work, "outsider art" that doesn't fit current fashion, and some old style abstract pieces.
Open But Selective
Eric is discriminating in his choice of artists who get to show there: "If someone does some really bad copies of some photos that you see on the internet I tell them they should work more on their stuff and come back later," he said.
When looking for artists to admit to the gallery, he's not looking for perfection but originality and honesty in the work. Currently there are 40 different artists showing their work with the common thread being that:
"Everything is figurative, there's a narrative, there's a story being told and everything is kind of explorative. People take chances, they develop their own language, they go into their own world, and they keep working at it to create something that is original and unique."
If there is a word to describe the art at Usine 106U, unique is certainly it. Whether it's the hyperdoodled paintings and guitars of artist John Lanthier, Jean Martin Raven's sculptures, or the realistic yet wonderfully eerie paintings of Xavier Landry.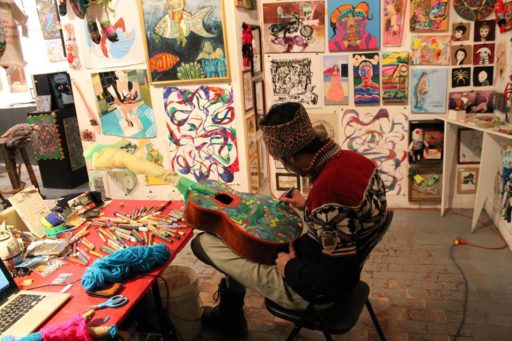 Much of the art is not for the faint of heart, with art depicting graphic nudity, sex and violence displayed alongside cutesy hand knitted dolls. That said, Usine 106U is more than a gallery.
Home Away From Home
For artist John Lanthier, it's a home away from home. He's been showing his work at Usine since 2015 and like many artists, he volunteers his time in exchange for showing there:
"I enjoy making art in the environment here and appreciate having a permanent gallery space where my psychedelic paintings, sculptures and custom guitars can feel at home amongst the many diverse local artworks that cover the walls. Thanks to Eric Braun I've also had my Hyperdoodling paintings and Guitart instruments featured in the last nine magazines…which is pretty cool."
The magazine in question was created following Eric Braün's failed attempts to get his work in a local art magazine which was poorly managed and written. So like any pioneer, Braün decided to publish his own, and Usine106Us quarterly free magazine features work from a variety of artists showing at the gallery.
As a working artist, Usine 106U saved me from a dark time in my life. Their collective welcomed me with open arms, a tale shared by many who come to the gallery hoping for an affordable space to show their work. In addition to the monthly vernissages, they also do free collage workshops (bring your own glue).
When I asked Eric Braun what advice he had for aspiring artists, he was very pragmatic:
"Get a job to pay your bills and then do art with your needs taken care of or you'll go crazy."
The gallery is located at 160 Roy East and is open every day from noon to 6pm. Check it out.
Photos by Samantha Gold