Words like "humble" and "graceful" came to mind, as I stood in Le Divan Orange this past Saturday night, watching Jon Janes, aka The Mountains and the Trees.
With his understated guitar playing and poignantly truthful lyrics, Janes had audience members swaying slowly and smiling sadly as he sang about a dear friend passing away and the long bitter East Coast winters made less fierce when shared with a lover. At one point in the performance, he grabbed the violin player from the David Martel Band. After their performance, she told everyone, it was their first time playing together, and then laid out a performance that was so natural, it was hard to believe that this could have been their first time.
During his performance, Janes shared his memories with the decent-sized crowd about hectically running around Europe on monster folk tour circuits; he spoke with awe that it had even happened. It was endearing and came from the heart of a grateful, small-town kid that just seemed glad to be making a living from doing what he loved. Janes also talked about his lack of permanent addresses in the last year and how he incorporated his nomadic lifestyle into his performance; the songs floated and drifted, directionless, with no hurry, before coming to rest gently upon the audience's ears.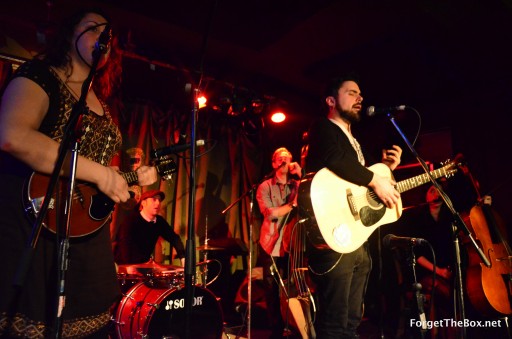 The David Martel Band was something else all together David got on stage wearing fluffy bedroom slippers and it was that exact vibe of relaxed comfort that the band members brought and audience members felt. Encouraging mass sing-a-longs, cracking jokes and spinning yarns, David Martel and his astonishingly talented, multi-instrument playing band (there was a stand up bass, cello, violin, and even an accordion in play at one point) were thoroughly indelible.
Goosebump-inducing harmonies had the audience exchanging impressed glances, and David's vocal range was completely respectable, despite a pained facial expression. The set was rollicking and flawlessly tight. With foot-stomping energy, David Martel Band yanked the crowd into excitement and didn't let go.
Photos by Chris Zacchia For more pics from the show visit our Facebook page.