Sleepless is the best way to describe my weekend, but a good vodka Redbull diet served me well, and kept me moving.
On the second day of Movement, we were able to enjoy the music of Soul Clap, Ricardo Villalobos, 69 (Carl Craig project) and Delano Smith. During the sets there was a tornado warning; I seriously thought "this is it" during the Soul clap set, which added some strange yet funny anxiety to the day!
Villalobos was able to get through the boarder; but that was quite surprising, especially since he was so intoxicated during his set! You can't change him. We cracked up laughing when he unsuccessfully tried to put drugs in his pockets while deejaying, then he decided to go hide under the DJ table while thousands of people watched.
My interview with Marc Houle from M-nus records, was one of the highlights of the first day. We talked about Project Noise in Montreal, and the noise complaint issue to which he said: "Toronto is there for people who wanted to be quiet, not Montreal!"
Here's my complete interview:
With a name like yours, it would be easy to think that you're from Quebec!
I am actually from Windsor, Ontario. I love music from Quebec. Actually a lot of music I listen to is from the early 80's in Quebec. There's some obscure music like Echo 83. Nobody knows them, even people from Quebec don't know who they are.
Really? It's more like new wave?
It's more like Kraftwerk, it's beautiful. It's three French dudes. It's one of the best album of all time.
Tell me about how you started deejaying?
It was at Richie Hawtin' club: 13 Below. I used to play new wave music – it was fun! We had one room, and throughout the club we had televisions with different Ataris; so people were sitting at the stations playing old video games and I'd be playing new wave music that'd go along with it, and they'd bring the cartridge to the DJ booth and trade them for other games. And I'd talk to people: Oh ! You just played Tick tock, it's beautiful eh! Try Mister Do! You'll love it!
Now you're based in Berlin. What made you move there?
When I first started playing at clubs, one of my first shows was in Berlin, and it was one of the craziest things I've ever seen before. People swinging from the ceiling, everyone screaming, it was like a fake movie; it was surreal, but it was normal there. Then you come to North America and everyone is standing there and talking to each other. Usually you can hear people talking about work while you're deejaying, but there it doesn't happen. Every time I went back, it just got better and better, and better. I decided that if wanted to stay the same, then North America was fine, but if I wanted to grow as an artist and live as an artist, I had to go to Europe. It's just so different.
Do you have a new release coming soon?
I don't think so. It's tough for me because I just make songs everyday and my goal in the studio is to make songs for Magda dj. She's always been my inspiration. If Magda likes it, then I know it's good, because I trust her judgment. If there's a whole bunch of them that are really good, then I can put out an album, otherwise I just keep making songs, making songs, making songs.
How do you create your music?
I'm lucky enough to have my studio in my house, so if I'm like making eggs or something and I have an idea, I just take the eggs off and run to the studio record really fast. It's like a game or something, it's really fun, it's never like work and if it became work, that would be really sad.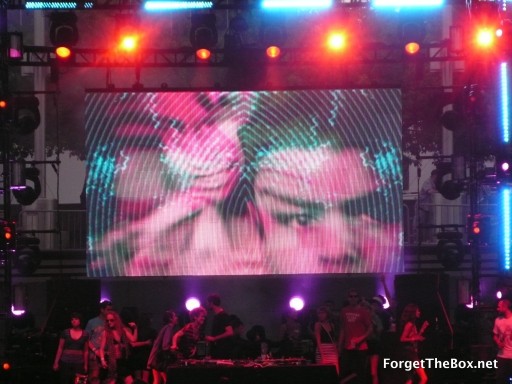 We survived the festival for a second day and were lucky enough to catch Derrick May and Juan Atkins in a tiny bar. Unfortunately the party got busted by the cops around 5 am, but we add plenty of time to dance like there was no tomorrow!
Marc Houle – On It (Original Mix) by E – Music LA
See more photos by Mathieu Grondin from Movement 2011 via facebook.