As regular readers know, it's now officially less than a week away until FTB is in Toronto for the 2011 Canadian Music Week! With everything booked, all I have to do now is figure out just how many movies I can cram in during the Film Festival portion of the festival (you can read a preview of some of the films I'd like to see here) and still manage to see a few music shows with Jerry, Chris and Cassie. As any good festival goer knows, sleep will just have to wait until Monday.  Keeping up with the theme of CMW film festival articles I've been working on lately, this week in no particular order I'm going to run down the list of some of my favorite music movies. See yah'll after the fest!
Tommy (1975)
As a life long lover of the awesomeness that is a little band called The Who, I'll never forget the day renting this from the video store back when we watched movies on that thing called VHS. I don't know what it is, but there's just something about the movie about a boy who becomes a master pinball player that I can't get enough of. This movie is going to be screening during CMW and there's no way I'm going to miss out seeing it on the big screen.
Almost Famous (2000)
My all time favourite Cameron Crowe film, this sentimental look at the life of a 1970s band on the road is filled with reasons to love it. It has Kate Hudson's only good performance of her career as Penny Lane, Queen of the Groupies. It introduced us to the awesomeness that is Zooey Deschenel. Produced one of the best soundtracks of all time as well as some of my all time favourite movie scenes ever; "I am a golden god!" "Who brought Opie?" Yeah I know you love them too…
This is Spinal Tap (1984)
Ok seriously do I need to even bother explaining why this movie is on the list? It's freakin' spinal tap. Everything about this comedy takes it to 11 and never lets go.
Amadeus (1984)
I first watched this film about a year ago at 5 in the morning when I was crashing at my friends Jerry and Pat's house and even half-out of it I knew this story of Mozart told through the eyes of another musician was something pretty special. I watched it again sober and at a decent hour and my memory had not deceived me; this is one amazing movie. If you're going to pick one movie out of my list today to watch I would recommend this one.
The Commitments (1991)
This is a great movie about a bunch of Irish kids who form a soul band.   In 2005 this movie was voted the best Irish movie of all time.The story doesn't really matter in this movie you watch it for the great music. You can tell how long I've liked this movie simply by the fact that I still have the soundtrack to it on tape.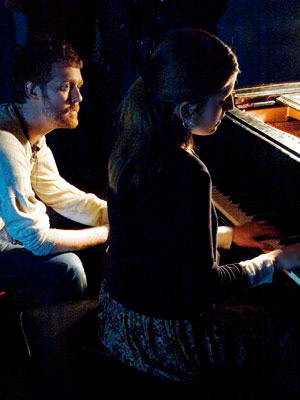 Once (2006)
This is another great Irish movie that also stars Glen Haasgard (pictured above) about a street busker and single mother who meet and fall in love making music together. While I think the wrong song from this movie won best song at the oscars (it should have been "When your minds made up" in my humble opinion) every song on this soundtrack, which was actually written and performed by the lead actors is moving and worth having a listen to.
The Blues Brothers (1980)
Aretha Franklin, Ray Charles… the cameos alone are a reason to watch this movie, but Jon Belushi and Dan Akyroyd as two guys trying to put the old band back together to raise funds for the Catholic home they were raised in is pretty good too. Just like this is Spinal Tap I really doubt there needs to be much explination why this is on my list as all time greatest music movies; oh and if you've gone this long in life and haven't seen The Blues Brothers yet then shame on you. Seriously.
Stop Making Sense (1984)
I'm noticing here that I really seem to like music movies produced in 1984. Well what can I say this is my all time favorite concert movie, about a little band called The Talking Heads. David Byrne more than easily proves why he's achieved rock god status and if you've never heard of the Talking Heads before I promise you will love them just as much as I do afterward.