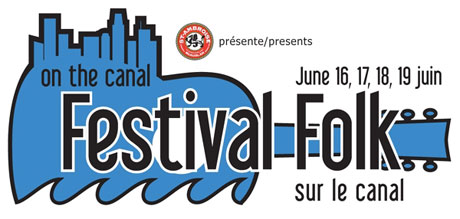 The Third day of Folk Fest took place on the St-Ambroise Terrace, a perfect intimate venue for such an event. The first act of the day I caught was Scott Normandy and supporting him, The Newark City Band. Scott and his band played a tight set executing some really laid back, bar scene alternative country. This set had some catchy tunes that the crowd seemed really into, and some really immaculate solos from his lead guitarist. Normandy chose to end his set with Tom Petty's, Last Dance with Mary Jane. I found myself stuck trying to decide wither this was appropriate or cliché. I still can't decide.
Following Normandy were The Wildwood Flowers. This five piece group consisted of a very quiet male guitarist and four lovely ladies that played the upright bass, mandolin, and another guitar. One of the things that made this performance perfect was the matching outfits worn by these talented ladies. Right off the bat, these girls described themselves as French-speaking people in love with old American country music, and woke the crowd up with their covers of classic country bluegrass songs, and old gospel such as Dolly Partons' Jolene and popular bluegrass standard Keep On The Sunny Side. Despite the language barrier, these charming gals had quite the stage banter and kept the crowd hootin', hollerin' and asking for more. Lovely job!
The next band, Bourrasque Celtiques', randomness made me wonder if they had all just met at a bus stop and decided to form a French hippie quasi-psychedelic folk group. These guys were definitely something. From the girl singer with the lovely voice, to the grey bearded old guy with long hair that was both obviously extremely excited that he had an excuse to dust off his old duds from back in the freaky days, and an amazing mandolin player, these guys kind of ruled. I wasn't surprised to hear a pan flute, but I really appreciated the flashes of heaviness the guitarist laid upon the crowd. I will admit I was a little worried when they pulled out the bagpipes, but as a testament to this groups' totally random approach, Bourrasque Celtique somehow made all this awkwardness work.
Ever since I read the Folk Festival program, I was curious about the next performer Emm Gryner. I couldn't tell if Gryner was coming off as cold or nervous at first but later when she started to warm up, and exclaimed to the crowed that there was a flower in her whiskey, (and drank it anyway) I decided that it was nervousness. Looking very cute and like a little bit of a bad ass, Emm Gryner sat at her electric piano and poured her heart out. She admitted that in all of her repertoire she only had two happy songs, which she played. Switching from piano to guitar and back to piano, it was easy to tell this little lady had been doing this for years. Emm has in the past been nominated for a Juno, and joked to the crowd about her album that didn't win the award calling it a "Juno Loser." The highlights of Gryners' performance were a Kate and Anna Mcgarrigle cover titled Tell My Sister, and an amazing , totally unexpected slowed down piano rendition of Def Leppard's Pour Some Sugar On Me.
Following Gryner was songstress Rose Cousins. Rose had the audience in the palm of her hand with her beautiful voice (a little Martha Wainwright-ish), songs about heartbreak, being in love, and the loss of her grandmother. Cousins was a joker too, which is always a sign of an excellent performer. Playing for absolutely everyone on the terrace, Rose had a dog and some birds singing along with her at one point. Such a wonderful lady, I felt like asking for her autograph and then asking her to come to my house for dinner.
So I will admit that I didn't know too much about the next act, Fred Eaglesmith, but by the time he and his band of gypsies were done playing, I felt pretty dumb for not knowing who they were. When Fred stepped onstage wearing a black top hat and a black silver button lined ringmaster jacket, I knew this would be a spectacle. To start off the show Fred joked to the audience (I think) that his band was not high on drugs but quite low on drugs. Eaglesmith had a varied repertoire of tunes, including songs about praying, trucks, and songs about posers who only like Johnny Cash because it's the cool thing to do. Fred's band consisted of a dude in a hat playing guitar, and four hot chicks in amazing outfits, playing the flute, accordion and drums. It was seriously hard not to stare in awe at these folks, and they didn't just look amazing, but had the talent to back it up. Fred was funny, engaging, and seemed like a bit of a hard ticket which I always appreciate.
Tricots Machine took the stage next, starting out with slow sleepy songs that turned into anthemic sleepy folk/pop. This four piece group performed using a melodica, xylophone, and two keyboards. These people were painfully cute and really interacted with the crowd, getting them to sing along with their adorable songs.
Tricot Machine – Pas fait en chocolat by ribon
This concluded day three of Folk Fest, and it seemed like either all of these bands were slowly growing on me, or the festival was getting progressively better each day. Maybe it was a little bit of both.
Now I'm not completely sure, but during day four of Folk Fest, I might have had a religious experience or two. Let me tell you about it in part two.
Owain Harris's Montreal Folk Festival photos  via our facebook page.