Our fair city is just a little bit more colourful than it was since the second edition of Mural Festival took place last month. Local and international artists painted 20 new murals along the Main. The festival started under the rain but thankfully the sun came out just in time, allowing the artists to work on their walls. Some artists kept painting despite the rain such as RONE, from Australia, who finished up his mural on St-Dominique just as the rain stopped.
A few of the walls from last year's Mural were repainted but most of them were done on brand new walls adding even more art to the city. Kevin Ledo's breathtaking wall of a woman from the Hupa Tribe, inspired from a photo by Edward Curtis, is of a significant contribution to this year's festival.
This year Mural introduced Le Market, a pop up shop in the Parc du Portugal, where festival goers could shop local to live music all weekend. Also new this year, in collaboration with ExCentris Cinema, screenings of  street art or graffiti related movies. Patrick O'Connor's Making A Name and Freights were two of the nine documentaries screened the first one focusing on Montreal's graffiti scene and the second on graffiti traveling on freight trains. A wonderful initiative to educate on this underground culture.
Every day, the Block Party entertained the masses with live music in the parking lot behind Station 16. Kashink's impressive, massive and colorful mural in the same parking lot is just a preview of her exhibition at Station 16 which runs until July 3. Walking around felt like being on a treasure hunt because Mural's not just about paintings along building walls. In the spirit of street arts, Peter Schmittson decorated our streets with sculptures,  Mathieu Connery  painted our sidewalks, Labrona gave more colors to doors along The Main, Garbage Beauty beautified with calligraphy discarded items found on the curb. Finally, be on the lookout for hundreds of diamonds installed on walls all over the city by Le Diamantaire.
It's now time for a walk around with the camera or your phone to spot all these treasures. Don't forget some murals are on Clark, on St-Dominique and one at the corner of St-Urbain and Guilbault.
The next urban art related festival will be the 19th edition of Under Pressure International Graffiti Convention on August 9th and 10th!
Click on the image below for visuals of the festival.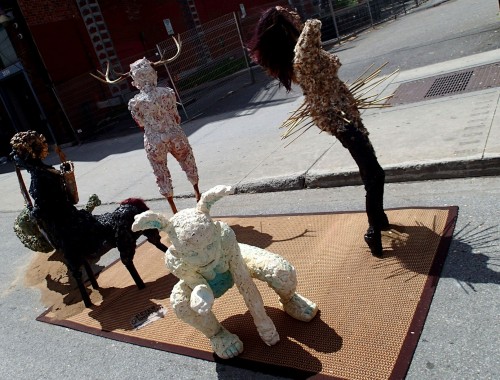 Mural Festival