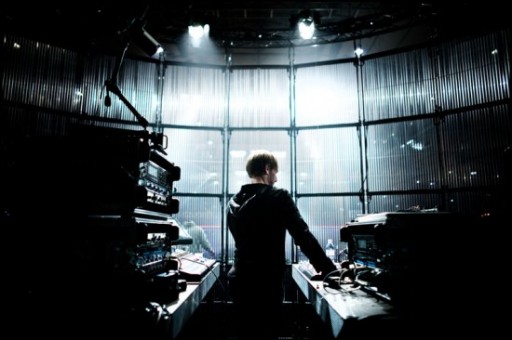 After one night of good sleep, it's time to cover another electronic music festival this time it takes place in Montreal! Mutek Festival in Montreal is a bit easier to attend then Movement in Detroit so I'll make a short list of artists you might be interested in discovering. Don't get me wrong, Mutek always covers a more intellectual side of electronic music which I love, but I am far from being an expert. Friday the legendary Richie Hawtin will once again be seen as Plastikman (pictured above) on the stage of The Metropolis and it's by far the most awaited performance of the festival but here's what else should be good.
Saturday
Your day starts at 16:45 with Floating Point at Piknik Elektronik.
Dreamy atmosphere yet danceable, his music is the perfect soundtrack to a sunny day next to St-Lawrence river. Since I love to associate alcohol and music, I'd say that a fruity white wine will go perfectly with his music. Don't forget to bring something to eat or get your party flavor on the site with sausages and other BBQ'd delights. Stay until the end since Terry Lee Brown Jr. will set the sun down!
I would then head to S.A.T to catch Pole and Chancha via Circuito
Their name is a good hint about the music they make. Latin inspired dance music but not the cheesy type!
It's 3am and you still have energy (and money…let's not hide it, you need to have a few bones stashed away to attend all the Mutek events), it's time to head to Metropolis to catch James Holden in the main room and the Canadians Michael Red, Daega Soundsystem and Max Ulys in the Savoy. The party goes until late but don't get to wasted, there's still another day ahead!
Sunday
Bring your brunch, orange juice and champagne. We're going mimosa style for a day that will be full of surprise at Piknik Elektronik. If you're too tired and not sure if you can still dance a whole day just check the website when you wake up. It's going to be an open mic for dj's. All artists performing (or not, which could lead to great surprises…) at the festival are invited to bring their records. We could be granted with crazy talented and famous djs.
It's time for a last Nocturne at the venue I like the most, S.A.T. All four artists are worth seeing but I'd point out two of them. Marc Leclair will be testing his new project Horror Inc at the beginning of the night and Danuel Tate who's also a member of the collective Cobblestone Jazz will end this year's festival in beauty. See you on the dance floor!