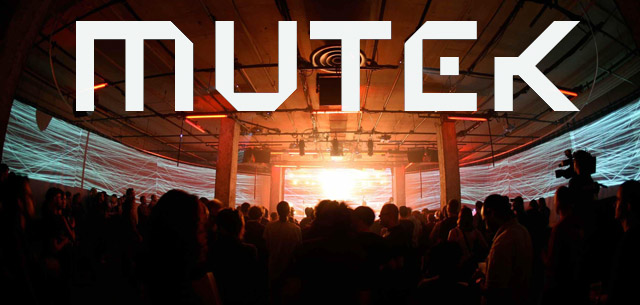 Sunday June 3rd (well, Monday afternoon for me) marked the end of another edition of one of the most important electronic music festival in North America. I've been attending Mutek for four years now and I can say without hesitating that this year edition was my favorite so far. I mean, every year has had its highlights but this time it was different. Every single night, I've found myself discovering or re-discovering incredible musicians! Which was priceless. Here's a list of my favorite performances day by day.
Wednesday:
Probably my top discovery of this year's festival is the American duo Blondes. Having heard of them without knowing what they would sound like, I was expecting some minimal intellectual electronic music. How wrong was I! These guys can teach you a thing or two about how to do a proper live techno set just like any other Detroit dude. Apparat live right after was a little bit too Sigur Ros infused to keep the party going.
Thursday:
Having the chance of seeing a legend like Jeff Mills is a once in a lifetime experience… getting to see him twice in less than a week is the best thing I could dreamed of. After catching his Wizard set on Monday in Detroit it was now time to catch the more experimental and sci-fi side of Mills. A Roland 909 up front, five cdj's in the back and the moon pumping to the beat in the background, the set-up was out of this world; and so was the performance…
Friday:
To kick-off the week-end, Mutek crew provided us with the most "mainstream" line-up of the festival. Everybody in Montreal was waiting to hear how Nicolas Jaar would sound live. I got to see him last March in Toronto and was very disappointed. Although he didn't deliver the best performance of this year's festival; let's just say that it was decent enough to patch things up between the two of us. Jimmy Edgar closed the night and sounded so good that I had to go to this small sweaty after-party where we danced to his mixes until 6am.
Saturday:
I'm magically out of bed early enough to catch my favorite performance of this year's festival. It's a rainy day, so Piknik Electronic has been moved to S.A.T. It's dark and definitely not what one needs to cure a hangover. It doesn't matter because nothing will stop the talented KiNK! He delivered an energy-driven set expressing how excited he was to be there. He interacted with the crowd, giving them the opportunity to mess with his sequencer and join ion the music making. Some people say he puts on the best live electronic music around and I tend to agree.
Sunday:
For the last day of the festival, despite the possibility of rain, the weather was on our side and we got to go out to Piknik Electronik . The special guest at Piknik Electronik was none other than Nicolas Jaar followed by Benoit & Sergio live and finally Wolf & Lamb. It was the perfect line-up to listen to while spending the afternoon dancing outside. The bravest among us crawled to S.A.T to catch the last Nocturne, which feature a live set by Dave Aju. I won't lie; at this point I was so beaten up I can't really say how good it was…
The Mutek crew, this year more than any other, proved that Montreal is an important player in the electronic music scene. Now, we just have to surf the wave and use this inspiring week-end as a model for more electronic music events in our city.
Also for all our original photography from the fest check out ForgetTheBox on FB