My Exploding Family as with many things from Japan, is weird. But it's weird in a fun fantastical sort of way and will have you laughing and smiling throughout. The show is like a journey inside the mind of a 5 yr old child. Their world is filled with brilliant brilliant colors, bizarre sounds and expressive movements.Their imaginations have been left to run wild.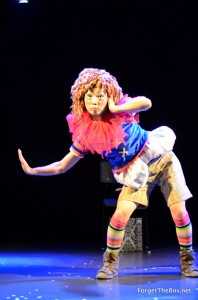 The 3 characters bounce around from one train of thought to the next all with the utmost fluidity. Even their movements are reminiscent of childhood as they laugh and play with each other & the audience. The language barrier doesn't play any issues either as the sparing bits of dialogue are delivered with an adorable Japanese accent.
The show is written and directed by Yanomi, an award-winning Japanese performer, a.k.a. Miss Hiccup/Shoshinz.
Over all hilarious! You have to check it out!
Remaining dates:
Thursday, June 21, 2012 – 15:15
Friday, June 22, 2012 – 23:00
Saturday, June 23, 2012 – 21:00
Photos by Chris Zacchia