When the original Broadway production of Andrew Lloyd Webber's The Phantom of the Opera concludes its final performance this Sunday April 16th at the Majestic Theatre, the show will be going out with its mask held high, as the most successful Broadway musical of all time. For 35 years, it has whisked spellbound audiences away to a world of operatic spectacle and gothic romance thanks to its entrancing Music of the Night…and a couple of Canadians. "Well, there have actually been quite a few Canadians," Justin Peck clarifies before adding, "but I'm the best one."
It is true that since Phantom first opened on January 26th 1988, the Broadway production has featured a strong Canadian contingent, but in its final months, two in particular are helping to see it across the finish line: the agile and amiable Peck – clearly as quick with words as he is on his feet – who has danced with the company since 2006, and sunny soprano Raquel Suarez Groen, who joined Phantom for its 30th anniversary to make her debut as Carlotta Giudicelli, a character quite comfortable spending most of her time with her head held high.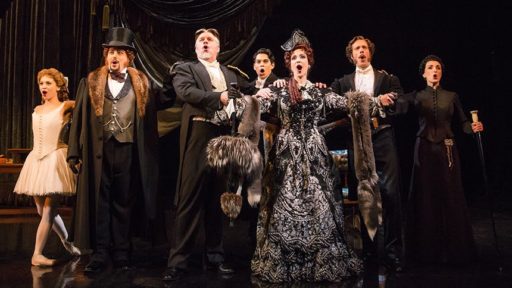 Raquel Suarez Groen's Carlotta, with fellow Calgarian and former Phantom, Laird Mackintosh to her left
For the former Calgarian, understanding the mindset of the delicious diva has been a piece of cake. "I grew up with a lot of Carlottas, so I try to channel all of my inner ex-voice teachers or people I've worked with. These people really exist," she confirms, "and they take themselves very seriously. For them, even touching a door handle is a big deal. They'll grab a scarf first because they don't want to get sick, so the line in Prima Donna that says, 'The stress that falls upon a famous Prima Donna/Terrible diseases, coughs and colds and sneezes!' rings very true. Still, the thing that they always say to me, and say to anybody, is that Carlotta is never a caricature of an opera singer and never a caricature of herself.  They want her to be very real."
The goal of someday embodying the character first came into focus for Groen when she watched the Las Vegas production of Phantom with her parents in 2009 to celebrate their 40th wedding anniversary. "As opera singers, we kind of grow up to purposely not like The Phantom of the Opera, even if we've never seen it, because people always say, 'my favorite opera is Phantom!' and opera singers are like, 'Ahhhh – it's a musical!', but I loved it. And now," she says with understandable pride, "all of my costumes are actually the Vegas production costumes."
Vancouver's Justin Peck
When asked whether his desire to audition for Phantom also stemmed from seeing a live production of the show, Peck's answer is, in a word, unexpected: "I'd never even seen the show before. Isn't that horrible?" The Vancouver native grew up studying dance at the National Ballet School of Canada and performing with Alberta Ballet and Ballet BC before eventually finding his way to New York. "I was a ballerina and the commercial theatre wasn't on my radar until I got to New York and was like, 'Wow – how am I going to afford to live here if I don't have a proper job?' I was actually going to leave and then I auditioned for Moving Out and booked it, but it was the same thing with Moving Out," he admits sheepishly. "It was my first Broadway audition and before I signed the contract I thought, 'I should probably watch the show', so at least it's consistent."
In the years that followed, he joined the world of Phantom and proceeded to travel and dance with a variety of different companies while taking on a variety of different responsibilities. "I was originally a vacation swing for all the productions," he explains, "and then performed in Hamburg, Las Vegas and also toured all over the US, which was crazy. I can't even count all the places we visited with the tour because we moved around so much." In spite of these commitments, he was granted permission to participate in another of Twyla Tharp's productions when the chance arose. "I did two shows of hers – Moving out and Come Fly Away – and it wouldn't have been possible without Phantom because they were generous about letting me do it. They weren't like 'Well, we need you!' they were like, 'Well, how can we make this work for you?' which was great."
Since getting a full-time position on Broadway in 2011, he's danced one of two 'tracks' in the show. "We alternate so there are fewer injuries, so one week I'll do the Hannibal solo dancer and Half Man/Half Woman in Masquerade, and then the next week I'll do the Il Muto solo dancer, a police man and give the flowers to Christine. I'm everywhere, like a Where's Waldo that comes in and out."
Now, sadly, the entire cast, crew, orchestra and set will be heading out of the Majestic Theatre together following Sunday's final performance. Word of the show's closure came as a shock to not only the theatre community but the company as well, as they'd been diligently working to keep things running smoothly following Phantom's post-pandemic reopening in October 2021. "There'd be eight people out with Covid, and with me being the Dance Captain, we'd do endless, endless, endless rehearsals to get people on," Peck recalls, the irony sinking in. "We had, for the first time, two weeks off in a row without rehearsal," he laughs, "and everyone's trained and we can call so-and-so (if we need to), and then boom – the show closes."
"None of us believed it," Groen says of the fateful day last September when the New York Post broke the news that Phantom's Broadway run was ending. "Then we got an email saying, 'We're meeting at 4 o'clock. Everybody please either Zoom in or be in the building'. We were having a rehearsal, so they sat us down and said, 'This has happened. We wanted to tell you first, however somebody leaked it and the rumors are true.'"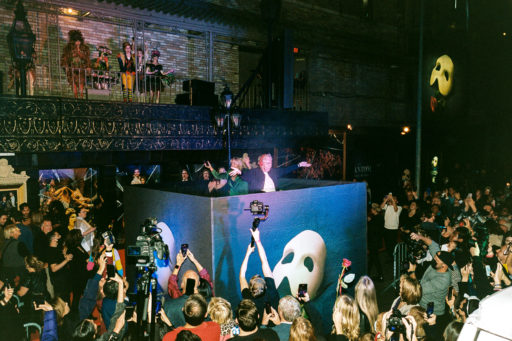 Phantom's massive 2021 reopening block party, hosted by Andrew Lloyd Webber
The big question, however, was why. Phantom's return after the 19-month shutdown was heralded as Broadway's big comeback and celebrated with a street party DJed by Andrew Lloyd Webber himself. The U.S. Small Business Administration endowed the production with 9.9 million dollars as part of its Shuttered Venue Operators Grant program to ensure it would bounce back. Though attendance levels across all Broadway shows were lower due to continued concerns over Covid-19 variants, there was little reason to think the production was in any real jeopardy. After all, Phantom had long been a symbol of New York City as recognizable as the Statue of Liberty or Empire State Building. Why bring the curtain down on musical theatre's most resilient enterprise, just as its global fanbase was safely able to travel back to the Majestic again? "They just said 'every show has its lifespan and it's just time to close', so I don't think any of us really know why," Groen says of the explanation provided, adding, "I do know they're going to renovate the theatre."
The Majestic, which first opened in 1927, had to undergo significant modifications in order to accommodate Phantom's many sets and effects. Once the production exits the building next week, the Shubert-owned venue will apparently need to be restored to the condition it was in prior to Phantom's arrival in 1988, making it impossible for the original incarnation of the show to return to its longtime home.
Director Hal Prince and Designer Maria Björnson with a miniature of Phantom's set
Considering recent events, it seems increasingly unlikely that the original incarnation will be staged again at all. Though Producer Cameron Mackintosh has stated the show will come back to Broadway sooner rather than later, nothing has been said about preserving Maria Björnson's sets and costumes, Hal Prince's direction and Gillian Lynne's choreography. Even before those three key members of the original creative team passed on, moves were being made to edit out their contributions. In 2012, Mackintosh launched a 25th anniversary touring production of Phantom in the UK and US with radically different sets, staging and direction, yet billed it as "the brilliant original" in spite of the complete overhaul. Audiences were not pleased with the bait-and-switch. Then in 2021, significant permanent changes were made to the original London production of Phantom at Her Majesty's Theatre, including alterations to Björnson's intricate proscenium, signature chandelier and even the Phantom's lair. Additionally, the number of musicians in the orchestra pit was slashed from 27 down to 14. These were merely money-saving measures in difficult financial times, some would argue, but also part of a consistent attempt to move away from the carefully crafted elements that made the original creative team's vision for the piece so special.
Speaking with Ny1.com this week, Webber himself confirmed rumors that the closure is happening against his wishes and in spite of the show's continued viability, saying, "What's really sad about it is it's not necessary. It could easily, easily run on now, but, again, it's not my decision." In the same interview, he also expressed pride in the quality of the Broadway production, which has remained almost unaltered since opening night and continues to attract new young fans. "I see some of the things the young who are coming to Phantom now are saying and one of the things that is consistent is that they've never seen anything like it. Phantom is something different and one of the things that I wonder is whether there will be a production like a Phantom again, you know, of that scale today. I think it's got to be questionable whether anybody would be able to afford a nearly 30-piece orchestra now on Broadway. You're never going to see that again."
Original Phantom Michael Crawford and Christine Sarah Brightman cross the iconic lake of candles
The opulence of the piece is not lost on the performers. "There really is such grandeur to that proscenium," Peck says of Björnson's gilded angel and demon-themed framework for the show. Every element of her production design has stood the test of time, from the grand staircase in Masquerade to the jaw-dropping candlelit lake revealed during the title song – an iconic theatrical effect if ever there was one. "It really is THE moment, and those lights are not LEDs," he notes. "I always thought that was the hook that would keep people coming back to see it. It's the vinyl of Broadway, you know? I just hope that when it does come back, it is as impressive and honors Maria's legacy. She really was a genius."
As the final curtain call draws near, the company can take some comfort in the knowledge that they've not only entertained more than 20 million audience members during nearly 14 thousand performances, but also managed to have a few good laughs along the way. "At one performance," Groen winces, "when I did the 'these things do happen?' scene and stormed off, somebody was standing on my dress and I fell flat on my face as I walked out, which was lovely. Then, there was the time my dress got caught in the door of the manager's office, so I sang the whole scene trying to rip my dress out, and the Piangi cover was just staring at me. Nobody helped me," she chuckles. "At one point I even started singing the wrong words to Think Of Me by singing the movie version and everybody around me got the giggles. It's so funny how in this show when anything goes slightly wrong, people just lose it."
Equally cherished are memories of moments shared with those who have passed in the intervening years, like the legendary and inimitable Gillian Lynne. "Getting to work with her was just bewildering," Peck reminisces. "She was so great, so full of life and unfiltered. The constant refrain from her was 'fire your nipples!' – meaning to project and shoot out energy – so we'd all be out there with our nipples firing," he laughs. "She was not in denial about things being about sex."
The influence of the late, great Hal Prince, who made of point of regularly checking in with Phantom to safeguard its quality throughout the unprecedented run, is especially missed. "What was so remarkable about him to me was that he had the confidence – and why shouldn't he be confident? – but he had the confidence to just not touch things. He had good instincts. He could come and either not give a note, or just give one or give many, but it never seemed like he was trying to fill the air, if that makes sense." The fabled director's enthusiasm for everyone's work, Peck noticed, never seemed to wane. "You got the sense that no matter how many times he saw Phantom, he was happy to be there. It was something he was really proud of and happy to be associated with, even years on."
"I didn't get to work with him a lot," Groen concedes, "but my favorite thing happened when I first joined the show. As opera singers, we're not taught how to do our makeup because people do it for you. All of a sudden at Phantom I was in charge of my own makeup and I looked ridiculous. I had covered up my eyebrows and drew in new ones, but they were up on the top of my forehead, almost into my hairline. So my one picture that I have with Hal Prince to cherish forever is me with my giant eyebrows high in the air."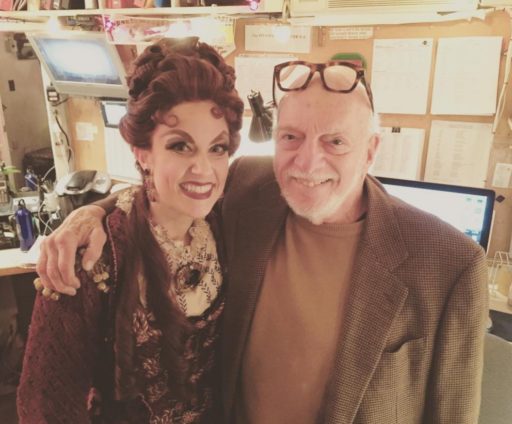 Groen, Prince and the not-so-terrible eyebrows
Among those likely to also be fondly remembered come Sunday's closing performance is Kris Koop, who passed away in 2018 after a 12-year run with the company, during which time she played Christine, Carlotta and Mme Giry while also raising money for Broadway Cares/Equity Fights Aids through the cast cookbook series she helped publish, appropriately entitled The Phantom Cooks. The remarkable Rebecca Luker, who was part of the original company as understudy to Sarah Brightman and Patti Cohenour before becoming Christine full-time and continuing on to a storied career, is sure to also be in the minds of many. Her brave fight against ALS right up until her passing in 2020 left an indelible mark on all those who knew her and respected her immense talent. Somewhat less acclaimed but no less memorable is Wally Carroll, who passed in 2019 after serving in the Navy, performing on All My Children and then acting as affable backstage manager at the Majestic for decades. They are but a few of the many who helped shape Phantom's course, and their presence is sure to be felt as the lyrics of Wishing You Were Somehow Here Again echo for the last time throughout the theatre.
"For a lot of people, this production has been their entire adult life," Groen points out. "There are people who've been here for 35 years, who are dressers and crew. People who put their kids through college. People who got married. People who became grandparents. It really is much bigger than just a Broadway show. It's like a family, which is pretty amazing."
"When Hal would come and speak at an event or an anniversary," Peck agrees, "he would always point to the amount of people the show employed, and how many people didn't leave theatre because they could afford not to. All that comes with a show being here for so long."
Members of the Phantom family, including Groen, Peck and current Phantom Ben Crawford
Even after it's over, the show's impact will continue to be felt by both performers as they explore their next chapters. Groen is looking forward to playing "Mother" in Toledo Opera's 2024 production of the musical Ragtime, as well as continuing to coach a new crop of Broadway hopefuls. "I run a program called Empower Voices Now that helps students deal with performance anxiety and gives them the opportunity to work with people they normally don't have access to. We even recently did a 'Pharewell' camp where people got to work with (cast members) Ben Crawford and Julia Udine and Ali Ewoldt," she says of the program, which she hopes to bring to Canada. "My home base will be in New York but I'll definitely be going back and forth."
Peck will also be splitting his time between the Big Apple and Great White North, albeit to focus on a grand production of a different sort. "I bought a pandemic panic house in Prince Edward County on Lake Ontario, so I'm going to do some gutter cleaning," he quips. Though he'll keep his eyes peeled for interesting performing opportunities, his overseas Phantom experience has inspired him to expand his professional horizons. "I had to fill in for the resident director when I was in Germany and I enjoyed doing that and being on the other side of things, so we'll see."
At the moment, they're just trying to appreciate being present for the show's last great milestone and having the opportunity to give enthusiastic fans the best send-off possible. "Audiences have been amazing every single show. It's like we have a Saturday night audience every day," Groen shares. "A lot of people come and say stuff like, 'well, this is the last time I'll ever be able to see it.' I think everyone is really realizing how special it is."
While Andrew Lloyd Webber has said that he might not attend, it's likely Sunday will still bring with it a sea of familiar faces and Peck wouldn't have it any other way. "As we end this chapter, it would be great to have everyone kind of gather together and share anecdotes, and I'm sure the public would love it too. That would be a nice way to end it. After all, it's been like a long-term relationship for everyone – you love it, you take it for granted, and in the end, you're forever changed by it."
Groen outside the Majestic Theatre, by Jeremy Daniel
For information about tickets to Phantom of the Opera's final performances at Broadway's Majestic Theatre this week, including Friday night's charity fundraiser for the Broadway community, please visit the show's website.
More information about Raquel Suarez Groen can be found at her website and hilarious videos of her character, Carlotta, auditioning for new roles can be seen at her Instagram account.
Special thanks to Groen, Peck and Michael Borowski.