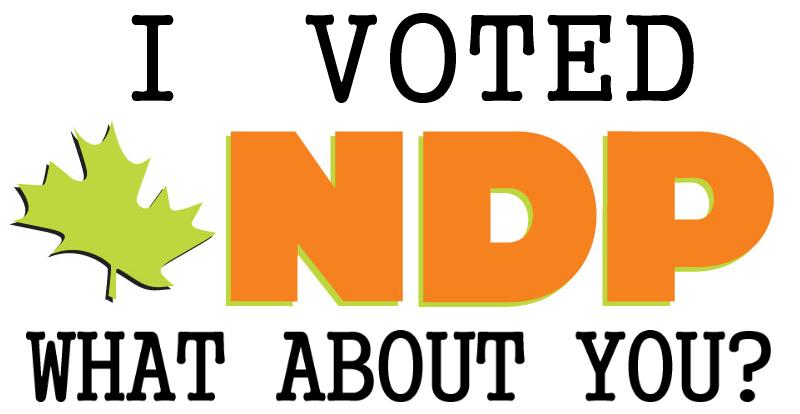 NDP Youth Campaign Launch
Cabaret Playhouse, 5656 Parc
$5
Who puts the party in political party? Why the NDP of course! So goes the tagline for this Thursday's NDP Youth Campaign Launch at Cabaret Playhouse in the Mile End.
Notwithstanding the old saw that one goes to a Conservative convention to get drunk, a Liberal one to get laid and an NDP one to pick up pamphlets, I can confirm from oodles of personal experience that Dippers in La Belle Province know how to knock them back with the best of them.
And with election season seemingly around the corner, what better way to demonstrate fealty to the only party that at least pays lip service to the concerns of the downtrodden, than to boogie like Beckham through the mushiest of March nights?
My super top secret, confidential informant super sleuthing spies (I may or may not have helped book a couple of the bands…) have informed me that the evening will be split into two parts.
The first half will feature a series of short sets by local solo musicians, headlined by the luxuriously exultant Elgin Skye, and the absolutely mind-blowing duo of Jeremy McLaughlin and Kyle Albright from New Brunswick's Oh No! Theodore. Oh No! Theodore are possessed of an energy that is truly infectious. The last time they played in Montreal they ended up doing a secret show in my living room and that was by far the most awesome thing that has happened in the hallowed confines of Vegas, so I'm expecting amazing things out of their two man set. Don't blow in late and miss it, trust me, you'll be sorry you did. The opening half is rounded out by the un-myspaceable Michael Kowalsky and Eleanor Altman, two more local musicians who I am assured rock the casbah with regularity.
The second half of the night will kick off with local indie act The F in Fresh. Well reviewed for their string free (and indubitably fresh) arrangement, their two keyboards, drums and vocals will be rocking the house starting at 9:30. Lead singer Chelsey Walsh has quite the voice and and I'm honestly excited to see what these kids have got.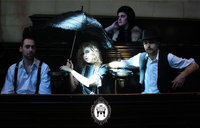 Next up is a band I know well. Montreal's Darling Ghost is an almost orchestral band that will sweep you off your feet with their grand musical overtures. Fronted by the divinely talented and ethereally beautiful singer/pianist Sheena Bernett, their fondness for turn of the century costumes and creative use of strings you don't often find in indie acts has earned them a devoted following in Montreal. These guys may be playing much larger venues in the future, if talent has anything to do with it, so open your ears, close your eyes and let them take you away. You can also check out FTB's earlier Darling Ghost show review.
Jef Barbara has been described as a "glampop poet" and this statement-making popster promises all the hooks and infectious melodies of pop music, without all the BS that usually accompanies it. He also switches effortlessly between French and English within his songs, giving them a uniquely Montreal joie de vivre. Pushing boundaries and standing up for a cause, he seems a natural for an evening of political songsmanship!
The evening will close with the live dance act Dapinknoise. Comprised of a DJ and vocalist, their music runs the gamut from electro to hip hop to trippy and their live shows have a reputation for being pretty goddamn awesome.
So in closing, go to this show. Go because the NDP is awesome and actually gives a shit about people, as opposed to corporations. Go because the line-up is outtasight and it's going to be one of the better live shows this month. Go because you're dying to meet the FTB editorial team and several of us will be there. Or just go because you live near it and you want to come complain about the noise. See you at the show!
The NDP Youth Campaign Launch will be taking place at Cabaret Playhouse (5656 Parc) this Thursday, March 3rd starting at 8PM. Cover is $5 and can be, but doesn't have to be, used to purchase yourself a membership in the NDP. Stay tuned to FTB for a review after the show.