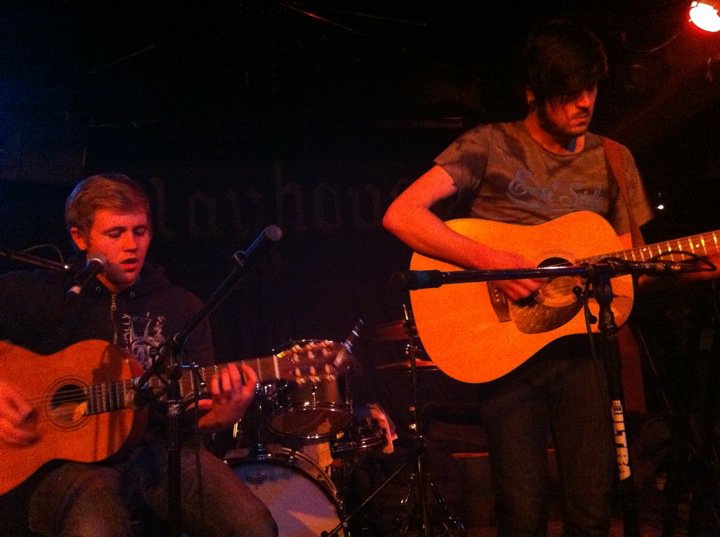 On Thursday night the NDP held their Youth Campaign launch at Cabaret Playhouse. The show was held to prep for the upcoming election and to galvanize the youth vote,   especially towards getting the NDP re-elected in Outremont and perhaps winning a few more seats in Quebec during the next Federal election. The youth wing put on a excellent show. The music was great, the people there were   interesting, and actually talked about issues, and not just about getting elected (like some other parties out there. You know who you are! Now bow your head in shame).
It was definitely good to be there with people that share the same commitment to social justice and progressive politics. Even if you weren't a member of the NDP before you arrived, you might have left a commie socialist tree-hugger; It was that good!
The night kicked off with a spirited round of acoustic sets by locals Eleanor Altman and Elgin Skye, and New Brunswick's Jeremy McLaughlin and Kyle Albright.
Altman kicked the night off with a short set of almost operatic songs that gave her strong, beautiful voice a chance to soar. While some were comparing her to an early Sarah McLachlan, the music that accompanied her voice left something to be desired.
Elgin Skye is an angelic cutie with a striking voice and great range who accompanied herself on both the guitar and ukelele. Her songs were quite well received by the crowd, which was in the area of 60 or more for most of the night.
The duo of McLaughlin and Albright, who form two-fifths of Fredericton's acclaimed folk-rock band, Oh No, Theodore!, were loud and proud and ramped up the crowd with their foot stomping melodies and sing-along choruses.
Lead singer Chelsey Walsh from The F in Fresh was fun to watch. They put on an intense, lively and energetic performance that was as fun to listen to as gulping down cheap beer. The drumming really stood out in a tight and crowd pleasing set that got the second half of the night off to a good start.
Darling Ghost played their always enigmatic set, including some beautifully inspired singing from Sheena Bernett and some fantastic cello. Their tunes really reach out and you could tell the audience was under a deeply captivating spell. Definitely a band to look out for, if you're into drinking whiskey by the bar. They even played their chilling song Black & White. The cello and upright bass are power tools for this awesome funeral procession.
Dapinknoise are always fun. they got the crowd moving with their fat electronic sound that mixes well with the crooning style of the singer, who reminds me of David Bowie getting funky with his bad-self. It was one   euphoniously trippy experience.
The evening was closed off with a performance by Jef Barbara, who played some crazy electronic synth-funk-pop that was as great as waking up to a steaming cup of coffee. You can say, the man's got talent. You can tell why he is getting quite a following   locally and in Europe. Check out the song Wild Boys if you get the chance.
He really capped off a surprisingly good night for music, even though I was tired and not particularly politically motivated. On the whole, it was a great night for the NDP, and for those of us lucky enough to be there. The NDP got some cards signed and engaged a great crowd with a variety of excellent music. If an election comes soon, the NDP is looking stronger than ever in Quebec.
With contributions from Ethan Cox. Hate-mail regarding the poor quality of photos can also be addressed to him.