This is the part of a multi-part series on the changing shape of Montreal's skyline. Here is the first article with a list of new construction in Montreal.
This series originally appeared on taylornoakes.com*
So how viable are these new projects really? Suffice it to say, if the economies of Canada, Québec and Montréal stay stable and continue to grow, there's really nothing stopping all of these projects from being realized by the time of the sesquicentennial of Confederation. Almost everything going up is residential and aimed at single or double occupancy condominiums offering branded lifestyles and various luxuries and amenities which seem to be as much in vogue today as industrial lofts in the Old Port were twenty years ago for a different generation's yuppies.
Montréal, somewhat curiously, alternates between strong social movements to built the new and modern or renovate and cherish the old. I'm inclined to believe that the market here may not be completely saturated, but this means the city will have to a) install support services to help stimulate the creation of a viable community and b) market the hell out of a bigger-picture urban lifestyle and living scheme. This is a tall order, pardon the pun.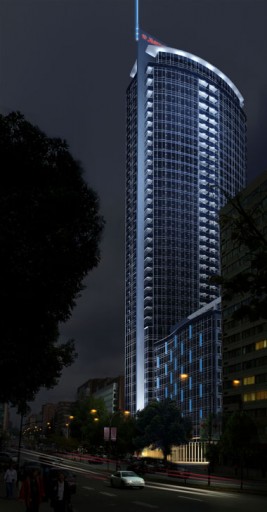 There's at least two major hotel projects here, though if I'm not mistaken they'll also have condo units within, a popular arrangement of late. There's also the first privately financed corporate office tower going up in twenty years to be built on the site of the former Canadian Pacific Railways Accounting Office on Saint-Antoine. From the looks of the conceptual art, it seems as though Cadillac-Fairview (who own the Windsor Block, Windsor Station and apparently all the land around the Bell Centre) are planning on making good use of the mostly unused courtyard inside the walls of the station.
This idea works very well for the occupants of Place de la Cathedrale, and I'd like to see this space crawling with humanity in a manner somewhat akin to what I expect Windsor Station was like way back in the day. That said, it's Saint-Antoine that could use the pedestrian traffic stimulus, but that's another matter. This new commercial tower will be anchored by Deloitte, one of the 'big-four' accounting firms.
The rest however, are all condominiums tending towards offering ever-increasing levels of luxury, and there's a public perception, to one degree or another, that we may be building too many. In other words, development isn't as balanced as it once was, there's less equilibrium between types and uses and locations. The novelty now is that these are residential towers of impressive height, though generally not overwhelmingly impressive in terms of design.
Le Peterson is neat with its undulating facade and what seem to be some rather nifty looking balconies, but I wonder how well we'll be able to see it given that it's surrounded on most sides by other large construction. In order to build Le Peterson several smaller buildings will be destroyed, and I dare say I think it will look weak, diminutive, compared to much larger and imposing masses of the late neo-Classical and sorta Art Deco Caron Building to the left and the neo-deco Hilton tower behind.
*Part three in the series will be online very soon.
*Photos from taylornoakes.com.