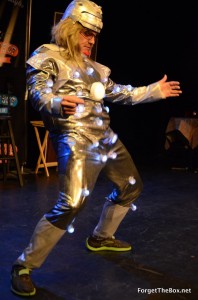 What do a dancing techno robot, an abject mustache salesman and a kidnapped actress all have in common?
Well…not really that much. Except they are all part of the collective of strange personalities found at New Faces of Comedy set.
The Mainline Theatre hosted this show for Zoofest, and let me tell you, it was full of nonstop laughs! Many of comics acted like masters of character sketching…and if this is any indication about the new age of comedy, then the Mayans would have to agree – It's going to be a very, very funny thirty thousand years!
Sponsored by the website collegehumor, the show is characterized as non-stop weird comedy adventure through the minds and personalities created by these new comics.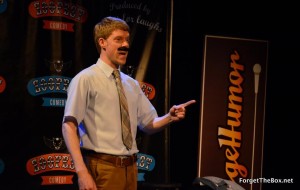 I sat there, part of the rows of chairs surrounding the stage, amazed at how fluid the show was and how easily the comics moved through different personality traits and ticks at the flip of a coin. And let me tell you, many of these personalities had some serious ticks!
The New Faces of Comedy Charcter show was kind of watching Saturday Night live – which was pretty cool. The audience was in on the fun with rapid non-stop assaults of laughter, during which I almost cracked a rib.
There was never a pause long enough to give the audience a little time to catch their breath. I was at times finding myself on the verge of tears. Even a few times, I was caught by my companions side glance, picking a tear drop off my cheek.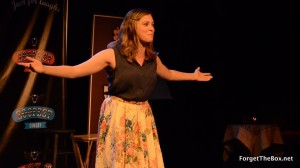 In between acts, the Comics, as some deranged or abject characters, appeared before our eyes.
There were a few performers that had pre-taped audible tracks that introduce tracks, but some, like the dejected mustache salesman (Tim Ballz), whose dyspeptic state slipped through his pitch from time to time, only relied on their monologues.
The show started with an awesome performance by Tim Ballz, whose characters had the crowd hurting with laughter. Especially his mustache salesman and the doctor telling the patient that he/she has tested positive for every disease known and unknown to man.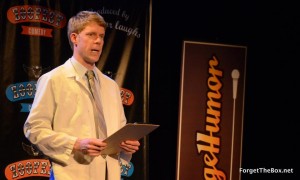 Tim ballz was definitely one of the highlights, but was followed by the incredible Rebecca Bloom, who played a traumatized kidnapped actress.
Her character tried to put on a performance to show off her talents to the audience, but really she only showed off her repressed trauma, provoking a hint of uncomfortable laughter.
Here's a list of other comics I saw that night who put on outstanding performances:
Sam Richardson
Playing his uncle who likes to eat chips, taking a McDonald's filet au fish and 2 liter bottle of cola out of large chip bag while giving life advice, Sam's set was pretty funny experience. Let this be a lesson to you: be careful who you take advice from!  Also his impression of an African family man taking his children for night out at the movies was excellent.
Griffin Newman
Griffin Newman played the bar mitzvah boy. At first it was hard to digest, but as it went on it got heavy on the Jewish puns and pretty funny
Lauren Lampkus
Being the cute girl of the group, she was able to throw the audience off by how erratically comically spontaneous she was during her performance. She was the funniest stripper I have ever seen, giving one audience member a gyrating paroxysm of a lap dance he will never forget.
Natasha Rothwell
Her call in "knickers" sketch was just too much. At times I felt a little uncomfortable by the repetition of this word by a lady trying to sell "knickers" on television to fund-raise for the Republican Party.
Tony Cavalero
Tony played a versatile lot of weird characters. The techno-robot, being one of my favorites. however the gay Confederate general supporting his troops was comical beyond belief.
Greg Worswick
Views on dating were extreme, but as he demonstrated while gyrating, they might actually work.
This was one of  the best showcases I saw by far at Zoofest. It was fun to be there and the Mainline was an excellent setting for comedy. I like how most comics were thrown off guard by facing an audience on three sides which i quite enjoyed as it added intimacy to the whole production.