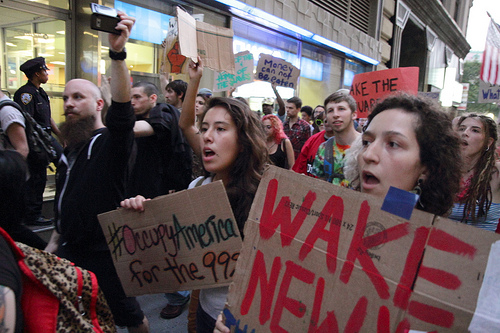 A decision handed down by the New York State Supreme Court two weeks ago regarding Twitter's release of user information could set a precedent for court decisions in Canada.
A June 30 ruling, Judge Matthew A. Sciarrino Jr. denied Twitter's request to quash a subpoena from Manhattan District Attorney Cyrus Vance Jr. requesting tweets posted by Occupy Wall Street protestor Malcolm Harris from September 15, 2011 to December 30, 2011 on his @destructuremal account.
Sciarrino had denied Harris' own request to quash the subpoena on April 20. Twitter was asking Sciarrino to reverse the decision.
Shaheen Shariff, a professor in McGill's Department of Integrated Studies in Education and a specialist in internet policies and online privacy, said that while decisions made in US courts have no bearing in Canada, Canadian courts do often look to them to inform their decisions on similar cases.
Shariff referenced the 1997 Zeran case, a US court decision that defined social media sites like Twitter and Facebook as intermediaries and not publishers, and therefore not required to disclose all offensive material posted to their site.
Last year, the Supreme Court of Canada passed a decision citing the Zeran case. In the case, British Columbian Jon Newton was sued for linking to allegedly defamatory material on a website. The case was dismissed after the judge deemed Newton, as a distributor and not a publisher of the information, was not liable for damages.
"In that regard Canada, the Canadian courts, did use the US precedent, but they're not bound by them," she said.
Shariff said the use of the Harris case as a precedent in Canada "depends on the circumstances of each case."
"If there's a case similar to this that goes before the Supreme Court and it involves Twitter, because this case particularly refers to Twitter's agreement with its users, then it's possible the Canadian court might come up with a similar decision," said Shariff.
Many social networking sites have user agreements affirming user's rights concerning what they post. While Twitter's terms of service states that users "should only provide content that you are comfortable sharing," it also adds that users "retain your rights to any content you submit, post or display on or through [Twitter]."
In a statement released after Sciarinno's decision, Twitter spokesperson Carolyn Penner said the terms of service "have long made it absolutely clear that its users own their content. We continue to have a steadfast commitment to our users and their rights."
According to Bloomberg, after the April 20 decision Twitter updated its terms effective May 17 to say that users retain their right to any content they submit, post or display.
"I guess what [Sciarrino] is saying is that if [a post] has criminal components then that agreement is null and void," said Shariff.
The Harris decision could play an important role in Canadian legislation in the coming months and years. According to Shariff, there is emerging legislation in provinces across the country – including Ontario, Quebec, and New Brunswick – targeting offensive forms of expression online, notably forms like cyber bullying.
"There's a trend to try and get some of this under control," said Shariff.
"Now in terms of free expression, it does pose issues," she continued.
The information sought includes tweets from Harris during his October 1 arrest on the Brooklyn Bridge along with about 700 other Occupy Wall Street protestors, as well as the IP address for each post, which would allow prosecutors to see Harris's location at the time the tweets were sent.
In his ruling, Sciarrino upheld a portion of Twitter's request asking that accessing content less than 180 days old would require a search warrant. Nevertheless, the American Civil Liberties Union has argued Harris should be able to quash the subpoena because his First Amendment right to free speech and his Fourth Amendment right to privacy are implicated, according to Bloomberg.
"There's definitely a trend towards criminalization of online expression, and that is a problem because it does infringe on freedom of expression rights under the First Amendment and under the Canadian Charter of Rights and Freedoms," said Shariff.
Harris could still appeal the decision at the federal level. In the meantime, said Shariff, "It may be that these intermediaries have to look at their agreements with clients again and revamp them."
As for users, she said the Harris case "speaks to the need for people to be much more aware of what they're posting online, what they're tweeting about."
Photos courtesy of Paul Stein and Danilo Ramos via Flickr