When you look back on 2016, you may think of all the greats we lost like David Bowie, Leonard Cohen and, most recently, Carrie Fisher and her mom Debbie Reynolds. You may also remember it as the year the UK decided to leave the EU or the year the US decided to leave its senses politically.
No matter how you saw it, though, you have to admit that quite a bit happened. With that in mind, we take a look back at 2016 in the News.
As this post had two authors, parenthetical initials indicate if the section was written by Jason C. McLean (JCM) or Mirna Djukic (MD).
Canadian Politics
2016 was the first year of the post-Harper era and it was an agitated one in federal politics.
Justin Trudeau's popularity soared for a while, still largely carried by the expectations built during his campaign and his undisputable quality of not being Stephen Harper. To his credit, he did score some significant points in his first months in office by immediately opening the National Inquiry on Missing and Murdered Indigenous Women and rebuilding relationships with our neighbours (which gave us both the most hilarious handshake attempt of all time and the TrudObama Bromance).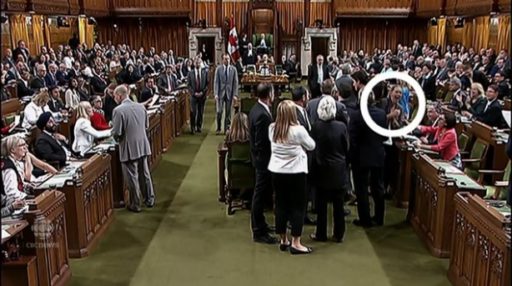 One of the first flies in the ointment was the infamous #elbowgate incident in the House of Commons.  Last May, the Prime Minister took it upon himself to escort Conservative Whip Gordon Brown through a cluster of opposition MPs in order to move the procedures along and accidentally elbowed NDP MP Ruth Ellen Brosseau in the chest. This was perhaps a fairly embarrassing show of temper for the PM, but it degenerated into something out of a Shakespearian comedy in the following days, with Trudeau issuing apology after apology and the opposition throwing words like "molested" around.
Inopportune elbows aside, the Liberals took quite a few steps during the year that caused the public to question how different they really are from their predecessors. Not only did they go through with the $15 million arms sale to Saudi Arabia, but they also quietly changed the country's policies about export controls to ensure that they could continue to trade arms with shady regimes with a lot less obstacles.
As the year went on, the government kept up the progressive discourse that got them elected, but too often failed to follow it up with actions. The Prime Minister even blatantly went back on his promise of electoral reform, driving the last nail in the coffin for a good portion of increasingly disgruntled voters.
This year was not any less turbulent for smaller parties.
The NDP was licking its wounds and doing some soul-searching after their grueling 2015 loss. Fortunately, many members signed an open letter recognizing how disastrous their electoral strategy of aiming for the middle ground was and declaring their desire to go back to the unashamedly leftist positions they used to hold
As for the Greens, they started the year as the underdogs who were doing unexpectedly well. The increased attention, though, revealed a world of messy internal struggles. These started when the party voted in favour of Boycott, Divestment and Sanctions (BDS) against Israel. Leader Elizabeth May disliked this so much that she considered resigning. (MD)
Canadian Pipelines
Indeed, discrepancies between the government's discourse and their actions accumulated throughout the year. None was more flagrant than their attitude toward pipelines.
The Liberals campaigned on promises to restore the trust of Canadians in the Environmental Assessment Process, "modernize" the National Energy Board and make Canada a leader in the worldwide climate change fight. Trudeau was the first to admit that the current environmental assessment protocols were immensely flawed and he mandated a committee to review them.
While still waiting for their conclusions, though, he had no problem with major projects still being approved by that flawed process. He had no comments when it was revealed that the NEB board members in charge of reviewing Energy East had secretly met with TransCanada lobbyists nor when indigenous resistance against various projects started rising.
If he thought that the population was on his side, or that they would remain passive about it, he was sorely mistaken. In August, the NEB consultations about Energy East were shut down by protesters. Anger and mistrust towards the NEB only grew after that, with environmental groups calling for a complete overhaul.
None of this stopped the government from approving two contentious pipelines in late November. Both Kinder Morgan's Trans Mountain project and Enbridge's Line 3 were officially accepted. Fortunately, they did reject Enbridge's Northern Gateway, which was set to go through the Great Bear Rain Forest. (MD)
Standing Rock
2016 was the year that saw the Standing Rock Sioux Tribe emerge victorious (for the moment) over big energy and the North Dakota Government.
In July, Energy Transfer Partners got approval for the $3.78 Billion Dakota Access Pipeline to cross the Missouri River at Lake Oahe, the tribe's only source of drinking water. The plan also saw DAPL cut across sacred burial grounds.
The Standing Rock Sioux challenged this both in court and with water protectors on the front lines. They invited others to stand in solidarity with them and assembled the largest gathering of Native American tribes in decades.
Things came to a head on Labour Day Weekend early September when DAPL sent private corporate security to attack the water protectors with pepper spray and dogs. Democracy Now's shocking footage of the incident got picked up by major networks and there finally was major media attention, for a while.
As more people joined the camp and solidarity actions, including Facebook Check-Ins from around the world, increased, corporate media interest waned. Meanwhile the Governor of North Dakota Jack Dalrymple activated the Emergency Management Assistance Compact, which brought law enforcement from ten different states to Standing Rock.
With most media focused on the elections, police used tear gas and water cannons on water protectors in freezing temperatures. The US Army Corps of Engineers sent an eviction notice demanding the camp be cleared by December 5th and roadblocks went up.
The Sioux Tribe's infrastructure survived, however, and once 4000 veterans showed up in solidarity, the official stance changed. President Obama's administration got the Army Corps to change its tune and deny the easement over Lake Oahe, meaning the DAPL will not go through Standing Rock, at least not until the Trump Administration takes office.
While their fight may not be over, the Standing Rock Sioux Tribe did flip the script in 2016 and was even named FTB's Person of the Year. (JCM)
Indigenous Issues in Canada
Meanwhile in Canada, indigenous issues did make their way a bit more to the forefront in 2016. The National Inquiry into Missing and Murdered Indigenous Women finally got underway September 1st.
While long overdue, the Inquiry will be independent of the Federal Government and has a budget of $53.86 million to be spent over two years. While overall optimistic, some in Canada's First Nations communities are concerned that the scope of the inquiry is too broad, making it easy to not investigate police forces and specific cases.
Quebec is considering its own inquiry. It's needed, especially when you consider that the Sûreté du Québec (SQ) treated accusations that its officers were assaulting native women in Val d'Or by going after Radio-Canada and its journalists for reporting on the story and no one else.
Meanwhile, conditions in many First Nations communities continued to deteriorate. An indigenous police force in Ontario even recommended its own disbanding for lack of proper funding. (JCM)
Quebec Politics
The provincial government keeps slowly but steadily dropping in the polls. According to a Léger-Le Devoir poll conducted in November, the Liberals hit their lowest approval rating since the 2012 crisis. With only 31% of the intended vote, they are now barely 1% ahead of the PQ.
This is undoubtedly linked to the fact that the real impact of the budget cuts in public services started becoming more apparent. In a memorable interactive interview with Radio-Canada last June, Premier Philippe Couillard was confronted with an onslaught of people suffering from his austerity measures. Some had lost their jobs and others were overwhelmed healthcare workers and angry parents.
The fact that they did reach a budgetary surplus as a result doesn't seem to have calmed the popular discontent. The shadow of past corruption scandals also remains.
Couillard assured the public that none of the scandals happened under his watch and that his administration is fully committed to fighting corruption. This commitment was, however, brought into question by a recent report which accuses the government of lagging behind on the Charbonneau recommendations.
If the PQ is now breathing down their necks in the polls, it is hardly due to their own accomplishments this year. In fact, the Parti Québécois spent most of 2016 trying to find a new leader after the freshly elected Pierre-Karl Péladeau resigned, citing family reasons. His excuse, standard as it might be, is not very hard to believe, considering he was later found to be stalking his ex-wife and is now in a grim legal battle against his late girlfriend's ex.
In any case, the party was left in turmoil. It wasn't long before another of its prominent figures left. Bernard Drainville, champion of the infamous Charte des valeurs, but also a major architect of the party's policies and democratic reforms, decided it was time to call it quits. In a slightly surreal move, he announced that he was retiring from politics to co-animate Éric Duhaime's notoriously salacious radio show.
Those who had hoped that his departure would help the PQ move toward a better relationship with minorities and immigrants were disillusioned by the conclusion of the leadership race. Veteran Jean-François Lisée and his divisive views on immigration won by a landslide, while the favorite, Alexandre Cloutier was left in the dust with Martine Ouellet and Paul Saint-Pierre Plamondon.
However, let's not forget that Quebec's political scene is not limited to the two major parties. In fact, a new player is preparing to enter it before the next election. FTB learned that a provincial NDP is in the works, hoping to provide the voters with a progressive option that doesn't aim for Quebec's independence. (MD)
Rape Culture
Rape culture neither started nor ended in 2016, but it did seem to find its way to our newsfeed frighteningly often.
First came the disappointing conclusion of the Gomeshi trial in May. The fact that a celebrity with so much airtime on the CBC and elsewhere had been sexually harassing his colleague for years and committing multiple sexual assaults while his entourage and superiors turned a blind eye was outraging enough on its own. The fact that four counts of sexual assault and one of overcoming resistance by choking pretty much ended with a slap on the wrist from the court was worse. It made it very hard to keep pretending that our institutions and our society were not rigged to protect aggressors and silence victims.
Barely a month later, as if to demonstrate the scale of the problem, there was the Brock Turner case. Turner, a 20 year old student athlete at Stanford and a perfect mix of white, male and class privilege, was standing trial for raping a young woman on campus. Caught in the act by other students, he was found guilty. This could have landed him in prison for more than a decade, but he got six months in a county jail (he only served three).
A horrible event brought the discussion about rape culture a lot closer to home for many Quebecers in the fall. Multiple attackers entered the dorms of Université Laval and assaulted several students during one night in October. This sparked a wave of compassion and awareness with province-wide protests.
During a solidarity vigil in Quebec city, a young student named Alice Paquet revealed that she was raped by Liberal MNA Gerry Sklavounos back in 2012. Despite an onslaught of victim blaming and skepticism, Paquet decided to finally press charges, and her lawsuit is now in front of the Directeur des Poursuites Criminelles et Pénales. The latter will decide if the case goes to court. (MD)
US Presidential Election
For most of the year, politicos everywhere, including here in Canada, were glued to what was transpiring in the US Presidential Election. And for good reason, it was an interesting one, to say the least.
First there was the hope of some real and unexpected change in the form of the political revolution Bernie Sanders was promising. The upstart Vermont senator managed to go from basically nothing to winning 23 states in the Primaries and even got to meet with the Pope, but that wasn't enough to beat the largest political machine out there  and the Democratic Party establishment's chosen candidate Hillary Clinton.
Meanwhile, Donald Trump, another upstart candidate, though one of the secretly pro-corporate and openly far-right variety, easily clinched the Republican nomination. With the exception of a bit of plagiarism on opening night and the whole Ted Cruz non-endorsement incident, the GOP Convention was quite unified behind Trump.
The Democratic National Convention was a completely different story. Sanders delegates booed speakers endorsing Clinton and connected to the Trans-Pacific Partnership and even left the room in protest when Clinton officially won the nomination.
The ensuing General Election campaign went back and forth for a few months with each candidate having their ups and downs. Clinton's health rumours and Wikileaks revelations and Trump's…well, his being Donald Trump.
Then it looked like it was finally over for the Donald with the release of the Access Hollywood tape. That was the last straw for several prominent members of the Republican establishment. Was the GOP going to implode?
Well, on Election Day, the unthinkable happened. The ideal "pied piper candidate" the Democrats had sought to elevate, because he would be so easy to beat, ended up beating their "inevitable" future President.
The bogeyman came out from under the bed and was elected to office. The joke went from funny to scary. Failed casino owner and third-rate reality star Donald Trump won the Electoral College vote and became President Elect of the United States.
As Trump started building his brand new bubble filled with climate change deniers, corporate execs and white supremacists, the fight against him in the streets started and shows no signs of stopping in 2017. The real question is now: will the Democrats change gear and become a progressive alternative or stay the establishment course that led them to defeat at the hands of an orange carnival barker? (JCM)
Montreal Politics
At least Montreal didn't spend 2016 electing a frequently cartoonish populist who doesn't listen to experts. We had already done that back in 2013.
This was the year, though, that our Mayor, Denis Coderre, really started to shine. And by shine I mean make Montreal nationally and even globally famous for some really bad decisions and ideas.
2015 ended with the Mayor dumping untreated sewage right into the river. With that out of the way, 2016 was going to be the year where we planned for our big 375th Anniversary in 2017.
By June there were already approved proposals for really ugly granite fake tree stumps for Mount-Royal and a national anthem for the borough of Rivière-des-Prairies–Pointe-aux-Trembles. How was the city going to pay for all of this? In August a task force gave the Mayor one option: taxes on water consumption and trash collection.
Coderre's focus was squarely somewhere else in the last half of the year, though. After a 55-year-old woman was killed by a dog in June, Coderre tabled rather extreme Breed-Specific Legislation aimed at pit bulls, despite no initial proof that a pit bull was the culprit (and the later revelation that it absolutely wasn't).
There were protests and even international condemnation, including that of celebrities like Cyndi Lauper. Coderre would hear none of it, though, even ordering the mic cut on an citizen during a City Council meeting.
When the so-called Pit Bull Ban, officially the Montreal Animal Control Bylaw, became law in September, the proverbial other shoe dropped. People started picking up on some of the other aspects of it, in particular the fines and fees and the fact that it covered other breeds of dog and cats, too.
The SPCA got a temporary injunction on the "dangerous breeds" aspects of the law in early October which was overturned on appeal in December. The bylaw comes into full effect March 31, 2017, at which point the SPCA will no longer deal with stray dogs or accept owner surrenders.
In September, another project met with a legal obstacle. Turns out fines Société de transport de Montréal (STM) security officers were handing out constituted a human rights violation.
While the STM will be appealing the Montreal Municipal Court decision, for now at least, they're not supposed to be sending out squads of transit cops acting as glorified revenue generators. In practice, though, we've heard reports they're still doing it.
The Montreal Police (SPVM) were also in trouble this year. They were caught spying on at least four journalists in November. Famed whistleblower Edward Snowden even mentioned this story ahead of his livestream talk at McGill University.
What was really surprising was that the SPVM got warrants for this surveillance. What was not surprising at all is how high this probably went. Police Chief Philippe Pichet must have known, and he was handpicked by Mayor Coderre a few years prior.
The Mayor said he stands by his police chief before cancelling an investigation into the matter.
Coderre probably wants Montrealers to forget good chunks of his 2016 and focus instead on 375th celebrations, then vote him back in near the end of the year. The opposition has another idea, though.
Official Opposition party Projet Montreal held its first ever leadership race in fall 2016 culminating in the election of Valérie Plante early December. (JCM)
Black Lives Matter/Police Killings
2016 continued the sad tradition of police murdering innocent people of colour for no good reason and getting away with it (for the most part). The Black Lives Matter movement also continued to speak out against these killings.
There were two such murders in early July very close together, to the point where it was possible to confuse notification of one with the other. Alton Sterling and Philando Castile died at the hands of police in different cities in different states within 24 hours of each other.
This prompted solidarity protests across the US. There was also an impromptu BLM sit-in during the Toronto Pride Parade and a couple of Montreal marches which highlighted that racist police violence was not just an American problem.
In Dallas, Texas, a lone sniper, not part of the peaceful protest, decided to murder nine police officers, which, of course, became a national tragedy and an excuse for the right wing to incorrectly attack BLM.
In September, following the police murder of Keith Lamont Scott, the city of Charlotte, North Carolina erupted. There were days of protest and the governor declared a state of emergency on the second night.
There is sadly no sign that any of this will change in 2017, especially given the positions of the incoming administration on race and police. (JCM)
Syria
Sadly, this year was marked by the continuing conflict in Syria. Dictator Bashar al-Assad has again been accused of deliberately targeting civilians. The carnage in Aleppo reached new heights as the regime's forces renewed their assault, driving residents to send their goodbyes over social media.
The Anti-ISIS coalition lead by the US is also responsible for a lot of civilian casualties. Amnesty International and the official opposition of al-Assad even called for a suspension of their airstrikes after they were reported to have killed between 100 and 200 civilians in the region of Manbij over two months.  This number is now confirmed to have surpassed 300, although the US still refuses to acknowledge it.
Local groups have been fighting the rising terrorist factions in Syria, namely the now famous Kurd "women's protection unit", also known as YPJ. However, despite their important role, their status with the international community is on shaky ground. One YPJ fighter is currently detained in Denmark under terrorism charges. (MD)
---
So that's our look back at 2016 in the news. Here's hoping for overall more uplifting stories in 2017!