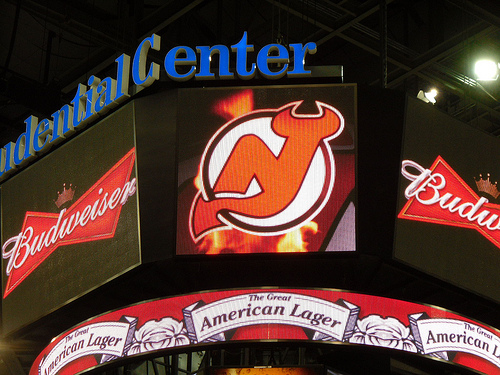 Closeted NHL players received a stern warning from New Jersey Devils winger Cam Janssen last week when he threatened them with violence if they made their sexuality known. And in doing so, Janssen perpetuated the harmful stereotype that the NHL—and the hockey world in general—is an unsafe place for queer athletes.
Janssen, a so-called "tough guy" whose sole job is to provoke opposing players, went into detail in an interview on how he tries to throw people off of their A-game.
Janssen: "There's some shit-talking that goes down that pisses some people off. There's a lot of personal shit, man, like, guys know personal shit. … You wanna get in people's heads to get them off their fucking game, and, don't get me wrong, you don't wanna go too deep with shit because we all have our issues here. Let's be honest."

Interviewer: "But if the guy was sucking cock four weeks ago, you're gonna let him know about it?"

Janssen: "Oh, if he's sucking cock, he's getting his ass kicked."
The message is clear that gay athletes should watch out: if they want to play their best game, they'd be best not to give Janssen, or any other goons, extra homo-fodder with which to torment them.
But is the professional hockey world still as bigoted as Janssen makes it seem? Judging from the excellent work of the You Can Play project launched earlier this year, it actually seems that Janssen's antics are falling out of fashion fast.
The You Can Play campaign aims to root out homophobia from the sports world—starting with hockey. The project was co-founded by Philadelphia Flyers' scout Patrick Burke in memory of his brother Brendan, who passed away tragically in 2010.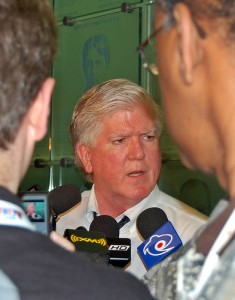 Brendan, who was a student manager at Miami University, shocked the hockey world when he came out publicly in 2009. As a son of the tough-as-nails Toronto Maple Leafs' GM Brian Burke, he became the first person affiliated with the NHL to go public with his homosexuality.
The implicit message of this courageous act is immortalized in the simple, yet effective, slogan that defines Patrick's campaign against homophobia in sports: "If you can play, you can play."
With an outpouring of support from star athletes, the campaign is demonstrating that a future of sports without homophobia is a lot closer than we might think. In fact, that several on-the-ice goons have appeared in You Can Play ads only highlights how rare off-the-ice goons—like Mr. Janssen—are.
And interest in the project is growing. In a recent interview with on TVO, Brian Burke said that he receives phone calls from some players bemoaning the fact that they weren't asked to participate, while others ask eagerly when their turn will come to be in front of the You Can Play camera. It seems that hockey players may just have needed the proper outlet to let the world know that they're not a bunch of neanderthals.
The campaign's success can be measured, in part, by how quickly Janssen both apologized for his comment and rained praise on the work of You Can Play. In an apology released through his agency, the Devil said:
"I would like to apologize for my poor choice of language. The tone of the interview was very casual and off-color, and I lost focus on what is and is not acceptable and professional. I am deeply sorry to anyone who was offended by my language. Moving forward, I hope to eliminate that type of language from my vocabulary. I would also like to take this chance to express my support for the work the You Can Play project is doing, and for the gay community in general."
Of course, there is still a strong culture of homophobia/femmephobia in sports to be tackled. But athletes aren't the only problem. Everyone involved in sports—from players to coaches to the fans and the media—needs to be held to higher standards than they currently are.
In this vein, the next target of any campaign to rid sports of homophobia should be aimed at sports commentators, who are arguably louder and more influential than the athletes they cover. Read the transcript above from the Janssen interview and you'll see that the homophobic comment was instigated by the host. Such intolerance might not usually be so overt, but it's definitely present in mainstream sports commentary.
This homophobia is detailed in a recent article for "Left Hook: A critical review of sports and society" by Tyler Shipley. The article documents how the likes of Don Cherry—the reigning king of homophobia in sports— and other commentators like him, engage in an old-school machismo that worships violence and denounces players who aren't violent as "sweethearts".
Pressure needs to be put on public figures who perpetuate these intolerant attitudes that make sports an unsafe place for so many people. The response to Janssen's comments was just one example of how powerful a public shaming can be.
Photos courtesy of Doug Kerr and Angela MacIsaac via Flickr