Let it flow from your insides out, let yourself lose sensibility. I missed you for so long, I longed for you entirely. Now you touch me and I feel nothing. Nothing but a tinge of anger and a whole lot of embarrassment.
So please don't touch me. All I wanted was your touch but that time has passed and I got used to regretting you. I got used to the idea that I am enough. I know that I need no justification to breathe, I need no other human to complete my essence, and I certainly do not need a bear hug from someone who I could still love at the drop of a hat. Someone I still think of with a tear in my eye.
Yes, its too soon. Don't squeeze me, don't rob me of my dignity, hold me all night long or don't touch me at all.
Again there is that feeling that all I want is to be requited. But what does that really mean anyways? I love the excitement of not knowing whats going to happen next.
Sure I want to be touched, sure I want to be adored, of course I need love. But I don't look for it and certainly don't expect anything but the bitter after burn of rejection.
I am a different breed. I dance and I feed. I float through the night on a trike with a borrowed light. Lost. Lost and alone, unconcerned, and on fire. I burn for forgiveness, I yearn to be stopped in my tracks. Call out my privilege, I dare you.
I crush on people with the expectation that nothing will come of it. I defeat the pain before it cuts in. I crush the crush while the talons extend. My armor goes up and my guard is on duty.
I sign up for projects when I can't finish my own thoughts. I can't trade my talent for money, just the satisfaction of seeing someone satisfied. I love watching dreams bud and blossom by my pen. I have a zillion dreams that are awaiting fruition. I know that I need to take myself into consideration but often forget. I blow off people who I love the most, late for everything.
I also realize that its not easy for anyone. I can't imagine being someone else. If I think its hard, me, a beautiful privileged white woman, then shit, it must get much worse than this.
Energy and time are precious commodities, when I dedicate myself to the resistance, when I put my life into helping others, I feel gratified, I am no longer hungry or alone.
I need no justification of my talents, just seeing how small deeds can lighten the load for others. My load is superficial, loneliness is temporal.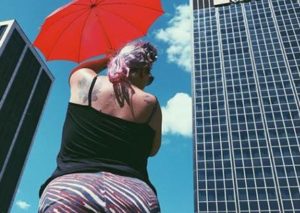 And then there is someone lurking 10 hours away, I want to surprise you, or I want to be gay. I long to be with a unicorn. Lavandar, pink, baby blue. I want to smell the cheerios and rotten lake water. I want to ride bikes all night until the sun comes up, but I never feel fast enough, always second guessing my abilities. Stunted by my own doubts, afraid of fear, accompanied by demons that have been there forever, before I was born, and will outlive my essence.
Carry on, move forward, keep on keeping on, some nights are better, others cut like rusted knives. A dull hellish gashing metal bit. Manmade monstrosity.
I want to write a song like Hotel California. A bizarre song hated and loved equally, make millions, go down in history. What is history? Can I really change it all?
Sometimes I need to escape reality. I do that by painting, traveling, and going out on the lake with my Dad. His boat is called the Lady Fred, after my grandmother, the sweetest woman in the world. Her photo is on there, and it makes my heart soar. I miss her smile everyday, the sun hasn't been the same since she died. She is the butterfly that floats on by.
It felt incredible to have the wind run its tendrils through my whispy crispy faded hair (which is finally getting long again). It felt right to get smacked by air. Oxygen and water, bonding time with my pops.
I am lucky that my parents are my best friends. I regret my spoiled brat moments. All they ever wanted was my happiness. They tell me now that I am too radical. Is it radical to love? Is it radical to be kind? Being vegan and helping others is the radical that I yearn for. It is right.
They thought my hair color was a phase too, and the I am wearing the same ripped up shirt and punk skirt that I wore when I was 15. While we may not agree on everything, I still love them.
I was having a late night paint night with a couple of friends, working on a flyer with a girl in a cage and a guy playing piano. We thought The Joy of Painting would kick start creative flow. Boy did it! Bob Ross should have done the play by play for porn, his voice is so calming and inherently sexual.
Perhaps its because painting gets me off. Art is life, it is sensual and personal. Bob Ross is magical, he creates crazy shit in a short amount of time. I would get angry because even if I listened to him it wouldn't be the same. He taught me that everyone is different and every style is beauty. You look away for a moment and BOOM there it is.
I had no idea that he was ex military, dealing with death and destruction by painting beautiful landscapes and teaching others. I bet a lot of women (and men) watched that show and thought he was hot. I am thinking about doing a dramatic reading of some of his lines.
Sometimes when you are standing too close to it is difficult to see
Just put a little sunshine in there
You can create any illusion that you want in here
In a few years when someone sees this painting they will know that you had a fantastic day when you made this
You have experienced the joy of painting
Gently
There we are
Very gently
Very easy
Very light
Very gentle
There we are
Do you see how it fluffs up?
So fantastic
Sensual
We've got a nice little cloud there.
(Awwwwwe Yeaaaa)