You have not seen a Burlesque show until you've seen a Glam Gam Production! These guys are ridiculous! Their most recent spectacle, "Nightmare on the Main" is a con-cocktion of the bizarre, raunchy and übersex. Watching this show its kinda like drinkin' a bottle of whiskey, taking off all your clothes and running wild through Vegas on a 3 day bender… oh wait that's what it is.
The host of the show, pictured here was sooooo funny and creepy! I laughed so hard my face hurt. He was a mental asylum inmate that escaped to host the show for us. I particularly liked when he began speaking in tongues, took off all his clothes, poured blood all over his face (and maybe genitals, the night is kinda hazy) and then crawled to the corner of the stage and hid from everybody.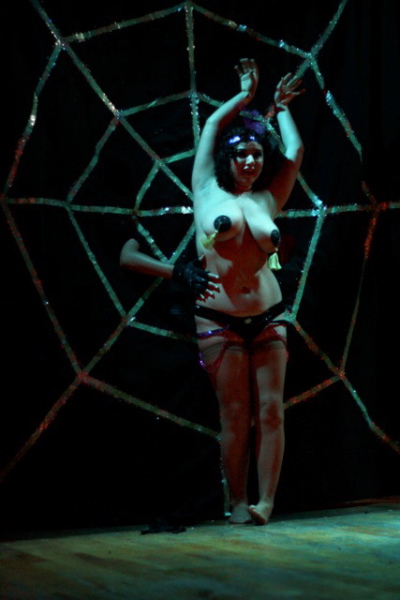 Some of the other acts included a super sexy dance to the song "Kiss of the Spiderwoman", where a girl took off most of her clothes then walked into a spider web where a pair of hands came out of the darkness and further disrobed and molested her. They turned a hallway of the club into 'Julie Paquet's Haunted Vagina', a girl sucked off an alien, they ate live goldfish on stage, they did a Little Mermaid skit where Ursula eats out Ariel's clam to turn her into a woman, Catwoman gave a lapdance to an audience member, two classical housewives got it on when the power went out, a girl was a fly and got eaten by a giant Venus flytrap and then probably one of my favorite scenes was when a priest forced a drag queen to blow him and then after the 'job' the drag queen raped and killed the priest! (not necessarily in that order).
There were a bunch more acts but I won't bore you with all this writing type stuff. Instead I'm gonna present you with a photo essay of the show and tell you that YOU MUST GO SEE THIS SHOW! They played Oct 22, 23rd, & 24th at Cafe Cleo, 1230 boul. St. Laurent and due to popular demand have added a bonus show on SATURDAY OCT 30th for all those of you brave enough to venture out on all hallow's eve! Tickets are 15$ or 13$ with costume, and are available at the door at 8pm, show starts at 9.
You can see all the pictures from the show right HERE!

Photos by Sumitra Longley Bramfitt & Chris Zacchia
Performers:
Michael J McCarthy
Julie Paquet
Sarah Murphy
Tanya Stasilowitch
Tristan Ginger
Lizzie O`Lucky
Reena (resident hostess of Cafe Cleo)
Louise Olsen
Jizzika Unklein
Phoenix Wood & Plastique
Sherif Fox
Johnny Forever & Douche La Douche
Kitty Van Dyke & Jackie Spade
Ellen Cherry Charles
Connie Lingua