This column focuses on underground, underreported, alternative and activist theatre.   If that's what you're looking for, then sadly I must report that this week you'll find none of it.   Well, almost none of it.   You see a year ago, I went to see Wicked at the National Arts Centre in Ottawa and this is my review (the show's still touring, playing on Broadway and there's a movie in the works, so it's not a late review in my book).
The tickets were expensive, but a friend of mine was treating me (and got a deal on them, too, thanks Becky), the merch was high end and the beer prices would put some clubs to shame.   Yes, this had all the trappings of a huge production with a budget that the term blockbuster really didn't do justice to.   There was even a giant robotic dragon on top of the stage that served limited purpose story-wise.
The the-a-tuh: drinking an $8 beer at the National Arts Centre (photo by Becky Fox)
Still, this was an alternate view of The Wizard of Oz, a story I had grown up with and always had a fondness for.   It was also a piece of musical theatre, which is another one of my weaknesses, despite my overriding love of less conventional forms of theatrical entertainment.
Yes, I enjoyed it and did even find a socially relevant message in the middle of all the hoopla.   You see, in this story, the Wicked Witch actually isn't all that wicked.   Instead, Alphaba (her actual name) is just the victim of a negative marketing campaign brought on by the Wizard's minions after she refused to go along with his plans to scapegoat the animals in Oz for his own failings.
The story follows her and Galinda (later Glinda the Good Witch) through school, to their meeting with the Wizard where they split ways right up through the events known in the Wizard of Oz, shown, of course, from an alternate angle.   This alternate view of what happened makes sense and fills in the gaps nicely.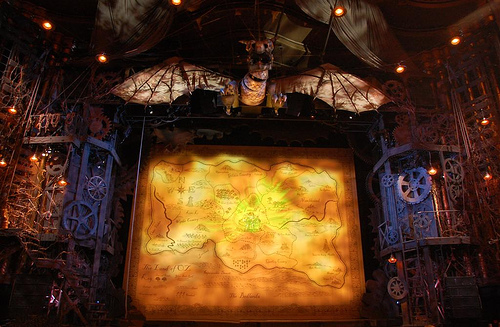 High-end but nice to look at: Wicked set
In this production, the costumes were bang-on, the sets were fantastic and the acting was great, too.   It looked like a movie and while that's generally something I'm against in the theatre, here it seemed to work.
Generally, I feel that the ability of art to bring about some sort of change or make people think depends more on the way it is produced and for what reasons more than what is actually in the content (more on this in a later column).   Sometimes, though, the reverse can be true.
In the same way the anti-totalitarian, anti-Bush message in Star Wars Episode 3 hit me and I feel was powerful despite all the marketing surrounding the movie and despite, or maybe because of, all the special effects, I got the right vibe from this play.   I enjoyed it and it kept me thinking about it.
Maybe I shouldn't overanalyze this.   Some of the songs were great, the story rocked, it was very well produced and nicely stylized.   Yeah, it's pricey and overall not where I think theatre should be going, but in this case, that didn't matter.   Call it a guilty pleasure.