Well it's already that time of the year, time for Nuit Blanche as part of Montréal en Lumière Festival. The 11th edition is as packed as ever and spread out across the city.
From Quartier des Spectacles to downtown and Old Montreal to the Plateau/Mile End area, east to the Olympic Park and to the newest Nuit Blanche location: the Blue Line, this night promises to be amazing!
What to see, where to go, what to do? Here is a little preview of some events happening in the Arts.
At the Musée des Beaux Arts, join the illustrators, Cyril Doisneau and Siris, and participate in creating a colourful collective mural. While you're there, check out the Peter Doig: No Foreign Lands exhibition (admission $10).
If you have ever wanted to explore a museum with  a flashlight, then the Redpath Museum should definitely be on your list (admission $10 at the door).
MAC will have four exhibitions open including the 24 hour projection of The Clock by Christian Marclay. In conjunction with the exhibit, DJ Monique Giroux will help you seize the moment with tunes from Pink Floyd to Charles Aznavour to Nina Simone.
The Fresh Paint Gallery 's second Art Attack exhibition with artists HOARKOR and MissMe painting live to the music of HighonBeats (admission $5 at the door). In Old Montreal, the Phi Centre will host Hybrid Bodies which explores the complexity of organ transplants with a Dubstep DJ set by VILIFY and The Salvation Army.
The Belgo building is offering, as always, so many activities in different galleries. There's a fun fair at les territoires and an interactive photo booth at studio 303 to name a few.
Meanwhile Maxime Geraldes invites you to Theatre Ste-Catherine to help him create a piece and then destroy it at 3AM. 
At the Darling Foundry you can taste some mulled wine while discovering two new exhibitions.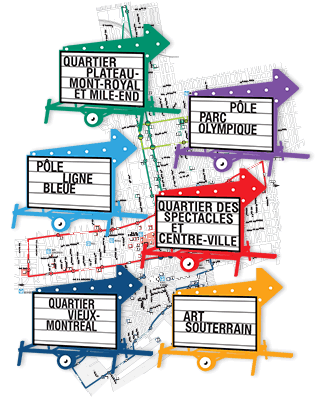 The Plateau and Mile End area will also be bustling with activities. The MAI will have an immersive installation by an Icelandic artist which sounds quite trippy. You can also get your cut and paste on at gallery Monastiraki's Collage Party or create etchings on vinyl records at Espace 503.
If you plan on hanging out around the blue line then you can learn to make a mosaic at Mosaïkashop or experience a night of performance and sonic art with a hot beverage at Espace Projet . 
Obviously we can't mention all the Nuit Blanche events here, so pick up a copy of the program for more info or check out the Nuit Blanche's website. Now let's all hope for warmish weather even though the weather won't change how awesome the night will be.
Remember, the metro is open all night!