The lovely Béatrice Martin played a solo show at the Great Hall on Thursday night as part of NXNE.  In this stripped-down version of what you hear on Blonde, her latest album, the young songstress played piano and sang her beautifully woven melodies for a large and appreciative crowd. Performed in a manner reminiscent of her debut album that featured minimal musical additions, she focused instead on the voice and piano.  Pretty impressive turnout for a French-Canadian girl who sings mostly in French!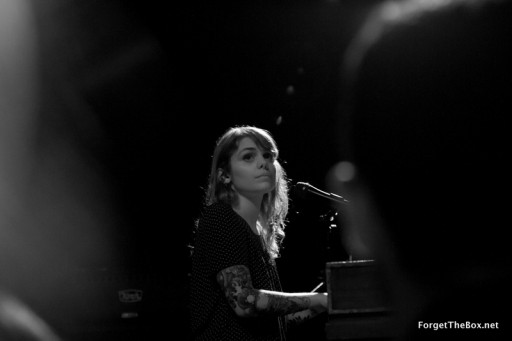 Her songs range from love songs to storytelling numbers to a lullaby that her father used to sing to her as a small child.  The chanteuse has helped to bring francophone music to the younger generation.  She has been nominated for, and won, several awards already in her career including Junos, Félix Awards, Victoires de la Musique and Canadian Independent Music Awards.  It's no surprise why.  Her talent radiates both in her recorded work and on stage.
Watch "Adieu" as a piano-only version here:
*Photos by Celia Moase. See our NXNE 2013 album on Facebook for more photos.