Friday night we hit up the Pop Montreal showcase at the Silver Dollar. The line-up included The Redmond Barry's, Goose Hut, Hooded Fang, Parlovr, Bleached, TOPS, UN and The Disraelis. Silver Dollar's is a pretty sweet venue in that you're not dying of sweat, you can jump out the back to the patio if you're ears need a break or hide in the back room and chill in a booth. Again, options are fantastic.
Anyway, let's talk about some of the bands…
Hooded Fang are a foursome from Toronto who play pop songs that swirl around memories of The Cure and Brat Pack movies. They hit the stage around 10pm to a half-full Silver Dollar. Their live sound verged on the cusp of surf-rock mixed with undertones of psychedelics. Problem is you either dig it or you don't – live. But they sound great on record. You can catch Hooded Fang, Goose Hut and Parlovr playing shows across Canada this summer.
Parlovr, the most anticipated act of the night, hit the stage right after Hooded Fang. As soon as the first guitar string was strung the stage felt like it was lit on fire. Parlvor have this way with the stage that keeps you hooked, excited and wanting more. During their latest hit, "Holding On To Something", lead singer Alex Cooper belted out screams that were drenched in woes of heartache and longing. It was a super high-energy performance that had people pushing their way from the back to front.
TOPS took the stage at 1am and was one of the last shows of the Montreal Showcase. They're by far one of my favourite bands right now. The four-piece hail from Montreal, and are well seeded in the local Montreal music scene. Over the last couple of years TOPS has really cleaned up and fined-tuned their live sound. The lead singer bounced around her keyboard like a little kid in a candy store during their hit song, "Turn Your Love Around."
After TOPS we headed over to the packed El Mocambo to check out Paper Lions. This PEI-based band known for their catchy guitar riffs and upbeat sounds had the crowd dancing and singing along song after song. In between songs, lead singer John MacPhee chatted with the crowd. After the show we talked with them about their decision to give their latest album Trophies away for free online, and how this impacted the success of online music sharing for them.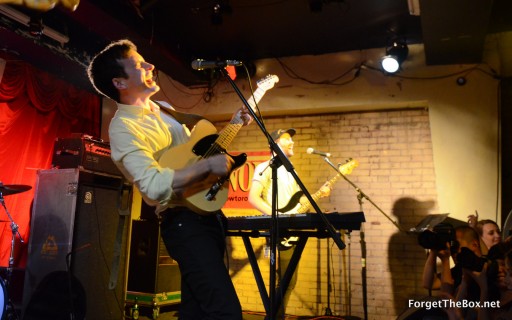 All in all we were super impressed with the POP Montreal Showcase at The Silver Dollar. You've gotta check out TOPS live, they're definitely going to be all over the Canadian music scene in the coming months. And as for Paper Lions, they're always great to see, and we have so much respect for them for their decision to back away from the label, and release their album on their own. It's always interesting hearing the other side of how labels can dick-around artists, and yet how the dicking-around can really make a band stronger, make them question what they're doing, and why they're doing it aka. making music, playing music…and for whom they're doing it.
Sweet. Well our next NXNE post is going to talk about Poor Young Things, NXNE surprise guest, and other random adventures that happened on our last day. In the meantime, check out TOPS, "Turn Your Love Around"…
Photos: Chris Zacchia