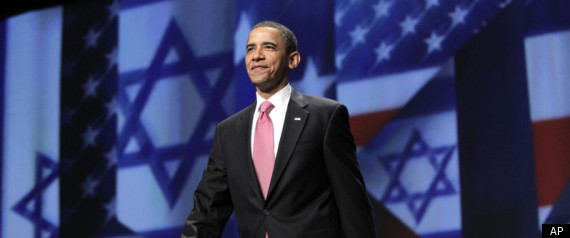 Last Thursday, US President Barack Obama gave a stirring speech on the "Arab Spring" and America's policies toward it. Unfortunately the only part of it that made headlines was his comment calling for any peace deal between Israel and Palestine to be based on the 1967 borders. His annotations angered Zionists, Republicans, right wing Jews and Israeli Prime Minister Benjamin Netanyahu.
What Obama said however was nothing new; negotiations based on the lines of 1967 have been going on since the 1970s, in fact Bill Clinton pushed for such a deal at Camp David eleven years ago. The idea of land swaps also mentioned in Obama's speech is again nothing new, but it seemed to be lost on everyone.
Land swaps are the key to any deal of course; the West Bank has been dotted with so many Israeli settlements  over the years that Israel has made it virtually impossible for any deal to be made based solely on the 1967 borders.  No Palestinian would agree to exchange a big meaty steak for only the fat in return. That means any deal would not only include the same amount of land, but the same amount of fertile land.
I believe, as do many, that Obama's comments regarding the Palestinian/Israeli issue had more than one objective. While Obama was trying to restart peace negotiations, he was also trying to dissuade Palestinian officials led by President Mahmoud Abbas from going to the United Nations in September to seek statehood. Statehood was promised to the Palestinians by the UN back in 1947 when the Palestine territory was partitioned to make way for the state of Israel alongside it.
The day after Obama's Arab Spring speech, Benjamin Netanyahu claimed that "A peace based on illusions will crash upon the rocks of Middle Eastern reality… I think for peace the Palestinians will have to accept some basic realities." He said that a return to those borders was impossible because the region had seen "demographic changes". He argued the 1967 borders were "indefensible."
Netanyahu's statement completely destroyed Obama's second intention. The following day, Nabil Shaath, an aide to Palestinian President Mahmoud Abbas said "Of course we will go to the United Nations, especially after Netanyahu used the old pretext that he needs 'defensible borders' to keep stealing our land, control the Jordan Valley and create demographic facts on the ground."
On Sunday, Speaking to the American Israel Public Affairs Committee (America's largest pro-Israel lobby) Obama said that while U.S. support for Israel remains ironclad, we cannot afford to wait decades to achieve peace. The President gave this speech only hours after Israeli Defence Minister Ehud Barak had approved the construction of 294 new homes in the occupied West Bank and construction began on two thousand others.
Obama was quick to mention Israel faced the threat of attack from Hamas rockets launched from Gaza and that a recent agreement between Hamas and Fatah "poses an enormous obstacle to peace." Of course he failed to mention the main reason that peace talks are lifeless in the first place: the continued construction of settlements on occupied land.
I liked Obama's speeches and was in fair agreement with them, but it remains my opinion that the United States will never be able to successfully broker a peace agreement so long as the President remains under the influence of the Pro-Israeli Lobby. A successful negotiator must be able to talk tough and act tough to both sides otherwise no one listens.
Follow Quiet Mike on Twitter: MWeishar